I'm not an overly wordy girl.  I tend to show my feelings through my actions rather than using words.  So, although I purposely work to verbally tell my family that I love them, it comes much more naturally for me to do things to show them my love.  And for me, sometimes that manifests itself through serving them yummy food and creating a comfortable, loving environment in our home.
Valentine's Day is just around the corner.  I don't typically go all-out decorating for this holiday, but I did make a quick banner for my entry to create a festive vignette.  Sometimes just a touch to give a nod to the season is enough.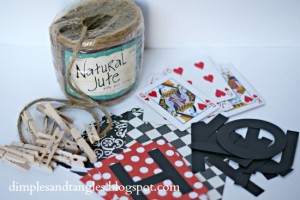 Using some left-over playing cards, I pulled out all of the hearts.  Then, I cut a length of jute twine (or you could use any ribbon on hand) and used mini-clothespins to attach the cards to the string.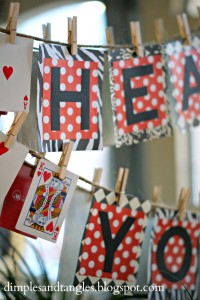 Lastly, I cut out letters and glued them to patterned scrapbook paper for a festive message.  I attached these to the string also and hung the pennant-style banner in my entry.  I just used some painters tape tucked behind my mirror to secure the banner.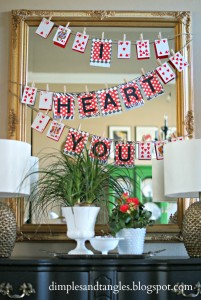 Click here to find a few other easy ideas from other blogs that I plan to incorporate through the day to show my family that I love them.
What about you?  How do you show love to your family?