My kids are still young.  For several years I have been re-acquainted with Curious George and the man in the yellow hat.  The only recurring character in the original adventures, other than George himself, is the Man with the Yellow Hat.  It was he who brought George from Africa, and it is in his house that George lives. The Man often facilitates George's adventures by taking him somewhere, and even more often resolves the tension by appearing just in time to get George out of a tight spot. He is always seen wearing a bright yellow suit and a wide-brimmed yellow hat. The Man is never mentioned by name in the original adventures, or in any subsequent content over more than six decades. He is always called either "the Man" or fully "the Man with the Yellow Hat". When people speak to George about the Man, they often refer to him as "your friend."  I have enjoyed watching George discover new things and the Man in the yellow hat come behind and pick up the pieces.  George destroys the bathroom and he cleans it up.  George gets lost and the Man goes and finds him.  in one episode, George misunderstood something and decided he would store up food all over the house.  The mess was disastrous.  The Man in the yellow hat came in and helped George fix everything.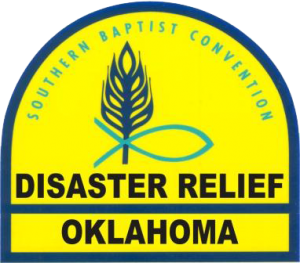 Let me introduce you to another Yellow Hat that is "your friend".  The men and women that serve in Disaster Relief are friends to your community, the state of Oklahoma, our country, and even our world.  Disaster Relief acts according to their name.  Wherever there is a disaster they go and provide relief.  According to their website, this is a portion of what they do.
Feeding
Preparing and serving hot meals is the backbone of Southern Baptist Disaster Relief ministry.  With this in mind, every Oklahoma volunteer is trained to work on the feeding team.  Specific training is provided in maintenance, warehouse, sanitation, cooking and line serving.
After completing feeding team training, volunteers may train in other areas of Disaster Relief service.  Assessment team members must have previous training in our Disaster Relief chain saw and mud-out recovery work.
Damage Assessment
Team members go ahead of chain saw and mud-out teams to evaluate damage and inform follow-up teams on scope of each job, including equipment that will be needed.
Chain-Saw
The chain saw team removes damaged trees and other debris blocking doorways and/or driveways, trees leaning against homes, and limbs broken through roofs or causing a hazard in yards.  Experience in operating a chain saw  is desirable, but not mandatory.
Mud-Out Removal
Members must be in good physical condition and willing to work in unpleasant, dirty situations.  Volunteers need to be conscious of health and safety hazards, taking necessary measures in order to keep themselves and others out of harm's way.
Showers and Laundry
This team gives aid to relief workers and others who are in need by providing showers and laundry support in the disaster area.  The trailers have private shower stalls as well as washing machines, dryers, storage and folding areas.  Volunteers receive and assist those requesting their services, do laundry, sanitize showers, empty trash, replace needed supplies, and keep the trailer area neat.
Child Care
Child care volunteers provide a calm atmosphere and competent, loving care for children.  Care is provided to give parents the opportunity to salvage remains of belongings, meet with helping agencies and insurance representatives, and take care of other business.
Team members will travel to the disaster site and establish a child care center in temporary space, using books, toys and other resources that they will take to the disaster site.  The center is set up in the best available space adjacent to the areas to be serviced.  It may be located in a school, church or business that is unaffected by the disaster.  Volunteers will care for the children during the day.  The center is usually open from 8:30 am to 5:40 pm.
Child care volunteers should love children and have previous experience working with preschoolers and elementary-age children.  Team members must consent to a background check before serving.
Water Purification
This group provides clean water after a disaster has occurred.  Portable water purification units are used to sanitize available water on location, making it safe for drinking, cooking, bathing and other uses.
If you would like to donate to this beautiful ministry you can do so at http://www.okdisasterhelp.com/donate/
These men and women wear yellow hats recognized around the world and in your backyard.  May God be with us all.