On any given day, when I open up my Facebook newsfeed, I see posts about 100 Days of Real Food, the paleo diet, the high metabolism diet, and "eating clean." It's a positive trend: the 20 and 30 somethings of this generation are taking stock of America's obesity problem, and saying, "No thanks. We'll pass on diabetes, heart disease, chronic illness, and the host of other terrifying health problems plaguing the health care system."
They want to know where their food comes from. They want to grow it themselves, and they want to "eat clean," with less processed foods and more fresh fruits and veggies.  Interest in gardening and composting is ever-increasing, and restaurants have been forced to adapt to the new food rules to stay in the market. Just dropping the word "quinoa" or "kale" gets you instantly in with the cool crowd of young hipsters seeking to be healthy.
This movement is coming at a crucial time. Americans are starting to pay the price for the gallons of Coke they've guzzled. Evidence shows that our bodies are breaking down under the ridiculous amounts of sugar, fat and cholesterol we put into them. Healthcare is out of control as doctors try to stem the tide of physical breakdown from poor nutrition. Dr. Oz has become popular with the baby boomers, who are discovering how difficult it is to change habits in the retirement years.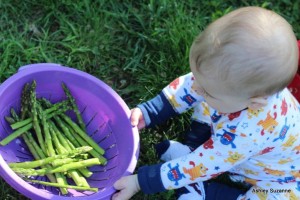 I have quinoa in my pantry, but there's a Diet Coke in the fridge, too.  Keeping company with my Diet Coke are fresh green beans, asparagus, baby carrots, and ripe pears. I make a mean homemade chicken pot pie and prepare our dinners "from scratch" most weeknights. But I also make the occasional box of macaroni and cheese and purchase cheap frozen pizzas on the nights when I have the kids alone and need a shortcut.  I'm more of a moderation girl when it comes to food philosophies. I don't want to be ignorant. I do want my family to be healthy. I watch portions, but I'm probably never going to stop baking desserts, which is creative and fun therapy for me.
I applaud our millennial generation. We need to be informed, make intelligent decisions regarding our food, and break the cycle of convenience foods that wreck our health. We need to focus on quality over quantity, turn off our TVs, dust off our dining room tables, and reign in our out-of-control appetites.  There is nothing holy about destroying your body to feed your appetite, or as the Bible puts it "Their god is their stomach." Yikes. (Phil. 3:19)
But I have a gentle caution for our zealously healthy generation.  All of these healthy movements create an atmosphere ripe for judgment, division, and condemnation. "You are what you eat" is not in the Bible, but consider some of the verses that are:
Jesus called the crowd to him and said, Listen and understand. What goes into a man's mouth does not make him 'unclean,'  but what comes out of his mouth, that is what makes him 'unclean.' (Matt. 15:10-11)

For the kingdom of God is not a matter of eating and drinking, but of righteousness, peace and joy in the Holy Spirit, because anyone who serves Christ in this way is pleasing to God and approved by men. . . Do not destroy the work of God for the sake of food.  (Rom. 14:17-19)

They forbid people to marry and order them to abstain from certain foods, which God created to be received with thanksgiving by those who believe and who know the truth. For everything God created is good, and nothing is to be rejected if it is received with thanksgiving, because it is consecrated by the word of God and prayer. (1 Tim. 4:3-5)
Friends, the kingdom of God is not a matter of eating and drinking, but of righteousness, peace and joy in the Holy Spirit.  While we seek to grow in godliness, grace, and healthy eating, let's keep the central issues in priority. If you find yourself looking critically at the contents of your neighbor's grocery cart, and feeling a sense of superiority in your own habits, check your heart. Jesus reminds us that the evil thoughts coming out of hearts make us more unclean than the processed food going into our bellies.
Lysa Terkeurst recently shared in a blog post about a night she had to buy take-out for her family due to lack of time. She felt guilty as she threw away the disposable containers, thinking about a healthy, made-from-scratch recipe she had received earlier that day from a friend.  She wondered if she should have cleared their family schedule to make more time for cooking. But the extra activity that put them in a time crunch was a gathering of her young daughter's friends to hear Lysa speak about Christ.  As she went to the gathering and shared her heart, the Holy Spirit overflowed in her service; many people were touched, and several believed in Christ for the first time. The Savior was exalted. Read the story here.
If I cook with the grains of a thousand quinoa and have a garden that could feed the multitudes, but have not love and show not hospitality, I accomplish nothing for the kingdom.  Let us put to death the condemning thoughts of judgment that would divide us regarding food, and spur one another on to love and good deeds. Who knows?  Maybe good nutrition will follow.
Seek first his kingdom and all these things will be added to you as well.