Thanksgiving is just a few days away!  Are you hosting guests in your home?  If so, here are a few simple tips to create a beautiful table.
1)  It may be helpful to choose a color scheme, and then gather up things around your house that fit.  Color inspiration could start with a special set of dishes, flowers, a centerpiece, fun napkins, or whatever inspires you.
This table started with black and white, gold, and lime green, and then I added some color in with the flowers.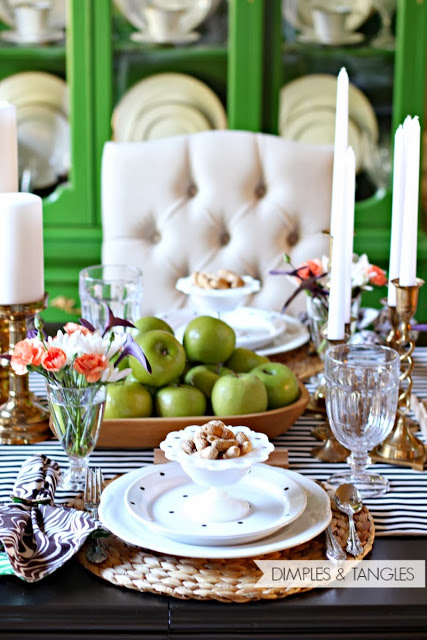 Thanksgiving is easy, when your colors could come from nature itself, where there are lots of warm, neutral, natural colors.  Even at that, I still find myself adding in a pop of color here and there among the neutrals.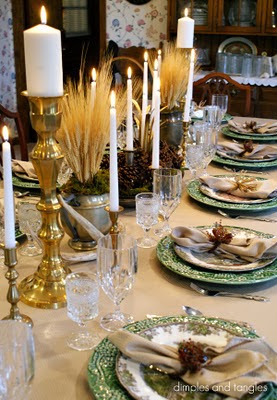 2) Layer it up!  Try to mix in different textures, and "build up" what's on your table.  Start with a tablecloth, runner, or placemats, and then add a charger if you like, dinner plate, and salad plate or bowl in the center.  For your centerpiece, objects with varying heights are always appealing.  Just remember, if you place something tall in the middle, make sure it's easy to remove once the meal starts so your guests can see each other!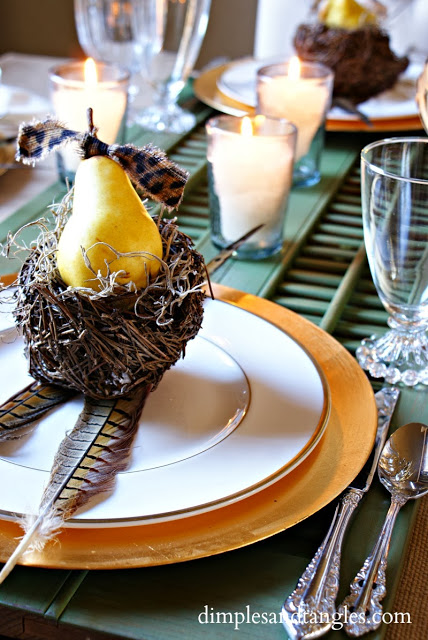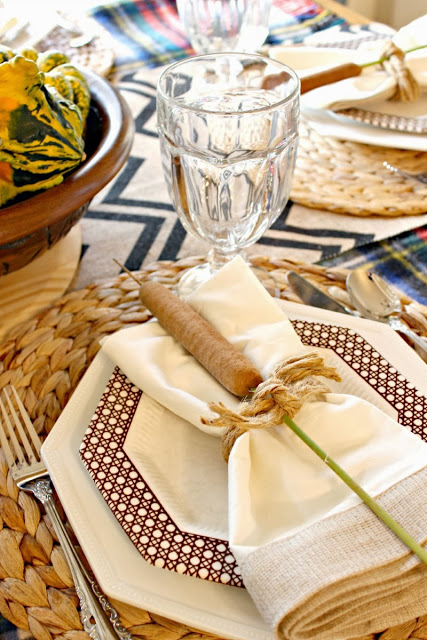 3) Don't be afraid to use unconventional items.  Here are a few of my favorite things to include:
Shutters-A great way to add texture and interest to the table.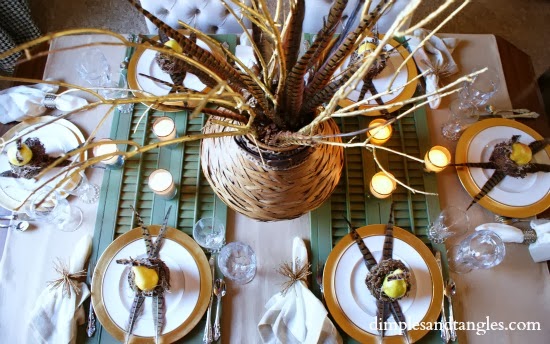 A Blanket-Works in a pinch as a table cloth or runner.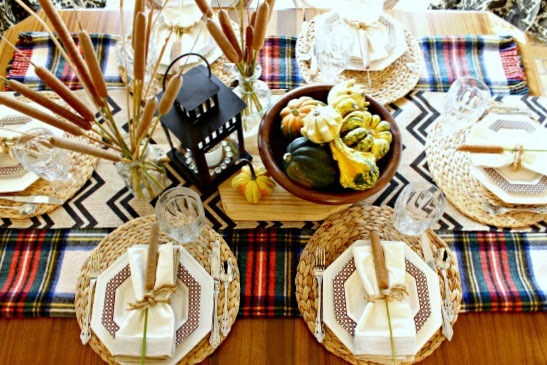 Fabric-Many, many times I have used a piece of fabric with the edges just folded under as a table runner.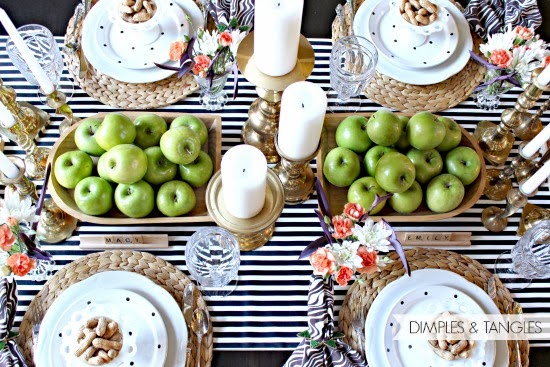 Belt-Think about objects you can use in a different way than their original purpose.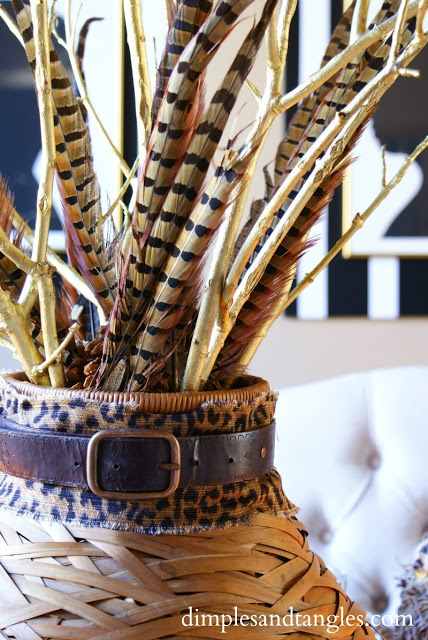 4) Include a little something personal to make your guests feel special.
Most often this can be accomplished with something as simple as a place card, but a small treat or favor at their seat works well also.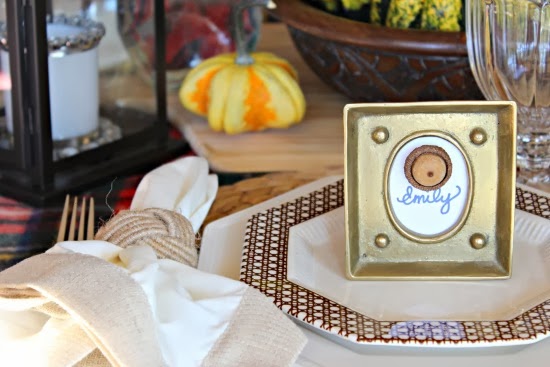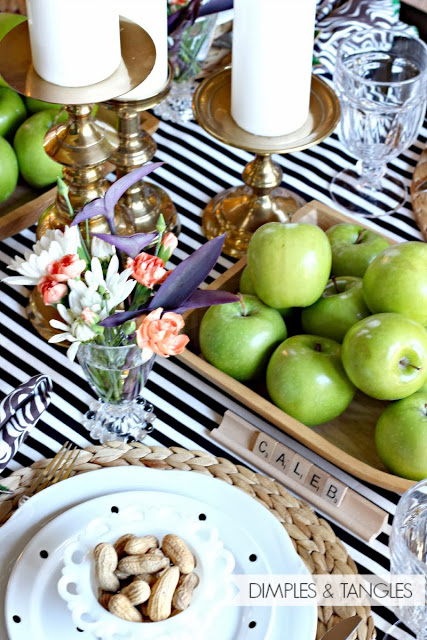 5) Don't forget the kids!
If there will be a separate table for children, why not include some things to keep them entertained while they are eating?  With nothing more than some butcher paper (or the back side of a roll of wrapping paper) and crayons you're all set!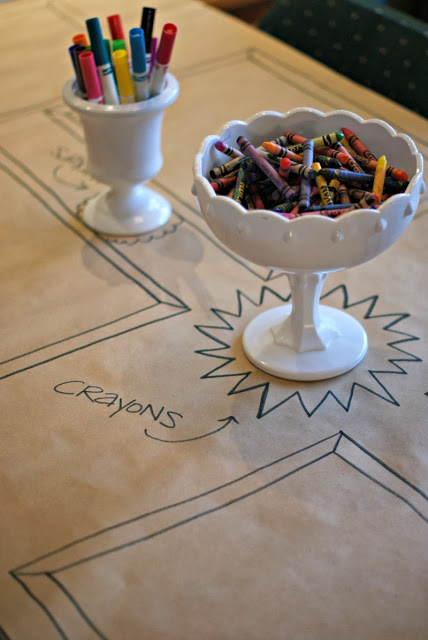 And to simplify things even more, draw their place settings in place!  They can color their placemat and decorate their area surrounding it.  Or, suggest that they draw/list the top 5 things that they are thankful for.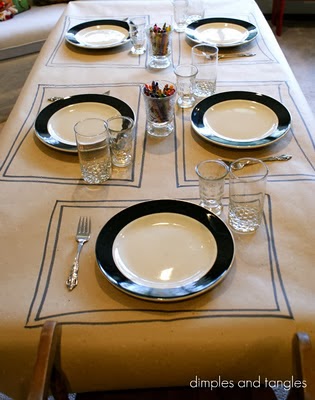 Now, a word.  Your table doesn't need to be picture perfect!  Have fun with it.  The most important thing is that you welcome your guests with grace and shower them with hospitality while they are in your home.  After they leave, no one will remember your perfectly-set table, but they will remember the special memories made with those in your home that day.
"It is good to give thanks to the Lord and to sing praises to Your name, O Most High; to declare Your lovingkindness in the morning and Your faithfulness by night."  — Psalm 92:1-2
Blessings to you this Thanksgiving!