This morning I sat on my couch before the sun came up, holding my warm coffee cup in one hand, nine-week-old Susanna cradled cozily in the crook of my arm.  I soaked up the details of the moment: the tiny fringe of her eyelashes, blissfully closed, the delicate baby hands protruding from the ruffled hems of her pink sleeper. She smiled in her sleep, chubby rose-petal cheeks bobbing up, too.  This moment is my manna, and I must gather it daily to be nourished.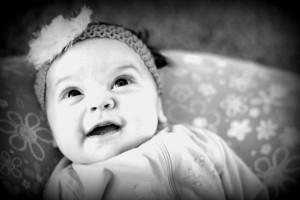 When God gave manna to His people in the wilderness, it was given daily, faithfully, but could never be hoarded.  Every day, I have an opportunity to gather my own manna, nourishment for my faith and my joy, evidence of God's work in the minute details of my life. It's His grace to me, falling softly like manna in the morning, so quiet and beautiful I could easily miss it in the rough barrage of life's fast pace.
Yesterday, as I drove home from Wal-Mart, two-year-old Isaac sat in his booster seat belting out the song, "If I Were A Rich Man" from Fiddler on the Roof.   Only weeks ago, he called his baby sister "BabyAnna" instead of Susanna, and now he says her name correctly.  He's growing up daily, and with two talkative older siblings and a baby sister whose cries trump a lot of toddler chatter, I could miss him.  Moments with him are my manna, too.
We wonder why we doubt God's love, but sometimes I think we're just missing it. We wither for lack of observation.  Daily He sends the grace- manna falling like silent snow, but we're too busy running after our own frenetic preparations to notice.  He'll nourish us if we let Him. This lesson is for everyone, but children are natural hourglasses, and the sand of their life-hours never stops to wait for parents to get a clue.
Wherever you are today, be present. Look for manna, give thanks, and be nourished.