The six of us sit in a rough circle on the living room floor with Isaac sort of more in the middle, because he's two and he doesn't get the circle thing.  We're eating Wendy's cheeseburgers.  The kids like their cheeseburgers plain like I do, reminding me how much more is caught than taught.  But it makes for less mess.  Someday they will figure out Mom likes her cheeseburgers bland and that'll be a good day, too.
We don't usually eat in the living room.  But it's been a long Sunday and the best thing about established structure in a home is the fun of abandoning it sometimes.  The kids look at me expectantly as I put out the clear glass jar and my grandmother's aqua blue decorative jar, now filled with glass beads.  We call it "The Marble Jar," which is a bit of a misnomer since we don't actually use marbles, but I like it anyway.  So, we begin.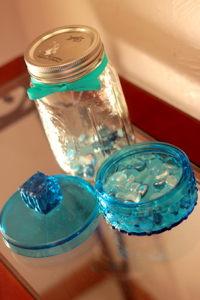 "I want to give a marble to Benjamin because he said 'thank you' to me for the pizza yesterday in the middle of lunch."  Ben grins wide and chooses his favorite color of "marble."  It tinkles into the jar with a pleasant sound.
"I want to give one to Abby because she finished her AWANA book, and that was a lot of hard work." Abby picks up a frosted stone and comments that these are her least favorite because they remind her of yucky Halls cough drops.  She likes the clear blue ones the best. Tinkle, tinkle, the sound of chimes in the wind and positive reinforcement.
"Susanna gets a marble for sitting up on her own!" Abby declares.  She puts a marble in the jar for Susanna and we all clap and cheer. Susanna startles at the clapping and looks around wide-eyed and smiling at the faces, drooling happily.
We continue on, giving one another praise and encouragement.  The kids volunteer marbles for Tim and me, things we've done that matter to them, and I learn more in those moments about how they receive love than any conversations asking the same question.
We leave the marbles and move on to little life lessons, a story from the children's bible, a few instructions on chores.  In the end, we put our hands in the middle of our circle and cheer like a sport's team, "Team Haupt!"
Later, I put the marbles back up on the shelf, and there's just a small smattering in the bottom of the jar. We have a long way to go before the jar is full and we're ready to celebrate the fullness.  But we're building trust, one marble at a time, and this happens over time.  Filled too quickly and we don't learn the precious, time-wrought value of it; too slowly and we get discouraged and lose heart.  So we visit the jar daily, because it's what we do daily that defines us.
Some days, we'll ask the kids to praise each other, assign marbles to a sibling, and some days, we'll ask them to praise themselves. Because it matters both how we love ourselves and how we love others.  And some days, I will drop a marble in the jar for myself, when I've been brave, and tell the kids I am proud of myself.  They need to see that, too.
This is the thing about life: it's hard. There will be rainy days, sibling fights, messy meals, hurt words, accidents, spills, crying.  But there will also be marbles in the jar, looking forward to a day of celebration.  So it is in our spiritual walk. This is my favorite Bible verse, "…Let us throw off everything that hinders and the sin that so easily entangles, and let us run with perseverance the race marked out for us. Let us fix our eyes on Jesus, the author and perfecter of our faith, who for the joy set before him endured the cross, scorning its shame, and sat down at the right hand of the throne of God." Hebrews 12:1-2
How do we throw off the hindrances? When do we shake off the entanglements of sin?  Daily.  It's not one big victorious battle, although sometimes I desperately wish it could be. It's a daily fight, a daily race, a daily choice to strive after the joy set before us, keeping our eyes fixed on the author (He brought us to life) and perfecter (He'll bring us to fulfillment) of our faith.
Every day is one marble in the jar closer to our reward.  Let's celebrate this messy, beautiful life and the people in it that we love so much. Let's cheer them on in their race.  One marble at a time.