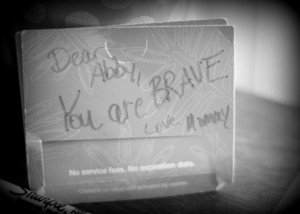 We had to force her to go.
It was my brilliant idea to sign Abby up for a one week theater camp. Crafts, songs, dancing, acting – all with a fun mermaid theme. It sounded like something she'd love.
The only thing is, our little introvert does not love trying new things.
She promised to try the first day. But after a hectic drive trying to find the location without being late, and standing in a long line in the rain, her resolve started to melt. I could see it happening as she wilted against me, her courage disappearing faster than the dry patches of sidewalk. Her chin was working strangely, trying to fight the surfacing tears.
The registration guy wore a silly crab-hat to fit the theme. He escorted us down the hallway and showed us a basket containing a lanyard with her name printed on it.  We deposited her Tinkerbell lunch box in the basket. Then he shooed us into a gym full of kids. Abby took one look at that situation, and the tears came; she hid her face in my side.
I sank down onto the dirty gym floor beside the other kids. Abby still trying to hide in my shirt while I awkwardly juggled Susanna, my purse, and an orange paper with Haupt printed on it for the pick-up line.  "Hey," I said to the long blonde hair wedged under my elbow, "It's ok to cry.  Just go ahead. I know you feel shy. It'll be ok. There's no shame in crying."
Another mom dragged a crying girl in, angrily telling her to stop.
My mind raced. We'd already paid for the week.  But I just wanted to take her home, hold her close, paint pictures together, and forget all about theater camp.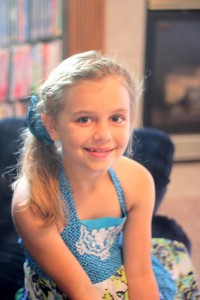 Other kids kept coming into the gym, spotting friends they knew and chatting happily. We didn't know a single other person there.  Abby's face emerged from my side, tear streaked and peering around.  I made a joke and elicited a small, watery smile.
I thought of Brene Brown's research in Daring Greatly.
"Children with high levels of hopefulness have experience with adversity. They've been given the opportunity to struggle and in doing that they learn how to believe in themselves. Raising children who are hopeful and who have the courage to be vulnerable means stepping back and letting them experience disappointment, deal with conflict, learn how to assert themselves, and have the opportunity to fail. If we're always following our children into the arena, hushing the critics, and assuring their victory, they'll never learn that they have the ability to dare greatly on their own."
Or, as the Bible puts it:
"Consider it pure joy, my brothers, whenever you face trials of many kinds, because you know that the testing of your faith develops perseverance. Perseverance must finish its work so that you may be mature and complete, not lacking anything" (James 1:2-3).
I caught the eye of a sweet young teacher nearby. I untangled myself from Abby and inquired about the teacher of the six-year-olds, hoping it was her.  She pointed out a large, curly-head man in the center of the gym who was cavorting around, trying to make kids laugh.  Inwardly, I sighed. Abby had always been more shy around men. The young teacher retrieved the man, who came to talk to Abby and invited her over to where the six-year-olds were sitting.
She went with him, and I knew my part of the battle was over. If she had refused to go, I didn't know what my next move would be. Parenting doesn't include a script. Or directions.
I watched her sit down. She still wasn't smiling.  I stepped into the hallway, my heart still wringing.  I knelt down, deposited Susanna on the floor, and dug around in my purse for paper. No paper.  I had a Kohl's gift card, so I pulled out the card and used the pink cardboard holder. I found a purple marker and wrote, "Abby, you are BRAVE. Love, Mommy"
I carefully put the card in her lunchbox, still sitting in the hallway.  She'd get that little piece of encouragement at lunchtime, but she'd still have to make it until four.  We'd pray her through.  I left the school, and drove to Krispy Kreme and got a blueberry donut.
Later at dinnertime, we went around the table sharing the best part of our day and what we're proud of for ourselves. When it was Abby's turn, she said, "My best part of the day was sitting with my new friend at lunch, and I am proud of myself for practicing courage and going to camp today."
Hallelujah and Amen.
"I can do everything through him who gives me strength" (Phil. 4:13).