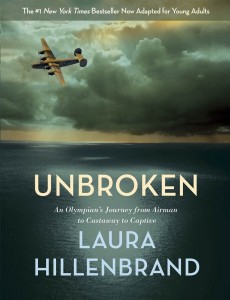 A few months ago I read the book Unbroken by Laura Hillenbrand. You might be familiar with Hillenbrand's other book, Seabiscuit, which was later turned into a movie.   
In her latest book, Hillenbrand writes about the life of Louie Zamperini, the son of Italian immigrants who was born in New York in 1917 and later moved to California. Louis' family was poor, and in order to eat, Louie often stole the things he needed, especially if it were edible. Housewives who stepped from their kitchens would return to find that their suppers had disappeared. When he discovered the cooling tables at the local bakery, Louie began snatching pies and eating them until he was full. Almost all of his childhood stories ended with "…and then I ran like mad."
In fact, Louie ran so fast that his older brother Pete talked him into running track when he started junior high. Louie ran incredibly well in junior high and high school, that he received a track scholarship at the University of Southern California. In college, Louie's coach was sure that he would be the first person to ever break the 4:00 mile. At the age of 19, Louie tried out and won a spot on the 1936 Olympic team that would be held in Berlin. But on the boat ride to Berlin, Louie had never seen so much food in all of his life. Whatever Louie wanted to eat, they would bring it to him. Nine days later, when the boat made its way to land, Louie had gained 12 pounds! Louie knew that he had no chance of winning the 5,000-meter race. Nevertheless, he decided to try as hard as he could. During his last lap, Louie gave it all that he had. The crowd noticed Louie passing all of these runners, and they sprang to their feet in applause. Although Louie didn't have the fasted time, he did catch the eye of Adolf Hitler, who sent for Louie to shake his hand.
Louie went back home and was clocked running the 1-mile in 4:08. It was the fastest NCAA mile in history. By this time, everyone was convinced that he could win a gold medal in the 1940 Olympics scheduled to take place in Tokyo, Japan, but before the Olympics, World War II started, causing the Olympic games to be cancelled.
Congress enacted a draft bill, but those who enlisted prior to being drafted could choose their branch of service. In early 1941, Louie joined the Army Air Corps. To his surprise, the Army was going to make him a bombardier. Louie and his crew flew on a number of missions, until his plane was shot and damaged so badly, receiving more than 594 holes. On another mission, the engines failed, and the crew crashed into the ocean, killing everyone on board except Louie and two other men.
Louie saw one of the life rafts bobbing on the water and snatched it and climbed aboard. All three men climbed in and lived on this raft for days. Louie—who wasn't a Christian—would often pray, "God, if you'll send water for me to drink, and if you spare my life, I'll serve you for the rest of my life." Soon, it began raining and all of the men lifted their heads back and drank and stored up enough water to live on. As the sharks swarmed around their raft, they caught one with their bare hands and ate it raw.
After 47 days adrift on the ocean, the men spotted land. If anyone had survived longer, they hadn't lived to tell about it. But before they reached land, however, a Japanese boat captured them.
The Japanese quickly learned that they had caught the famous Olympian, Louie Zamperini. Although they barely recognized him, having lost half of his body weight and only weighing 80 pounds. The Japanese forced Louie to stand up and dance, pelting him with fistfuls of gravel. One particular guard—who they nicknamed The Bird—looked for Louie everyday. The Bird later said, "Hundreds of prisoners, Louie Zamperini number 1 prisoner." Almost everyday, The Bird would find Louie and torture him—kicking, beating, rupturing his eardrums, shattering his teeth—sometimes leaving him unconscious. Louie could do nothing, not even shield himself from the blows, which would provoke greater blows. Louie would emerge dazed and bleeding. He was more and more convinced that The Bird wouldn't stop until he was dead. Louie spent hours in prayer, begging God to spare his life.
Louie stayed a POW for over a year. Then suddenly, The Bird left the camp, the violence stopped, and the war was over.
Louie came back to America and within a few weeks, he met a young lady named Cynthia. Louie wasn't the first guy to go after Cynthia—who was already dating two other guys at the same time—but Louie won her heart, and after dating for only two weeks, Louie convinced Cynthia to marry him.
Cynthia knew little about Louie's time as a POW. Drifting off beside Cynthia each night, Louie saw The Bird lurking in his dreams. These dreams became nightmares and caused Louie to turn to alcohol. Soon, Louie decided that he would save enough money to return to Japan and do to these guards what they had done to him. One night in his dream, Louie captured The Bird by the throat, only to wake up and discover that he was squeezing Cynthia's neck. By now, Cynthia had enough and packed a suitcase and told Louie that she was going to divorce him. In God's providence, as she was walking out of her apartment complex, she ran into her next door neighbors who convinced her to come and hear a 31-year-old traveling evangelist with a North Carolina accent by the name of Billy Graham.
Cynthia went that evening and heard a clear presentation of the Gospel. Her life was changed that night, and she went back home to see Louie and told him she wasn't going to divorce him. The news filled Louie with relief, and Cynthia convinced Louie to come with her the next night to hear Billy Graham. Louie went, and during the invitation, Louie was so angry that he got up to leave, but Billy Graham pleaded, "At this time, no one can leave. You can leave anytime during the singing. You can leave anytime during my preaching. But you cannot leave during the invitation." As Louie stood there, he began to remember the promises that he'd made to God. Promises like, "God, if you just give me enough water to drink, I'll serve you with the rest of my life. God, if you spare my life from all of these beatings, I'll serve you with the rest of my life." Louie realized that he needed Jesus Christ to forgive him of his sins, and that night, he gave his life to Christ.
Louie went home and immediately there was a profound change in his life. He poured out all of his alcohol. In the morning, he woke feeling cleansed and—for the first time in five years—The Bird hadn't come into his dreams. In fact, The Bird would never come again. A year later, Louie began a new life as a Christian speaker. The work gave him enough money to return to Japan. While there, Louie found all of his captures—except The Bird, who everyone believed to be dead—and forgave them.
The 1998 Winter Olympic Games had been awarded to Japan, and Louie had been asked to run the Olympic torch past the very place that he had stayed years before as a POW. Before he arrived in Japan, word reached Louie that in fact, The Bird was still alive and Louie made arrangements for the two of them to meet in the lobby of the hotel. The day of their meeting, The Bird changed his mind and refused to meet with Louie, but sent a carrier in his place. Louie wrote a note to The Bird and gave it to his carrier. He never knew if The Bird actually read the note, but nevertheless, Louie wrote:
As a result of my prisoner of war experience under your unwarranted and unreasonable punishment, my post-war life became a nightmare. It was not so much due to the pain and suffering as it was the tension of stress and humiliation that caused me to hate with vengeance.

Under your discipline, my rights, not only as a prisoner of war but also as a human being, were stripped from me. It was a struggle to maintain enough dignity and hope to live until the war's end.

The post-war nightmares caused my life to crumble, but thanks to a confrontation with God through the evangelist Billy Graham, I committed my life to Christ. Love replaced the hate I had for you. Christ said, "Forgive your enemies and pray for them."

As you probably know, I returned to Japan in 1952 and was graciously allowed to address all the Japanese war criminals at Sugamo Prison…I asked then about you, and was told that you probably committed Hara Kiri, which I was sad to hear. At that moment, like the others, I also forgave you and now would hope that you would also become a Christian.

-Louis Zamperini
Zamperini's story of survival and resilience will grab most readers' attention, but it's his testimony of redemption that makes Unbroken perhaps the most exciting and encouraging books published about World War II. As a Christian, you'll not have to worry about sharing this book with unbelievers, almost guaranteeing to provoke fascinating conversations. Unbroken illustrates the depths of human depravity and exposes our desperate need for a Savior. For if even Louis Zamperini can be broken, how much more should we realize our brokenness and our need for Jesus, who alone can make us whole.
*Note, this fascinating book has recently been produced into a movie. Directed by Angelina Jolie, Unbroken premiers in theatres on Christmas Day, 2014.