We've all seen, or at least heard about, those cooking shows where you have a random collection of ingredients and you have to make a meal.  Well, I'm really good at that.   Circumstances of my life (along with my fear of grocery stores) have forced me to learn how to make a meal out of whatever I have.  Now all the cool kids do it. (#trendsetter)
How many times have you had pizza for dinner and the 3 or 4 pieces of pizza remaining wind up getting "saved for later" but are pushed to the back of the fridge, lonely and forgotten?  Never again, my friend. Never. Again.
Yesterday, I had this breakfast casserole with left over pizza as the base.  It was delicious! I mean, think about it: pizza has so many ingredients in common with omelets, and the crust holds everything together in beautiful casserole form.  My mother made it, and I enjoyed it – so it was super easy for me!
Here's what she did to go from this…..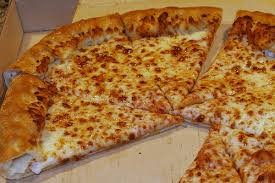 to this….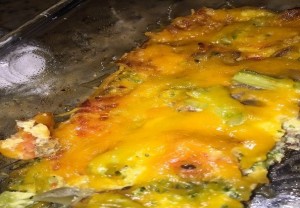 Pizza Breakfast Casserole
What you need: 9×13 casserole dish, mixing bowl, cutting board, knife, medium sized skillet
3-4 pieces pizza, any kind
½ lb. breakfast sausage
6 eggs
3T melted butter
1C shredded cheese of your choice
¼ C milk
½ C chopped broccoli (or spinach)
½ C chopped onion – unless there are onions in the pizza
Non-stick spray
Heat your oven to 350 degrees.  Coat your baking dish with non-stick spray.  Melt 3T of butter in the skillet.  While that is melting, chop your veggies and toss them in the melted butter on medium high heat cooking them until just tender, about 5 minutes, stirring often.  Transfer the contents from the skillet to the baking dish and start browning your sausage in that same skillet, on that same medium high heat.  In the meantime, tear up –or cut up, if you're refined- the left over pizza and drop it in the baking dish with the other goodies already waiting. Crack the eggs into your mixing bowl and add the milk, then whisk away. Add the egg/milk mixture to the baking dish, and after 8 or so minutes of the sausage browning (you will be stirring that around, keep in mind), rinse it, drain it, add it to the casserole. Top this beautiful mess with shredded cheese and cover with foil.  Bake for 45 minutes and serve it up with a fruit salad (if you want to be like my mom — and you should want to be like my mom.)
We ate this delicious breakfast on a cold and snowy Sunday morning; three generations in pajamas at the breakfast island.  When my littlest little was finished with his breakfast, he crawled up in my lap and snacked on the fruit left on my plate, resting his head against my chest – and I never want to forget what that feels like.  Ever since he was big enough to get out of his chair, he has come to sit in my lap as soon as he finished a meal.  Every time.  It's my favorite part.  He will be 9 years old this week, and I know that these after-meal snuggles will be fewer and fewer, but man, they are worth holding on to.
On this particular snowy morning, we had church, y'all.  Dishes were washed and counter tops wiped down, then we found ourselves in the living room with my amazing children, Googling praise songs and singing with all the passion they had and all the truth they understand at the top of their voices to their Savior.   Reflecting on Psalm 145 today, with a renewed understanding of purpose and praise:
I will extol you, my God and King,
and bless your name forever and ever.
2 Every day I will bless you
and praise your name forever and ever.
3 Great is the Lord, and greatly to be praised,
and his greatness is unsearchable.
4 One generation shall commend your works to another,
and shall declare your mighty acts.
5 On the glorious splendor of your majesty,
and on your wondrous works, I will meditate.
6 They shall speak of the might of your awesome deeds,
and I will declare your greatness.
7 They shall pour forth the fame of your abundant goodness
and shall sing aloud of your righteousness.