Autopsy. Webster describes it as the examination of a dead body to find out the cause of death.  That's exactly what Thom Rainer does in his book Autopsy of a Deceased Church. Published in 2014 by B&H Publishing Group, this short 102-page book is easy to read and serves as a wake-up call to churches across America.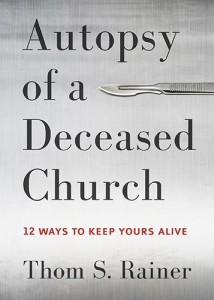 Rainer, president and CEO of LifeWay Christian Resources, writes about the results of 14 church autopsies. The churches are diverse in denominational or non-denominational background, location and demographics. It is Rainer's hope that this book will serve as a warning sign and hopes that "God will raise up an army of church members who are no longer satisfied with business as usual."
Part 1 includes 10 chapters describing 10 common threads of the churches that died. Some are:
The church refused to look like its changing community
The budget moved to an inward focus
Members focused on their own preference of worship style
The church rarely prayed together
Pastoral tenure decreased to every 2-3 years
The church had no clear purpose
The past was the hero
One of the most important quotes to me was, "The most pervasive and common thread of our autopsies was that the deceased churches lived for a long time with the past as hero. They held on more tightly with each progressive year. They often clung to things of the past with desperation and fear. Any when any internal or external force tried to change the past, they responded with anger and resolution: 'We will die before we change.' And they did." (pg. 18)
Part 2 is written in a way that one can diagnose their church into one of four categories.  Rainer offers responses to each diagnosis that can be adapted and applied to each situation. He suggests that the following statistics reflect the actual condition of churches across America:
Healthy- 10%
Symptoms of Sickness- 40% – 150,000 churches
Very Sick 40%- 150,000
Dying- 10%
Rainer points out that these numbers are not precise, but in his opinion and based on his experience, they reflect the condition of churches across America.
Some of his suggestions to churches seeking healing are:
* Pray and ask God to open the eyes of leadership and church members
* Audit how church members spend their time and how the church spends money
* Confess the need, pray for strength and be willing to radically change
Rainer goes on to encourage the dying church to give funds to another church, donate the building to a new church start, merge with another church or turn the leadership over to people who actually reside in a transitional neighborhood.
Each chapter ends with a Prayer Commitments and Questions for Further Thought.
While this is very discouraging, it is not hopeless. In Matthew 16, Jesus told Peter that the Church will not die. He said, "On this rock I will build my church, and the forces of Hades will not overpower it."
But, many of our local congregations are either sick or dying. What kind of church are you in? If it is showing signs of sickness are you willing to ask God to open your eyes and see the true state of your church and admit that it might be in trouble?
Are you willing to change? Do you have the courage to speak up, not as a complainer but in love?
Are you willing to do your part to bring healing and new growth to your congregation?