Greetings!
Another week, another DHD. My intro will be short so you can take in the six topics below.
Pray for Marriage
A major case will go before the Supreme Court, beginning April 28. What is on trial is how this nation is to observe marriage, an institution that was neither created by government nor has within its purpose the ability to define a person's rights. However, the highest court in the land will be making a ruling of whether or not this sacred union can be redefined under an interpretation of equal rights.
Russell Moore and the Southern Baptist Convention's Ethics & Religious Liberty Commission is asking for people to commit to praying on April 28 at 9 a.m. CST, which is the scheduled time for oral arguments to begin. Also, consider promoting #PrayforMarriage on your forms of social media and use the avatar below: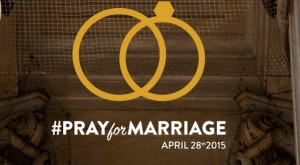 You can also retrieve a prayer guide at http://erlc.com/article/prayformarriage
"The outcome of this decision will shape the landscape of the church's ministry in the United States for generations to come; and it will have significant consequences on the future of religious liberty," said Moore.
Please consider being a part of many across the country who can make a difference by fervently praying, and let's see God move through the answering of our prayers and begin a spiritual awakening through this pivotal time.
Unexpected Support for the Indiana Pizza Place
It's been spread through the media about the owners of Memories Pizza, a small restaurant in Indiana, who are facing going out of business after expressing to a reporter they would not cater a same-sex wedding.
An article was brought to my attention about Courtney Hoffman, a woman professing to be gay who donated $20 and joined thousands of other supporters in a financial campaign to help the owners of the pizzeria. Why did she do it?
"My girlfriend and I are small business owners, and we think there is a difference between operating in a public market space and then attaching the name of your business to a private event," she said. "Like, if we were asked to set up at an anti-gay marriage rally, I mean, we would have to decline."
Russell Moore went on many TV news shows last week expressing similar scenarios to what Hoffman shared about business owners participating in functions that would be against their consciences.
Why is it that Ms. Hoffman understands, yet Apple, Wal Mart, Angie's List and other businesses do not?
Also, something else she said that I appreciated: "I just think there's a lot of room for differences and similarities between all of these businesses, all of these communities, and if we can remember that differences don't equal maliciousness, and try to find what we have in common — you know, the ands instead of the ors. Maybe we can move beyond threats of violence and have open discussions of the things that we don't agree on."
That part of having open discussions is huge. This is where the Gospel can have an impact.
Speaking of the Gospel…
As I mentioned last week, I'm going to spend a few weeks making an emphasis about what is the Gospel. Have you thought about how you would answer the question "What is the Gospel?" Again I welcome any feedback.
In the above topic about Ms. Hoffman having open discussions of the things we don't agree on, these are opportunities Christians need to seek. The Gospel, not our opinions or perspectives, is what needs to be revealed when such opportunities occur. It's not about proving someone wrong and trying to win a debate.
See Jesus and the woman at the well for a case study (John 4).
Dave Bliss: Another example of the Gospel
Earlier this week, Dave Bliss was named the men's basketball coach at Southwestern Christian University, a small NAIA school in Bethany, Okla. If you are not familiar with Bliss, the last time he coached at the collegiate level was at Baylor in 2003.
Long story short, he inappropriately paid, by NCAA standards, for one of his players to attend Baylor. The player was shot and killed, and Bliss made a false accusation about the player in order to cover up his NCAA violation. When his actions were publicly revealed, nobody expected Bliss to coach another college team ever again.
This week, however, the unexpected happened, and the former OU, SMU and New Mexico coach will be on the sidelines for SCU this fall.
So how does the Gospel fit this situation? Read a comment made by Jim Poteet, SCU athletic consultant, featured in Berry Tramel's column:
"In the world I live in as a Christian, the reason God gave his life for me, he gave me grace. Why wouldn't I as a Christian want to give grace to someone else who has definitely shown that they want to be a different person than they were before?"
Do you want to understand the Gospel? Do you want to see how it can be demonstrated through humanity? Dave Bliss returning to college coaching is a small example, and what Poteet expressed is a big example.
Westbook's Generosity
I am a fan of Russell Westbrook. I love watching him play, and I appreciate the view I have of watching him at every Thunder home game.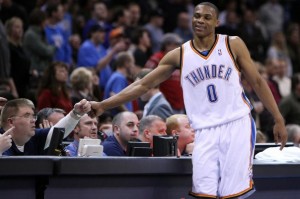 Not everybody shares my appreciation. Earlier this season, Westbrook acted like a jerk when addressing the media during postgame interviews. In the past, he has had temperamental moments on the sidelines. These incidences would be why some don't share my fondness.
I won't make excuses for his downfalls. I wish they didn't happen, and maybe he's improving in this aspect of P.R.
Earlier this week, Westbrook gave away the car he received for winning MVP honors at this year's NBA All-Star Game. The benefactor was a 19-year-old mother of two young boys.
Does this generous act overcome his rude behavior of the past? Probably not, but maybe God will use such graciousness to impact this young lady as well as her children. I don't recall past MVP winners giving away their awards to the underprivileged. Perhaps Westbrook started a trend.
How will the Thunder end the season?
Westbrook and his teammates are still in contention to make the NBA Playoffs. A popular debate is whether or not it would be better for the Thunder to go into the postseason, or should the team hang it up and take the chance of a high lottery draft pick?
Based on their last outing, losing 113-88 to the Spurs, it's a growing opinion of OKC foregoing the playoffs since the squad doesn't appear to be competitive and may be ready to rest up for next season.
Here's what I want to see in the Thunder's final four regular-season games. I want them to be as competitive as they possibly can be. I don't want them to obtain a loser's mentality.
All four games are winnable, even with the Thunder's injury-plagued condition. OKC has a better record than three of the teams they face. The other team is Portland who the Thunder face at home, and the Trailblazers have all but wrapped up their playoff ranking (fifth I think?) with no chance of improving, which means their motivation to win the game may be low.
Maybe the Thunder only win one; maybe they win all four. But if they battle throughout these last four games, that could still produce enough motivational juice going into next season. And with this current roster experiencing an injury-free season, I like the Thunder's chances to claim an NBA title in 2016.
Have a great weekend! And keep looking for ways the Gospel is revealed!