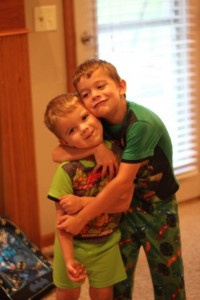 For the 50th time that day, he put his hands on his cousins.
Not wrestling exactly, not unkindly, but definitely handling them about the head, shoulders, and face. At six years old for a high-energy boy, it doesn't get much better than visiting Disney World with your six and seven year old boy cousins and he was riding high on life. The decibels of his voice rise with his excitement so that he was talking at high volume while bouncing around as though he was an offspring of Tigger.
My husband and I were worn out from corralling him.
Ben, don't touch Cooper.
Ben, come here with the group.
Ben, please quiet down.
No Ben, we can't ride Space Mountain again. We had a fast pass that time and it would take 70 minutes to ride it again.
Ben, you're walking in front of the stroller.
Ben, please sit down.
Ben, don't grab Brady around the head; nobody likes that.
As I lay in bed that night thinking over the day, I found myself thinking something that made me feel very guilty.
The trip would have been so much easier without him.
But it was true. Of our four children, he has always been and will always be the most difficult. Least likely to understand the need to bend to the needs of a large group, he always stands out.
And the standing out frequently embarrasses me.
Not pretty, these thoughts.
But they led me like a gentle shepherd back to a truth I've needed before:
Accept the child you've been given, not the one you imagine you want.
If I had a choice, I'd turn down the volume on Ben, soften his manners, increase his pliability, and smooth out his rough edges.
But perhaps this desire is more indicative of my own rough edges. I didn't create Ben. I carried him in my womb, but God made him the exuberant, ornery, stubborn, intelligent little boy he is today. Bringing four little babies into this world has taught me that each is different from the beginning. Yes, what I do makes a difference, but I don't make them who they are—sweet or stubborn, strong-willed or pliant, coordinated or clumsy.
My job is to work with what I've been given, and I pray for wisdom to do this well, but the children I have received are from God the Father, and His sovereign choice assigned them to me. Who am I to resent the good gifts He gives?
And in the end, I wouldn't want to turn down the volume on Ben. No matter how exasperated I get on any given day, I do love him to the moon and back. I love all his rough edges, and the ways he sands off mine. No matter where his road in life takes him, he will always find me watching and waiting for opportunities to run out and throw my arms around him.
Just as the Father has done for me.
Lord, may we give thanks to you for all the good gifts in our life and gratefully accept the children you gave us, giving them the same grace You have given to us. Amen.