Tis the season for the crazy little elf who mysteriously moves around my house and keeps watch of my kids. My sweet little munchkins cannot wait until the Elf on the Shelf shows up. It is one of their favorite parts of our Christmas traditions.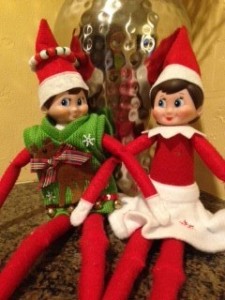 My husband and I, on the other hand, loathe the moment Christmas magic brings him – Jingles, out of hiding! If you are not familiar with this tiny creature, it is a stuffed version of Santa's little helper who magically moves every night and appears in a new place the next morning. No one is allowed to touch him or he loses his magical power.
The problem is, some parents have totally gotten out of control about this whole elf thing! Instead of simply moving the elf to a new spot, they have become overly creative and made the elf do all kinds of crazy things like, creating spider webs out of yarn in which the elf hangs upside down like Spiderman, or freezing him in funny positions in a huge block of ice, or creating elaborate toys scenes with their kids' Legos!
Sounds so fun right? Well, sure, until it comes to actually doing it! It takes way too much time every evening to come up with a new idea, and I can't tell you how many times we rushed around in the morning before the kids woke up because we forgot to move him the night before!
So why do we do it when it is such a headache, you may ask?
My kids wake up every morning with smiles on their faces as they sprint to see what their elf was up to during the night. They love it! And I love them! No matter how much I get tired of moving that little creature, I will grin and bear it because of those sweet smiles and how much joy it brings to their heart.
Jesus feels the same way about you! He knew how much pain and suffering he would face when he chose to come to earth. Yet, unlike my husband and me, He did it willingly. He chose to come as a lowly babe, not a man of power. He came to a young Jewish girl whose name was unknown, not a well to-do girl of popular privilege.
He died a criminals death and accepted beatings, spiting, name slamming, and ridicule few have lived through. He experienced human emotions, hunger, sickness, loneliness, temptation. He did so much  .
"Why?" you may ask. Jesus loves you so much, there isn't anything He wouldn't go through for you! Filling your heart with joy brings Him joy. This season should remind us of the amazing sacrifice He displayed just to bring us joy, to bring peace on earth, to bridge the gap that no one else could fill. What mysterious love this is, yet how grateful I am He did!
As farfetched as it may sound, may Jesus remind us of His love whenever we see that little Elf on the Shelf, and may our hearts be filled with so much joy that we sprint with open hearts to a daddy who is waiting to receive us!