Greetings!
We started the week observing Martin Luther King, Jr. Day, and we end the week with the 43rd anniversary of Roe v. Wade. We honored a man who pursued freedom for all people, regardless of race, and we remember a ruling that took away the right of life for the unborn.
On Monday, WordSlingers re-published my DHD from last year on Dr. King's "Letter from a Birmingham Jail." In today's DHD, some of my topics reflect an overcoming aspect of the results of Roe v. Wade, talking about people and events that have helped shaped the culture in understanding the sanctity of life, especially for the unborn.
Lankford, a Pro-Life Leader
On Thursday, Jan. 21, Sen. James Lankford received the 2016 Pro-Life Public Service Award. This inaugural award was jointly presented by the Ethics and Religious Liberty Commission of the Southern Baptist Convention and Focus on the Family, as both organizations hosted the first-ever Evangelicals for Life Conference, in Washington, D.C.
I have commented on Lankford before, and I still believe he is one of the leading politicians who is making a difference in regards to the sanctity of life. His speech on the Senate floor soon after the first release of what would be a series of videos revealing the heinous practices of Planned Parenthood is monumental, and he has spoken since then with similar vigor, wisdom and clarity. His latest talk in the Senate was this week, and it was masterful. As you can view below.
https://www.facebook.com/SenatorLankford/videos/1024822620913393/?video_source=pages_finch_main_video&theater
He also co-wrote an article with Sen. Ben Sasse titled "Pro-Life Movement: Progress is on Our Side" in the National Review.
Congratulations Sen. Lankford! No one deserves this award more than you!
Daleiden is debriefed
David Daleiden also made an appearance at the Evangelicals for Life Conference as one of the first speakers at the event. The lead investigator for Center for Medical Progress was responsible for the production work of the videos revealing PP's practiced, and he participated in a Q&A session with Russell Moore, president of ERLC, and Focus on the Family president Jim Daly.
The session was great. I enjoyed listening to this 27-year-old explain why he led the charge to make it publicly known that PP was harvesting and selling aborted baby parts.
Moore asked him about the lying aspect of his undercover work of making the videos and was he making morality relative by doing so. Here is Daleiden's response:
"I think that undercover work is actually fundamentally different from lying because the purpose of undercover work is actually to serve the truth and to bring the truth to greater clarity and to communicate the truth more strongly. Certainly in normal everyday life we don't always communicate the truth by a simple, one-equals-one mathematical equation way of speaking. We often use poetry and metaphor and acting and even pretext in order to communicate really important truth in a more clear way. Our Lord did that in the Gospels with the parables. It's often done throughout the Holy Scriptures, so I see undercover work in the same way as a creative speaking that is of the service of the truth."
I'm still processing Daleiden's remarks. Please know that I support Daleiden and CMP and commend his efforts involved in doing these videos and firmly believe this undercover work is defensible. My initial thought would be that Daleiden should have stopped at the first two, maybe three, sentences. When he compared his undercover work to Jesus sharing parables, my head turned sideways.
If he were going to use the Bible to explain his actions being morally sound and justifiable, I would have suggested the Egyptian midwives in Exodus 1:15-21 who disobeyed and deceived Pharaoh because they feared God and desired to protect the Israelite babies.
The Latest at Liberty University
My alma mater Liberty University was in the news this week because Donald Trump spoke during Monday's convocation at LU. Many were in stern disagreement, even some were outraged.
The criticism wasn't directly for Trump speaking on campus. Over the years, LU has invited public personalities who don't seem to align with the school's conservative Christian values to address the student body – as recently as last fall with Democratic presidential candidate Bernie Sanders to the late Sen. Ed Kennedy who was on campus in the late 80s.
Instead, the disapproval was focused on the glowing remarks LU president Jerry Falwell, Jr. made about the Republican presidential candidate, which made Trump sound like a model Christian who has "born fruit."
People I admire including Russell Moore and Denny Burk wrote proper responses objecting to the Trump presentation at Liberty.
My response? In a month from now, nobody will be discussing this.
I love Liberty University. I am proud of my educational and vocational experiences there. Most of all, LU is responsible for the many MANY great friendships I developed, with some continuing today. Even with the flaws, I'll proudly "Fan the Flames" and sing "Let the fire in your name set the spirt aflame. Win a victory for ol' LU!"
A Much More Serious Concern
I learned about a list of countries that ranked the worst in Christian persecution. Open Doors USA is a ministry focused on serving persecuted Christians around the world and is responsible for the ranking. Here are the top 10 worst countries:
North Korea
Iraq
Eritrea
Afghanistan
Syria
Pakistan
Somalia
Sudan
Iran
Libya
I would like to ask you right now if you would pray for the Christians in these 10 countries. If you want to know more about Open Doors and this list of countries where Christians are persecuted, visit www.worldwatchlist.us
Chick-Fil-A Helps Families Talk to Each Other During Meal
A friend of mine shared the following photo of a Chick-Fil-A, possibly in South Carolina, that has an ingenuous project that encourages families to put away their mobile devices while eating and talk to each other: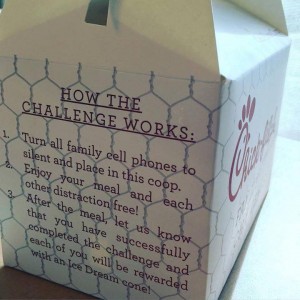 I would encourage other CFA restaurants, and other eateries, to follow this lead.
Thunder Update
At the time of writing this DHD, the Oklahoma City Thunder will face the Dallas Mavericks this evening. This could be an interesting match-up, based on what resulted the last time the two NBA teams met in OKC. Sparkplug guard J.J. Berea got under Russell Westbrook's skin, which eventually led to the all-pro guard's ejection.
I think the Thunder have greater rivalries, but the Mavericks are not that far down the list. If OKC pulls off the win tonight, this will be another marker-type victory that may gauge how much the Thunder are improving.
I will also be curious to see if Kyle Singler continues to progress. His last few game performances have been noticeably impressive, including last Wednesday against Charlotte when he came off the bench to score 11 points with three three-pointers.
Be encouraged Thunder fans!