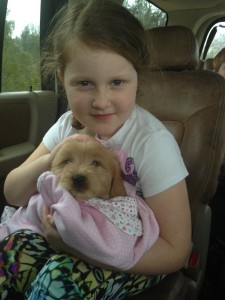 Have you ever started something knowing the newness would wear off soon?
Recently my three kids and I traveled south to pick up the newest member of our family, a four-legged canine fellow. He is the cutest thing you have ever seen! And we love him already, but in the back of my mind, I know that there might be more days this pup gets on my nerves than the days he doesn't. More so in this puppy stage because they are so much like a baby needing constant attention, waking you up in the middle of the night, barking, whining, not to mention potty training. He sounds more like my two year old than I would like!
So why go through all this? Why get a dog in the first place? Mainly because my daughter has been asking for about four years now and saying "no" has gotten a lot harder. I grew up with dogs and loved the memories I had with them. Honestly, because I want one too, even though I know it will be a lot of work!
Sometimes the excitement of being a Christian can wear off too. There are seasons in which being a Christian is exciting and refreshing. You wake up in the morning excited to spend time with God, and the time you have never seems to be long enough.
Other times you hit the snooze button one too many times because getting that 10 minutes of extra sleep sounds like a better idea than getting up and reading your Bible. You go to church out of routine, not conviction, and you listen out of politeness rather than eagerness to hear from Him.
The excitement has worn off!
How do we get it back, you may ask?
I don't have a three-step plan, but I'll tell you what I do, and I pray it finds a place in your heart today.
What do I do when the newness and excitement of being a Christian has worn off?
I beg God for passion! I pray He gives me a fire in my bones. That He gives me a desire and hunger for His word. Only He can put breath into dry bones and resurrect them from the valley of death (Ezekiel 37). It doesn't happen overnight. You have to keep begging God for it! For me, it begins to grow slowly, and I begin to feel passionate once again. He restores my soul, and spending time with Him brings life back to my dead bones!
I don't know if your spiritual life feels more like dry bones today than a new and exciting adventure, but either way, ask God for passion, ask God for new breath, and see how He changes your attitude towards Him and the things He has called you to do!
This is a song I see when my heart needs uplifting:
Give me one pure and holy passion
Give me one magnificent obsession
Give me one glorious ambition for my life
To know and follow hard after You
To know and follow hard after you
To grow as your disciple in your truth
This world is empty, pale, and poor
Compared to knowing you, my Lord
Lead me on and I will run after you
Lead me on and I will run after you