Saturday afternoon is made exclusively for "balancing", according to five-year-old little me. Back then, on any given Saturday, there I'd be with both arms stretched out on either side teetering up and down like a seesaw, while balancing for miles along fence tops, curbs, and any other flat surface in my path.
One day, after hours of balancing, I took a rest in the seat of a playground swing. Pumping my little tan legs and propelling myself up and back and back and forth -a particularly high back-swing took me high enough to catch a glimpse of the metal bar that forms the top structure of the swing set.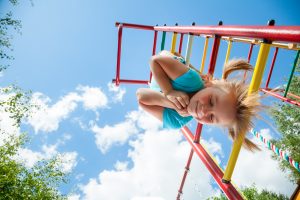 "Hmmm, could I …" I asked myself? Climbing to the top of the swing set and proceeding to the middle of the bar, I sat down. "Hmmm, could I balance my body by only the tops of my feet?" I wondered.
Firmly gripping the warm metal bar with my knees, my belly muscles tighten to slowly lay my body backward, until the daggling shadow of my fingertips almost touch the ground. Rocking back and forth, my hair defying gravity, I gather all my courage to release my knees and grab the bar with all the strength the tops of my size one little feet can muster.
The next thing I remember is waking up in the hospital with two black eyes and a nose I no longer recognize. Many years have passed since the day I escaped both a broken neck and my mother "wringing it," yet I'm still obsessed with balancing.
Although I don't spend much time at the playground these days I'm still swinging back and forth, attempting to balance. These days, I am balancing things like trust and control, joy and worry, thanksgiving and disappointment. After all these years, on any given day, here I'll be with arms stretched out like a teeter-totter trying to balance the raw reality of my life, with the hope and promise of my future with God.
How do I balance both my responsibility to daily remain steadfast and trusting, with the ever-present inclination to doubt God when He delays, and then run off on a path of my own making?
"Do not be anxious about anything, but in every situation, by prayer and petition, with thanksgiving, present your requests to God. And the peace of God, which transcends all understanding, will guard your hearts and your minds in Christ Jesus" (Phil. 4:6-7).
The obsession, the challenge …balancing the ever-present tension between transparent, authentic, real day-to-day living (and we all know what that feels like) on one hand, while continually standing on, holding onto, and relying on the hope, promise, and prevision from an Almighty– God (El Shaddai) on the other hand.
Let's agree maintaining balance is hard!
In 2012, Nik Wallenda became the first person to safely cross Niagara Falls by walking a tightrope. This was not an easy feat. According to wikipedia.org, Wallenda wore a microphone for the event which allowed the public to listen in throughout the walk. Wallenda's chosen path took him 1,800 feet across the widest part of the falls. He slowly inched his way across the slippery wire, praying out loud and praising Jesus Christ as he went.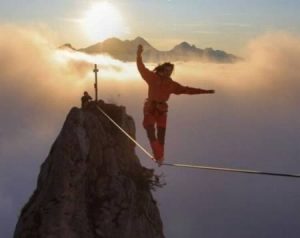 Wallenda's walk resembles our walk with Christ. Our walk is also a balancing act where our faith is concerned. When walking a tightrope of faith, to maintain firm footing, the walker must hold confidently onto a similar balancing beam — God's word. The walker must also remain focused, as loss of focus is a loss of balance.
The loss of balance can send us into a spiritual free-fall quickly destroying our faith, resulting in the death of our joy, hope, trust, patience, peace, love, and forgiveness.
The Bible puts it this way in Proverbs 4:25-27, "Let your eyes look straight ahead; fix your gaze directly before you. Give careful thought to the paths of your feet and be steadfast in all your ways. Do not turn to the right or the left; keep your foot from evil."
"Great advice…" my right side says.
My left side says "but this balancing act is hard, this life is scary, and this world is dangerous".
I teeter- I totter.
I don't know about you, but sometimes as I continue to walk, my feet get really slippery.
The particular tightrope crossing Wallenda set out on is considered by the critics to be one of the most dangerous stunts of all time. Mr. Wallenda's promoters concur and demanded Wallenda be fitted with a safety harness throughout the crossing, for the first time in his career.
Our Promoter, our God, knows the challenges we face daily as we walk. He whole heartily agrees life here on Planet Earth can be difficult. Not only do we have the balance beam of God's word (and His promises) but, like Wallenda, we also have been fitted with a safety harness. The Holy Spirit, the safety-net which firmly guides our feet as we walk step-by step with Him.
2 Corinthians 5:5 says, "Now the one who has fashioned us for this very purpose is God, who has given us the Spirit as a deposit, guaranteeing what is to come".
What this means for me and for you is we can rest in the assurance that even if our foot should slip, no matter what knocks us off balance, God's got this! He won't let us fall!
Blessings of balance as you walk with Him.