Greetings!
I'm on a late start after a busy morning. After this week's DHD is competed, a nap may be in order.
Here's my take on six timely topics.
Movie Review: Queen of Katwe
Go see this movie! Is that enough to convince you?
I mentioned Queen of Katwe in last week's DHD. That was written before I saw it. Now, I can tell you it's worth seeing. For a modern day Disney movie, it's about as direct of a faith-based film you would get from the Magic Kingdom.
The young lady who plays Phiona, the lead character, did a phenomenal job. All-star actors David Oyelowo (Jack Reacher, Selma) and Lupita Nyong'o (12 Years a Slave, Star Wars: The Force Awakens) were excellent in anchoring the plot. Oyelowo plays a Christian missionary who teaches Phiona, uneducated and poverty-stricken, how to play chess, and then discovers his young student is a prodigy who goes on to become a chess master.
Nyong'o plays Phiona's mother, a single lady with four children who cover a wide range of ages. She is a strong woman who does what she can to keep her family together.
The movie is rated PG. There are some scenes that allude to the practice of prostitution. There also are some heavy emotional scenes. Personally, I was never bored throughout the show, but I could see how some may think it has some slow parts.
With very few "clean" movies currently in theaters, Queen rules the day.
VP Debate Aftermath
I'll be very brief on my take of the Vice Presidential Debate earlier this week. No argument from anybody, Mike Pence was the winner. I'm a fan of the Indiana Governor, and as one who grew up watching Jonny Quest, I'm all for the comparisons of Pence to Race Bannon.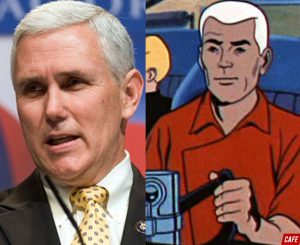 The best part of the debate was near the end when Pence spoke on the Sanctity of Life and quoted Jer. 1:5. I found a great summarizing clip that for me was music to my ears. Even with the few interruptions by Tim Kaine, which could not be avoided throughout the debate, this video is worth watching.
https://www.youtube.com/watch?v=r0Nolql2Zz4
Waxing Eloquently on the Presidential Election
It's becoming a regular DHD weekly feature. Once again I reference my favorite blogger Trevin Wax.
Wax and I are of kindred spirit when it comes to this year's presidential election, and we join the masses of Evangelical Christians who struggle with the candidate options, knowing that Christian voters will come to different conclusions.
Please check out his piece "What Christians Should Do This Election Season," and I hope you will join me in trying to practice "Giving Space and Showing Grace."
Bob Nigh, the Messenger Guy
After 18 years, my colleague and Baptist Messenger managing editor Bob Nigh made his final edits this week, as he begins his retirement. Next week's Messenger is a great send off, as Bob shares his life story, and weekly columnist Walker Moore offers a touching piece about his friendship with Bob.
I first interacted with Bob when I worked in the Communications Office at Oklahoma Baptist University, from 2005-08. When I joined the Baptist Messenger staff in 2012, Bob got me on the saddle, training me on writing style standards and layout tips. He took me to buy the camera I would use, and photography was not one of my strong suits, but Bob mentored me well enough to take usable photos for publication.
Bob is an excellent journalist, and there are not many excelled journalists these days. I have great respect for his accomplishments and great admiration for his desire to communicate to others the work of Christian ministry, specifically the work of Oklahoma Baptists, knowing that it is ultimately about sharing the Gospel.
There is a short list of those who have influenced me in my current profession. Bob Nigh ranks near the top of the list.
DR Work and Hurricane Matthew
­­Bob is not starting his retirement in his recliner. On Monday, Oct. 10, Bob will join a group of Oklahoma Baptist Disaster Relief (DR) volunteers traveling to Florida to provide meals and do other DR work in the aftermath of Hurricane Matthew.
They intend to set up their feeding station on Tues., Oct. 11, as the Florida Department of Emergency Management requested the regional DR group, made up of volunteer teams from Arkansas, Louisiana, Missouri, Mississippi and Texas, to be prepared to serve up to 300,000 meals per day, according to Sam Porter, DR director for Oklahoma Baptists.
Please be in prayer for the east coast, for what is happening right now with the hurricane and for God to do a mighty work beginning next week in this affected area.
Thunder Report
I shared last week how I was impressed with Thunder players Andre Roberson and Dom Sabonis after watching them in an intrasquad scrimmage. Hearing about the two exhibition games the Thunder played in Spain this week, it appears more are agreeing with me about Roberson and Sabonis.
I'm curious to see if Sabonis remains in the starting lineup. We will find out next week when OKC takes on the Mavericks in Dallas. But I'm becoming more and more confident that Roberson will blossom to become a key contributor this season.
The only other news coming out of the Thunder camp this week is Russell Westbrook will be inducted into the Oklahoma Hall of Fame by Michael Jordan. I'm thrilled for Russ. I hope more great things happen for him and for the Thunder this season.