My Labradoodle – she acts just like a toddler.
I'm not saying she is spoiled. But… let's just say she has become accustomed to certain expectations being met.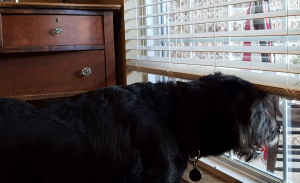 Last year, challenging circumstances prevented us from following our normal life routine. For several months, start and stop times for our daily activities were skewed. We weren't able to supply this pampered pooch with her normal life "treats". No morning hide-and-seek, no evening walk, no Frisbee, no Rachel Ray soup bones. Day after day spent completely void of every predictable tail-wagging delight.
One evening coming home late, I received no greeting at the door. Searching the house, I discovered her lying on the floor, head down on paws – looking just pitiful. In the moment my heart whispered "awe… you poor thing". My head however, couldn't help but fashion a big ol' smile.
You see, what she has no way of knowing at the time is –In two short days, she will be face-to-the-wind. Surfing the lake. Posed like Vogue on the bow of a Pontoon. Hiking trails. Hotdogs by campfire. Running with lightening bugs.
The plans we have for her include everything she loves.
Blessings of joy marked on the calendar –which she knows nothing about.
Yet, here she sits –sulking, just like a toddler.
This past year, you may have been accustomed to some "things."
You may have certain expectations which are far from being met. You may be experiencing circumstances preventing you from enjoying your "normal life routine." Days, weeks, maybe even months void of anything to wag your tail about. 2016, might have been just a little "skewed." Okay… a LOT skewed!
You may be tempted to just lay down and look pitiful.
I understand. Especially when expectations have crossed right on over into bitter disappointment –possibly even full blown despair.
Don't do it! Don't give up. Lift your head up, my friend. You have no idea what God has penciled in, just for you, on the family calendar! It's a new day, it's a new year. Dog days are over. God is working on a new thing!
Watch for it.
Position yourself next to the door of your heart, then wait – expectantly! You won't be waiting in vain, I promise.
"But as for me, I will watch expectantly for the LORD; I will wait for the God of my salvation My God will hear me" (Micah 7:7).
Here are some things to do while you wait:
1. See for yourself, in these scripture examples below, just what your God could be up to for your life in 2017.
Joseph – Genesis 45
Hadassah – Book of Esther
Rahab – Joshua 2
Woman at the well – John 4
The Widow – 2 Kings 4
2. Begin now to thank God, in advance, for all the good things He has written on your kingdom calendar.
3. Keep a journal – document every tail wagging treat God brings your way in 2017.
This year, resolve to attend a Bible-believing church or doctrinally-sound small group, or join a Sunday school class. Then, share how God turns your sorrow to joy and your weeping to dancing.
Be a head lifter.
Be an encouragement to those around you, who still wait – expectantly!
"This God — His way is perfect; the word of the LORD proves true; he is a shield for all those who take refuge in him" (Psalm 18:30).