Greetings!
I'm back home after spending the week in sunny California. No beach. No Disneyland. No searching for movie stars. It was purely a business trip. The only thing "Cali-ish" I did was I ate at In-N-Out Burger, which isn't just in California anymore.
I had the privilege of meeting with other editors of Southern Baptist state newspapers and publications. Workshops, panel discussions, reports from leaders of Southern Baptist entities and nice evening dinners pretty much took up the majority of my time.
Some of my DHD topics come from my trip experience, but not all. I will offer some thoughts on other things happening in our wonderful world.
Here we go!
An apology from Platt
David Platt is the president of the International Mission Board (IMB) of the Southern Baptist Convention. He is known for his book Radical, which if you haven't read, you should. The description he offers in the book of a secret church meeting he attended in a country where the practice of Christianity is illegal is very intense, fascinating and convicting.
Platt met with my fellow editors this week, offering a report on the IMB. At the end of his formal report and before he fielded questions, Platt addressed a controversial issue involving the IMB's participation in an amicus brief submitted to a legal trial involving a mosque in New Jersey. The brief supported the mosque's position on the basis of religious liberty.
In the editor's meeting, Platt apologized "for how distracting and divisive this has been," as reported by Baptist Press. I thought Platt showed sincerity and humility in his remarks, and he reiterated how IMB will continue to focus on evangelizing around the world with the intent of bringing people to Jesus.
My favorite part of Platt's talk involved a story he shared about taking an uber to a church where he was speaking that day. Not surprising, Platt connected with the driver whose name was Juan, and as they arrived at the church, Platt led Juan to make a profession of faith in Jesus Christ. It was a great story, and I praise God for Juan's salvation.
But I must confess, I started wondering and even asked others around me after the meeting, how many other current top leaders of SBC entities would consider taking an uber?
Gaines gaining ground as new SBC president
Steve Gaines also met with us to give his thoughts on the SBC and other issues. As pastor of Bellevue Baptist Church in Memphis, Tenn., Gaines was elected SBC president last summer, and when asked in the editor's session about different political issues, Gaines offered viewpoints that favored a conservative perspective. Baptist Press also reported Gaines' comments, which you could read here.
Here's a story on Gaines you won't read about in BP or other news sources. He was on the same flight I took Monday from Dallas to Ontario, Calif. When we arrived and went to the baggage claim, a young mother with small children was there to collect her bags. She sat about three or four rows ahead of me on the plane, and her baby boy cried a good portion of the three-and-a-half-hour flight.
The mother was tired, as we all were, but she had an extra task on her hands, literally, as she had to keep corralling her kids while looking out for her luggage. Before the conveyor belt began to move, Pastor Gaines goes up to the young lady and tells her he's going to stay with her and help her claim her luggage. He told her his daughter has young children too, and if she were in this mother's situation he would want someone to help his daughter.
I'm officially a Steve Gaines fan.
Access to Gateway Seminary
The main attraction for holding the meeting in Ontario was the new location of Gateway Seminary, formerly known as Golden Gate Seminary, when it was in the San Francisco area.
We were treated to a very nice dinner at the Seminary's beautiful new campus and got to hear the story of the transition, which Gateway President Jeff Iorg shared through the explanation of "seven miracles" that made this move happen while not interrupting any semester schedules or causing Gateway to experience any debt – rather, it retained excess money after the move of more than 400 miles south of the original campus, which happened a year ago.
I confess, my initial thought as I was about to hear Dr. Iorg speak was "I hope my phone doesn't lose power so I can keep up with the Thunder-Knicks game." I never once looked at my phone once he began to share about how difficult it was more than four years ago with all the challenges the Seminary facing.
Iorg said these burdens were causing him sleepless nights and physical illness, but then he told about one miracle after another, how God worked through an amazing financial offer for the original location to other financial support to finding the right location for a new campus to obtaining building permits much quicker than expected to having complete unity and support for the move among all students and Seminary personnel.
I am thankful to hear about God making Himself known through Gateway Seminary's experience.
Concerns of religious liberty continue
A hit was made this week against religious liberty. The Ethics and Religious Liberty Commission reported Barronelle Stutzman lost an appeal to the Washington State Supreme Court, as the florist refused to sell flowers to be used in a same-sex marriage ceremony because of "her relationship with Jesus Christ."
This has been a major case for a few years and will likely reach the U.S. Supreme Court. However, such religious liberty cases have lost attention and possibly support, especially due to the inevitability of society becoming more accepting of same-sex marriage.
What I want to believe is Evangelical Christians are willing to listen and understand those who view life differently from the worldview of Biblical Christianity. Becoming "all things to all people that by all means I might save some," as Paul said in 1 Cor. 9:22. What concerns me is some Christian believers misapplying Paul's intention and purpose of this perspective when it comes to accommodating the LGBT community.
Reading the details of Ms. Stutzman's case, she befriended her customer and gladly accepted his business at her floral shop, with an exception to one ceremony she believed was a demonstration of disobedience to God. Yet the government finds her action based on her convictions and moral beliefs, not based on malice, to be illegal. I pray the highest court in the land will rule in her favor.
Westbrook at NBA All-Star Game
I'm finding out Russell Westbrook, at a press conference today in New Orleans, changed the subject to fashion whenever he was asked questions about Golden State or Kevin Durant directly. Say what you want about Russell and all the made-up drama, about him playing with the four other Warrior All-Stars. And of course, he will be on the court at some point with all four Golden State players. That's what people want to see.
I don't know for certain if I will actually watch the NBA All-Star Game this Sunday, but I do believe Russ will play hard and will demonstrate himself as a loyal teammate of the Western Division squad.
Late Valentine's Day observance
If you were keeping tabs on my week, you would know I was away during Valentine's Day. Just so you know, Karen took the day off from work that day and enjoyed a Spa treatment. But I did make sure she got roses sent to her work the next day.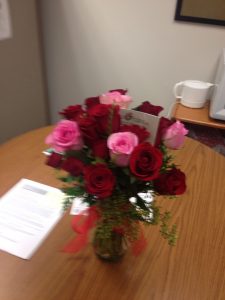 And Dave Ramsey would be proud of me because the roses were at a major discount. Plus, we will be going out to eat Saturday night, so hopefully I can remain out of the running for worst husband of the year.