In case you haven't heard, today is National Sibling Day. I don't generally participate in all of the Facebook holidays, as I like to call them, but today I think I will participate because I am crazy about my siblings!
I am the youngest of a bunch of kids who are now adults. There are six of us for those who like to count. Three boys and three girls. Not quite the Von Trapp family, but more than the Cleavers.
Here we go in age order: Jared (top left) – 35; Daniel (top right) – 32; Grace (middle left) – 30; Joel (middle right)– 27; Abby (bottom right) – 24; Emily (Me, bottom left) – 24. (Yes you read that right, I have a twin sister who is eight minutes older than me, no we are not identical.)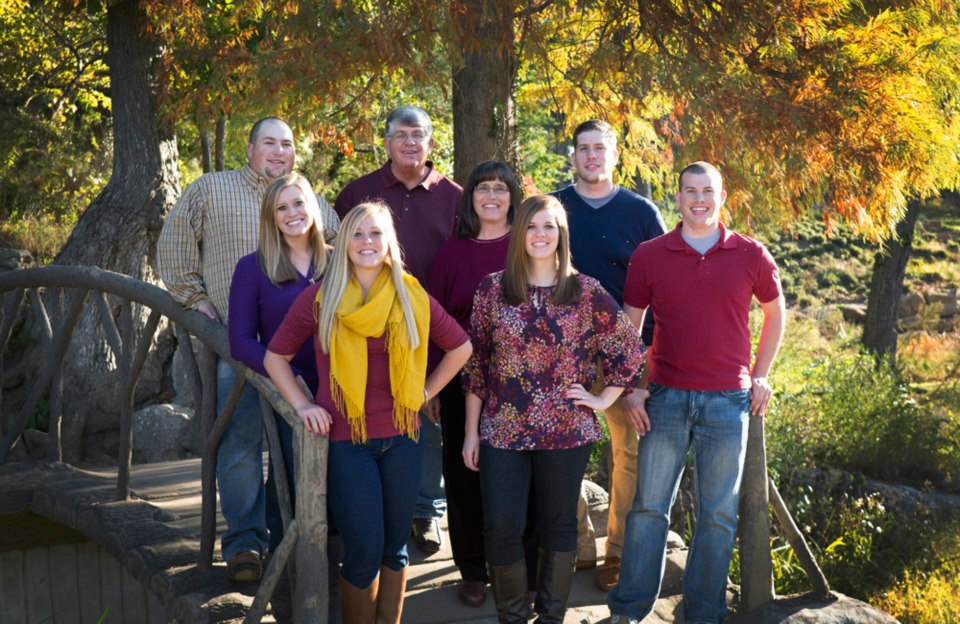 Growing up with so many siblings has shaped the person I am today. I consider myself extremely blessed and fortunate to be able to have grown up with all five of them. They are all my built-in friends for life, and I don't know what more I could ask for than our big, loud and crazy family.
Let me introduce you in the shortest way possible to each of them.
First, there is Jared. Jared is a war veteran, having served in the Middle East, protecting our country and standing up for the rights of us as Americans and fighting for others to have those rights. He is a hero and a father to creative Chase and Colt the firecracker. He is an exceptional husband to my amazing sister-in-law Jennifer and a darn hard worker. I could go on. But I'll stop there.
Next on the roll call is Daniel. Daniel is a scholar and voice for the voiceless. He is a middle school principle at Tulsa School of Arts and Sciences where he excels at leading and teaching the future of our great country. He is a passionate husband to another incredible sister-in-law, Amanda, and father to sweet little Adrian. I could go on. But I'll stop there.
Grace, the oldest girl of the bunch is next. Grace is one of my role models in life and best friend. She is married to my super creative brother-in-law Nathan, and the mother to rambunctious Roman and Charlotte the cutie. Watching her be a mother and work a job she is passionate about (elementary music teacher) while giving her children all the love in the world gives me hope for my future as a professional woman and mother! I could go on. But I'll stop there.
Joel is the youngest of the boys. Joel keeps us all laughing. He is passionate about anything that he does, whether that is watching and commentating on sports, especially when OU is involved, playing a game during family game night or loving his family and girlfriend Kelli. Joel does all things full speed ahead. He is also a cancer survivor and one of the strongest people I know. I could go on. But I'll stop there.
Abby. She is my twin and built-in best friend for life. She was born eight minutes before me but has always been my second mother. Being a twin has been one of the biggest blessings in my life. Abby has been my rock and all of the above for the past 24 years. She is married to my awesome brother-in-law Caleb and mommy to Theodore, my precious nephew. She also makes the best peanut butter and jelly sandwich, ever. I could go on. But I'll stop there.
Obviously, I can't begin to adequately describe all of these people and how special each one of them is to me in a couple of sentences. I could write a book about the things I admire and love about each of them and still have more to say.
With this many people and differing personalities, there is friction at times. But what's important is each one of us were raised to know the love of our Lord and Savior, and for that we have our parents to thank. Don't get me started on how obsessed I am with them…that's for another day.
The Lord is the constant in all of us. He is our glue, he is our rock and he is who made each one of us to be the person we are today. He knit us all together in our mother's womb.
It's Holy Week, which means on Sunday, we will celebrate the resurrection of Jesus Christ. Because he went to the cross for each of my brother and sisters' sins, we are not only biological brothers and sisters, but we are brothers and sisters in Christ, which is the closest and most precious sibling relationship the world has ever known.
If you don't have any biological siblings this National Sibling Day, know that you have a body of believers that are your Heavenly brothers and sisters, and we have one thing in common: we all praise our faithful and loving heavenly Father.