Greetings,
This was a week of heavy emotions. Many were affected by the horrible tragedy in Manchester, England, and I open DHD with a great encouragement someone shared that went viral in order for many to receive needed comfort amidst the act of terror.
And I give thoughts on other timely topics. Let's get to it.
Memorable Mr. Rogers
Vogue shares a reflection from an entertainment writer who tweeted soon after the Manchester bombing comments about meeting Mr. Rogers. I loved reading the tweets, and I'm certain you will as well. I'm happy the writer got to share a time with one of the best personalities in the history of television.
Fred Rogers, a Presbyterian minister, was known for his children's show "Mr. Rogers' Neighborhood" that ran from the late '60s to the early 2000s on Public Broadcasting Service. He passed away in 2003, but through moments like this Vogue article, his influence continues.
I loved the songs on his show that he would sing. My favorite I can still sing today, "It's You I Like," and appreciate the simplicity in the encouragement it offers in its lyrics.
The article mentions a powerful statement Mr. Rogers once said, "There's one thing that evil cannot stand, and that is forgiveness."
What a great piece of the Gospel message he shared in that statement.
Mr. Rogers Part 2
The second takeaway from the article is another comment from Mr. Rogers, and this one I have heard previously.
"When I was a boy and I would see scary things in the news, my mother would say to me, 'Look for the helpers. You will always find people who are helping'"
My immediate thought turned to Disaster Relief. I am thankful for knowing when "scary things" happen because of storms, natural disasters or the results of human influence, such as the 9/11 attacks or the Oklahoma City Bombing, Oklahoma Baptist Disaster Relief has been an example of the helpers Mr. Rogers describes.
He was a simple man in many ways, but Mr. Rogers had great insight, wisdom and words of encouragement.
Merciful Melania's Memorable Moment
Melania Trump showed much graciousness this week, as George Deek, an Israeli diplomat, shared on Facebook what he described as "the most memorable moment" of the First Lady's experience with President Trump on his trip to the Middle East.
Deek said the Trumps were visiting Israeli President Rivlin's house, and gave this description of Melania meeting First Lady Nechama Rivlin:
"As they were about to walk inside, Nechama whispered to Melania that she will do her best to catch up with the walking pace, but she might be a bit slower because of her medical condition which requires her to use an oxygen tank. Melania took her hand, looked at her and said: 'We'll walk at any pace you choose.' And so they walked, slowly, gracefully and proudly, hand in hand."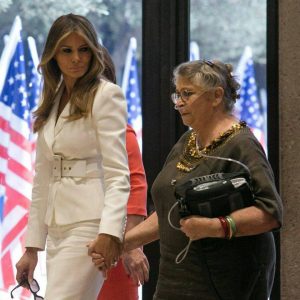 Deek then said, "That silent gesture has neither any political significance nor any colorful tone to it, but it is everything."
I can't think of a better example of kindness and class.
Chaos with Kanter
Oklahoman are now very familiar with Thunder center Enes Kanter's recent world travels. The Turkish native was doing a benevolence tour across the globe when he got stuck in a Romanian airport. His passport was revoked because he was speaking against the president of Turkey.
I admire Enes' courage. He has compassion for his native land and those who have been under serious government duress.
Kanter is constantly mentioned as a possible trade prospect for the Thunder. His salary is a major clog for the Thunder to consider bringing in another player who could help the team improve. His latest playoff performance was disappointing.
But Enes is a likeable teammate, and depending on matchups, he can be valuable in the post. I have no idea whether or not Enes will be in OKC when next season starts, but this I do know, he has earned much respect from many in Oklahoma.
More permissive than ever
Check out Joe Carter's take on a recent Gallup poll in "Survey: On Most Moral Issues Americans Are More Permissive Than Ever."
A couple of things I take from the poll's numbers are 1)The extreme difference in Americans thinking it's morally acceptable to have sex outside of marriage (69 percent) yet 88 percent believe it is morally wrong for someone married to have an affair. 2) Views on pornography (61 percent, morally wrong) and abortion (49 percent, morally wrong) show some encouragement
But Carter gives some challenging conclusions. He said the way the trend is heading, by 2027, the majority will believe polygamy and suicide are morally acceptable.
Carter said Christians need to do whatever is needed to change the tide.
"We bring down his wrath upon our ourselves when we call evil good and good evil, and when we put darkness for light and light for darkness (Is. 5:20)," Carter said.
Memorial Day
Enjoy your extended weekend. Remember to take time to observe appreciation for those who gave their lives that we may experience the freedoms we enjoy.