Treat yourself this summer to a fantastic new novel. Oklahoma's own Laura L. Drumb has released her debut novel, From Now Until Forever.  This Christian historical piece is a captivating tale of romance and adventure displaying God's love and forgiveness. I could barely put it down!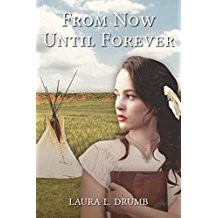 Set in Indian Territory in 1853, Mandy's family is called by God to minister to Indians.  Living on the prairie, they understood the danger. As the result of a gruesome attack, Mandy is captured. Plunged into a new culture as a slave to the Kiowa Indians forces Mandy to rely on God as she makes the transition. She fights to preserve her personal values and beliefs in the midst of it all. God's provision and protection are evident as He gradually reveals her life calling.
The story is full of twists and turns that kept me eager to come back for more. Drumb did extensive research into Indian history and culture, which masterfully weaves fact and fiction throughout the book. Details of the Kiowa tribe include daily food preparation, social interaction, making clothes and even tanning deer hide.
Drumb explains the physical and spiritual preparation for buffalo hunts which I found fascinating. She includes the butchering process which was left to the women and the making of a type of sausage which is considered a Kiowa delicacy. Throughout the book, I felt like a fly on the wall, introduced to a mysterious, fascinating culture I had previously only wondered about.
In the course of Drumb's research, she met a full blood Kiowa woman who is a respected elder in the community. She became an invaluable primary source of information about how the Kiowa lived on the prairie, adding authenticity to the book. The Kiowa are a people of prayer, which made them easier to evangelize than other tribes. Ms. Drumb told me that she told her Kiowa friend, if the book did not honor the Kiowa people, their history and their culture, as well as their Lord, she would not publish it.
The author notes in the book her desire to offer hope and encouragement to those finding themselves in a crisis and navigating through particularly difficult circumstances. Although fiction, the book reminds readers of the reality that God is present, He is in control and He loves us. Despite the pain, He has a plan, and He sees the big picture.
From Now Until Forever caused me to reflect on my own spiritual life. If I was in this situation would I still trust God? Have I memorized enough Scripture and well enough that God can use it in my life – without a Bible? Am I as sensitive to the moment-by-moment leading of the Holy Spirit as I should be?
I encourage you to make this part of your summer reading. You'll be entertained, educated and inspired. The end of the book offers some great discussion questions which can be used personally or in a small group. Available on Kindle as an e-book on Amazon.
"When would she learn that God always has a better way than any she could create and her job is to wait on Him to reveal it, no matter how long it takes?"  Laura L. Drumb