Greetings!
So much time, so little to do. Strike that. Reverse it.
Spending time with family today, so I don't plan to take long to do this week's DHD.
Here we go:
Bland draft for the Thunder
Last night was the NBA Draft. Usually it means the unexpected happens for the Oklahoma City Thunder. Well, I guess for me, it was unexpectedly dull. That's not to stay the Thunder weren't effective. Time will only tell.
They finished the night only drafting Terrence Ferguson, a small forward who played a season in Australia. He's supposed to be a "3-and-D" type player, who the Thunder could use, if Ferguson can fit the bill.
I'm neither excited nor discouraged. I guess I'm just in wait-and-see mode. And that's not to stay some excitement can't happen in the next few weeks. It's possible we will hear more offseason moves by the Thunder after July 1, when the NBA allows teams to sign free agent players.
An unexpected visit to Falls Creek
Since the youth weeks at Falls Creek Baptist Conference Centers started earlier this month, I've made a visit each week. This week it was to meet Carla Hinton, the religion editor for The Oklahoman. She called to see if Anthony Jordan, BGCO executive director-treasurer, was available to meet at Falls Creek for an interview.
The only time Dr. Jordan had available for such a meeting was Wednesday night. I was told Tuesday afternoon I needed to go meet Carla to be her host while she was there. And that was fine with me. I always enjoy going to Falls Creek. I consider it my happy place.
Carla is doing a story about Falls Creek celebrating its 100th anniversary. Wednesday night during the camp weeks was the perfect time for her to go. There's a special event each Wednesday after the evening service at Falls Creek's Centennial Plaza. On the entertainment docket includes 3,000 cupcakes given away, plus music entertainment, followed by a brief fireworks show at 10 p.m.
Carla got to take it all in amongst the massive mob of juveniles roaming the plaza. And I'm there, making sure we both stay vertical as we tread through all the humanity.
My church is also at Falls Creek this week, so I got to see quite a few friends and family. It was great to see so many of my college peeps that I enjoy teaching in Sunday School being sponsors.
As of now, I don't have plans to be at Falls Creek next week, but that can always change.
Visiting Little City
Last Sunday was a great experience. I had the pleasure of visiting Little City Baptist Church, on the outskirts of Madill. Next week's cover story for the Baptist Messenger explains how this rural church on a two-lane state highway, surrounded by a few blocks of houses and a whole lot of farmland, is experiencing an ongoing revival.
Pastor Cecil Mackey has been Little City's pastor for 16 months. In this time, the church increased its Sunday School average from 35 to 80 and has observed 32 baptisms. On the Sunday I was there, one young lady made her decision known she wanted to be baptized, so the number will continue to grow.
The story next week will explain how God worked through the church to prepare them for when Mackey became its pastor, and it shares how Mackey surrendered to ministry and how God worked for Mackey to become Little City's pastor.
SBC Resolutions Follow-Up
Last week's Southern Baptist Convention Annual Meeting was highlighted by Messengers' strong support of a resolution denouncing the "Alt-Right" movement and other forms of white supremacy due to its message and philosophy being contradictory to the Gospel.
This is a commendable act, however, it is not the only significant resolution that was passed last week. Nathan Finn, dean of Union University's School of Theology, offers a great description of a resolution calling for the defunding and the investigation of Planned Parenthood. The resolution was passed unanimously. Finn also points out that SBC Messengers have passed 40 resolutions since 1980 that speak to the issue of abortion at some level.
Other concerned issues last week's resolutions address include the sin of gambling and the importance of moral leadership.
A special gift from SBC meeting
I've shared a few times that Trevin Wax is a favorite Christian blogger/writer of mine. His newest book This Is Our Time came out a few months ago. I had planned to buy it, but my friend Brian Hobbs beat me to it.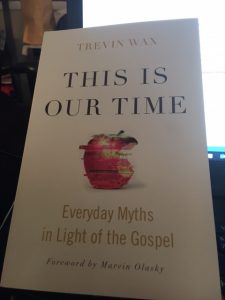 He bought the book for me at the SBC Meeting, and not only that, he got Wax to sign it for me.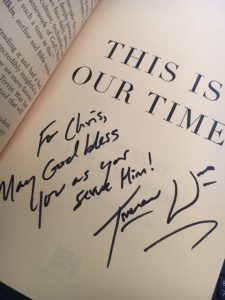 I plan to give a review soon.
Civility spelled out
Speaking of Wax, he wrote a great piece in response to the many tragic acts involving politicians and violent responses to politics. Check out "Don't Take For Granted the Fragile Blessing of Civility."
"The idea that violence is the way to 'beat some sense into someone' is a mark of tyranny, not freedom. Whenever you see it, whether advocated by people on the Right or the Left, you must call it out and resist it openly and urgently. There is no room for partisanship on this question; it is every American's patriotic duty to oppose any justification for violence against one's political opponent."