We're all waiting for something or another, but there are unique seasons of life when we are called to wait, sometimes even when it looks like all earthly hope is gone. When the days turn into months, and the months turn into years, we can be tempted to fall into despair and give up.
If you are in a season of waiting, you will not want to miss out on this fantastic book Waiting on God – Strength for Today and Hope for Tomorrow by Charles F. Stanley. One of the most well-respected and trusted pastors in the country, Stanley has written more than 45 books. His popular radio and television broadcast, "In Touch with Dr. Charles Stanley," can be heard around the globe and in more than 50 languages.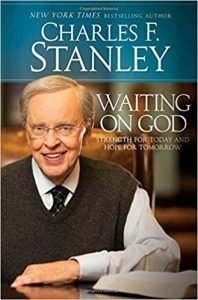 This has to be one of the most encouraging and practical books I have read. Every chapter is packed with godly wisdom, insight and guidance. Stanley teaches about Biblical personalities who endured intense times of waiting and writes from a personal perspective in which he experienced times of prolonged waiting himself. The end of each chapter offers a prayer and suggested action steps in Points for Active Waiting.
Stanley writes, "…waiting on the Lord signifies an expectant endurance that is demonstrated by a directed, purposeful, active, and courageous attitude of prayer."
Below are some of my favorite quotes:
Directed
"No matter what you're waiting for, ultimately, you are better prepared and suited for it if you are centered on God. Why? Because when you focus on what you lack, it inspires despair in your heart. You obsess over your own limitations, which reinforces the bondage within you."
"When you single-mindedly set your sights on God, you realize the incredible strength, wisdom, and power that are being employed on your behalf. You have confidence because the Lord knows and provides what is absolutely best for you."
Purposeful
"There is meaning in the delay because it trains us to look with anticipation for the Lord's perfect direction, preparation and provision."
Stanley writes about how to pursue God's will in the midst of an intense period of waiting by reading God's Word, praying, discerning circumstances and receiving godly counsel.
Active
Stanley teaches that claiming God's promises is crucial because "it will keep us steady and strong as the storms of adversity and waves of doubt arise." He teaches how to appropriate a promise in Scripture. Is it limited or general? Is it conditional or unconditional? Is it for me?
Courageous
"It is not easy to be courageous, especially in the darkest moments when we are shaken to the core of our being…When everything looks bleak and there is no hope in view, we dauntlessly continue to trust that the Father is in complete control. We don't give up or quit because we have faith that the Lord is still God, and He has a wonderful plan for our lives."
God allows us to endure dark times to mature us, prepare us and allow us to be a witness to how God is working in our lives.
If you're hanging on by a thread, grab a copy Waiting on God – Strength for Today and Hope for Tomorrow and allow God to refill you with hope. Don't give up! Allow Him to stretch your trust muscles. Despite the pain, learn to trust Him. Trust His plan and His timing.
Lamentations 3:25 "The Lord is good to those who wait for Him, to the person who seeks Him."