Leave it to Oklahoma's own Lance Lang, founder and leader of Hope is Alive Ministries to bring us another book packed with his mantra: HOPE.  #HOPEDEALERS The Changes, The Challenges, and Callings of Saying YES!  hot off the press this month is Lang's fifth book and published by THG.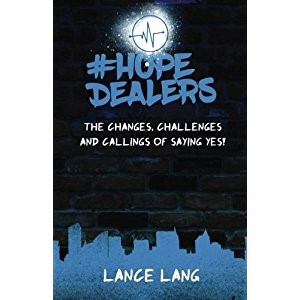 Lang believes in celebrating sobriety and the God of second chances. In an age where addiction and hopelessness are an epidemic, Lang is rallying together a growing army of people who are courageously embracing their God-given calling to share their personal stories of hope.
Hope is Alive exists to radically change the lives of drug addicts, alcoholics and those who love them. In its sixth year, HIA has seven Mentoring Homes with more than 70 residents. Finding Hope Support Groups for loved ones exist in several cities across Oklahoma. A Church Partnership Program and Family Services program provide resources, consulting and more. www.hopeisalive.net.
The HopeDealer Verse

"I waited patiently for the Lord to help me, and He turned to me and heard my cry. He lifted me out of the pit of despair, out of the mud and the mire. He set my feet on solid ground and steadied me as I walked along. He has given me a new song to sing, a hymn of praise to our God. Many will see what He has done and be amazed. They will put their trust in the Lord" (Psalm 40:1-3).
 #HOPEDEALERS is a short, easy-to-read book, written as if Lang was sitting with you, having coffee. In a style all his own, what my husband and I call "Lang slang," the book will inspire you and give you hope. Giving God all the credit, Lang weaves the story of Hope Is Alive Ministries, including one 'only God could have done that' moment after another with many testimonies of life transformations. Read the painful yet hope-filled stories from both men and women, residents and graduates of the program, and family members who attend Finding Hope classes.  While sharing these first-person accounts, Lang interjects his perspective of each story. One of my favorite chapters is entitled "Go Save Some Lives," written by Lang's wife, Ally, who describes how God called her to this ministry and gave her "an intense and specific plan for a Women's Program at HIA."
In addition, #HOPEDEALERS is calling people to join a movement of HopeDealers to share their story of pain and turn it into purpose.
One of my favorite quotes is from Zach, "… the HopeDealer knows who they are. They're grounded in Christ and are owners of everything that can't be bought. They know they'll never run out of hope and so they give it freely to everyone they encounter."
Lang writes, "A HopeDealer is one willing to share their pain and their past with anyone who needs what they have! For those who have overcome addiction, the pain of divorce, worked through grief of losing a loved one, or beat cancer, there is no limit."
According to Lang, the qualifications to be HopeDealer are simple:
Be a human
Have a story
Be willing to tell it
The HopeDealers movement is a contemporary form of an age-old, Jesus-teaching concept of evangelism, sharing our own stories of how God has redeemed us in order to reach people who don't know Him.
The beauty of it all is that Lang is helping folks do exactly that, by providing a platform on the interactive website www.HopeDealers.com. You can record or write your #HopeDealer story, submit it, and it will be reviewed for posting. Is God calling you to be a HopeDealer? Say YES!