Over the weekend my husband and I visited Magnolia Market in Waco, Texas for a belated 2nd anniversary trip.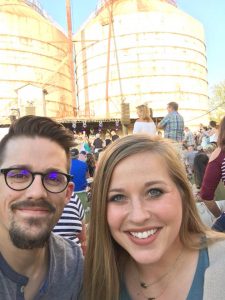 If you're not familiar with what Magnolia Market is, Chip and Joanna Gaines are the owners. The Market started after a couple of really successful seasons of their HGTV hit show "Fixer Upper," in which they take old, dilapidated homes and make them look better than brand-new construction.
In season two of "Fixer Upper," Chip and Joanna purchased a pair of old silos near downtown Waco. From there, they completely renovate the entire property, making it into a store-front and delightful area to spend time with friends and family. It was their biggest fixer upper to date.
When we had cable, or when it was on Netflix, this used to be a show that Casey and I loved to watch for inspiration and because, well who doesn't like to look at pretty things?
So when Casey suggested, back in July, that we make the trip to the annual "Silobration" event hosted at Magnolia Market, I was excited!
The Silobration is a fun-filled, weekend event in which hand-picked vendors from across the country set up shop on the streets surrounding the Silos, with food trucks and a concert each night. Johnnyswim, performed as the headliner of the concert. Casey and I danced as husband and wife for the first time to their song, "Take the World."
A common theme I saw throughout the weekend was one of old things made new. Have you noticed this in the consumer market? People go gaga over all things vintage, reclaimed or rustic. I'm not sure if this is mostly a southern trend, but people love old things.
Why is that? I asked myself this question as I saw an old, worn-out book for sale for $15 when I know for a fact you could find the same type of book in a thrift store for $1, if you were brave enough to do some rummaging.
For those that love this trend, and have filled their homes with all things reclaimed or rustic, I think it's the authenticity that they crave.
Yes, it's true, "they don't make them like they used to," anymore in terms of a lot of things. However, some prefer the out of the box, brand new look as opposed to the craftsmanship and quality of yesteryear.
I don't know about you, but I kept thinking about how the Lord made us new and desirable in his eyes. He took us at our worst, when the world might call us ruined and unusable, and reclaimed us to a brand new creation in Him.
He sees the beauty within us on our darkest days, and longs to transform us to a redeemed believer in Christ, free from all shame, guilt, ugliness and sin should we proclaim our faith in Him.
One thing about reclaimed things that is astonishing is the price. A reclaimed dresser might cost twice what a brand new on costs, usually because of the story behind, or the authenticity of the product.
When we are/were made new in Christ, we were bought at a price. God sent His son, Jesus Christ, who gave His life, so that we could be made new and whole again. That price is one we'll never be able to repay. His sacrifice for us was priceless.
It's funny how when I'm shopping and I see something like an old oil can or tin vase, and I get googly-eyed over the potential that item has to beautify my home. The Lord does the same with us. He sees us as we are, and He paid the price for our sins and for us and takes joy in our potential as a believer of Christ. But first, we must act on our faith, put our money where our mouths are.
We have the chance to tell the world about the Love He has for us and exhibits daily in our lives. Just as you might brag or point out a gorgeous find from something like Magnolia Market in your home to visiting guests, do you point out the King and what He has done for your life?
The Silobration was a celebration of all that has been done and made new since the inception of "Fixer Upper." At the end of each episode of "Fixer Upper" the new homes are met with squeals of excitement and gasps of amazement. Let us react the same way each time a new brother or sister in Christ seals their eternal fate in Heaven.