Romantic storyline. Oklahoma history. Humor and wit. What more could you want from the latest historical novel by Oklahoma's own Regina Jennings? Holding the Fort is Jennings' ninth novel, but the first in the new Fort Reno series. In 2015, Jennings was honored to win the National Reader's Choice Award for Best Inspirational Novel, is a two-time Golden Quill finalist and has been a finalist for the Oklahoma Book Award.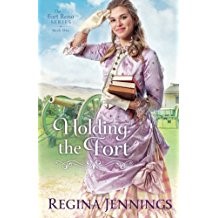 Published in 2017 by Bethany House, the book takes place in Fort Reno, Oklahoma in Indian Territory in the late 1880s. Jennings does a masterful job at developing fictional characters and weaving their stories into true history of the military camp and area. Historical accounts document a Cheyenne uprising prompting the visit by General Sheridan of the U.S. army in 1885, David Payne and the "Boomers" leading illegal tours of the Unassigned Lands and vigilante Texas cowboys shooting Running Buffalo while hunting down stolen horses.
Meet Louisa Bell, product of a difficult childhood, now dance-hall singer using her singing voice as the only way she knows to survive. After losing her job at the saloon, she heads to Fort Reno in hopes of finding employment and her unruly brother who is in the cavalry and stationed at Fort Reno.
Meet Major Daniel Adams, widower and commanding officer who tries to control rowdy troops, pacify and protect the Cheyennes and Arapahos and raise two challenging adolescent daughters.
At Louisa' arrival, she is mistaken for a governess but out of desperation goes along with the mix-up, deceiving both the major and his daughters. This performance will be one of her best, but the reality is how God is working behind the scenes, not only in Louisa's wounded heart but in the hearts of the Major and his family.
Holding the Fort is a charming and enjoyable light read. It is relaxing and perfect for escaping on a quiet winter weekend or to take on vacation. While the story line is entertaining and adventurous, it offers encouragement and inspiration. Most importantly, it includes powerful lessons of forgiveness, honesty and redemption. Today, one can visit historic Fort Reno on Route 66. Learn more about Regina Jennings and her writings at www.reginajennings.com.