Greetings!
It's been a heavy week. So much has happened including icy weather conditions and the deaths of three significant people, especially in Oklahoma Baptist life. I start this week's DHD with tributes to all three.
Billy Graham
So much has been said about this world-renown preacher and evangelist. I'm only allowing myself to reflect on the great impact Billy Graham has made on God's Kingdom. He especially was a major influence on my dad who, through the influence of great Christian men affiliated with Billy Graham's ministry, became such a focused disciple and a great example for me personally on daily Christian living.
In fact, one of these men was Jack Humphreys whose story was shared in 2003 in the Baptist Messenger and then across the country through Baptist Press. Check out "A life transformed by 1956 OKC Graham crusade," which was written by former managing editor Bob Nigh.
There are a multitude of articles that came out this week about Billy Graham, and I've read quite a few. One in particular I found fascinating was TIME Magazine's "How Billy Graham Forged Relationships with Presidents."
Shane Hall
Shane has been a common character in my many DHDs. I wrote about him just last week, and the announcement of his death happened soon after my blog was published last Friday.
One of my favorite interviews for a story was with Shane at CrossTimbers Children's Mission Adventure Camp last summer, when he served as camp pastor for a week. He spoke so matter-of-factly about his grave condition. I proceeded in a somewhat cautious fashion with my questions in order to be respectful and not just come bluntly out and say "You could die any minute in your severely cancerous condition." Shane could tell I was being hesitant in my wording, and he just stopped me and said, "Chris, brother, you can ask me anything you want. It's totally fine."
Because of work obligations I wasn't able to attend his funeral this week. But I was encouraged when I heard that Shane was able to "preach" at his funeral. They played the recording of his sermon from the Pastors' Conference at the Southern Baptist Convention last summer.
I was able to watch a live stream of Shane preaching last year and have watched this powerful sermon about four times since. It's probably the greatest sermon I personally have ever heard. Here it is if you have never watched it.
Willa Ruth Garlow
I had the privilege of writing the article on Willa Ruth for next week's Messenger. I simply titled it "Remembering Willa Ruth." By the way, next week's Messenger is a major treat as we commemorated all three great Christian leaders – Graham, Hall and Garlow.
You can read the first announcement of Willa Ruth's death here, but I elaborate further in next week's Messenger. I am a big fan of Willa Ruth. She was an amazing woman. If you ever heard her speak in a public setting, you know what I mean. In this list of three great leaders, I dare say Willa Ruth held her own with these two great preachers. But there is so much more to the impact of Willa Ruth.
I did attend her funeral this week. One of the great quotes of Willa Ruth that was shared was "When you are in the presence of children, you are teaching." Her heart for children's ministry is incomparable.
She also was a great writer and authored four books. Over the years, she was a guest writer for the Messenger, and I remember reading one of her columns stressing the point that, as Southern Baptists, we give THROUGH the Cooperative Program not TO the Cooperative Program. That has stuck with me ever since.
The final memory I will share about Willa Ruth was after a church service. She was visiting with family who are members of my church. It had been awhile since I have seen her, so I wasn't sure if she remembered who I was. So I went up to her and asked, "Hello Willa Ruth, do you remember me?"
Her response was priceless, "Well, no Chris Doyle, I don't remember you at all!"
My story on Sophia
I mentioned in last week's DHD about a little girl named Sophia who suffered a stroke. I interviewed her mom Jaimie for a story that is in this week's Messenger. Check out "Abundance of believers help make 'Sophia Strong.'"
After I wrote the story, I found out that Sophia visited Oklahoma City, Cherokee Hills, one of the churches I mentioned that has been involved in ministering to Sophia and her family. During a Sunday morning service, Sophia went to the front, and the Cherokee Hills congregation cheered and applauded. Sophia was so happy for this experience.
May God continue to do great things through this sweet young girl!
The misunderstanding of prayer
Sometimes I take May Avenue to work, and when I do, I drive past a salon with a marquee sign. The sign usually has messages relating to current issues. This week, the sign had a rather pointed message. See the photo below that my friend Bret took and shared on Facebook: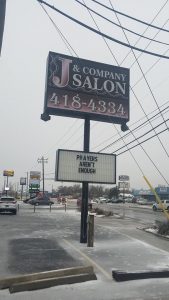 I concluded it was in response to the shootings at the school in Florida. I have a couple of responses.
First, the sign owner may intend to discredit someone who flippantly says "My thoughts and prayers are with (fill in the blank)." If so, they have a point.
Second, the sign owner may not fully grasp the power of prayer. They may not understand what prayer is. They may not understand the One who is addressed when a follower of Christ prays.
I have other thoughts that I won't share, mostly because I have been disappointed with past messages that have been posted on this marquee. However, the sign owner has been effective in helping me understand common views in the world and has challenged me and how I should look at things from a Christian worldview.
What about you? What thoughts do you have when someone says "Prayers aren't enough"? I welcome your feedback.
6. "Different (Worship) Preferences, Same God"
I conclude with sharing a challenging piece by Brett McCracken. Check out "Sing Your Heart Out at Church (Even If You Hate the Music)."
My feelings are similar to Brett's. It's almost as if he somehow stole my personal thoughts that I've tried to keep private in order to not come across as an old curmudgeon. I love to sing, especially in church services and in other worship settings. I won't go into my personal challenges because they are secondary. I need to be willing to worship regardless.
"God is too glorious to not worship enthusiastically, even if the style of worship stretches us beyond our comfort zone."