"God can make something beautiful out of you, even the most hopeless, broken-down thing in your life, especially that. The beauty will most likely come- through pain, waiting, wrestling and difficulty"  Christine Hoover
"What if beauty could actually be found in the very things our skewed hearts deem ugly? What if all that we resist – suffering, confession, brokenness, loneliness, death – were the very things in process of becoming beautiful?"
This is the very question Christine Hoover poses in her new book "Searching for Spring: How God Makes All Things Beautiful in Time." Hot off the press in March 2018 and published by Baker Books, this is Hoover's fourth book. A popular author, speaker, blogger and church planting pastor's wife, Hoover's unique, artistic writing style is deep and intuitive.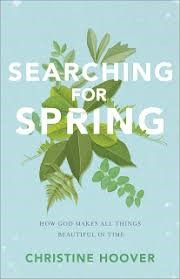 Focusing on Eccl. 3:11, "God has made everything beautiful in its time", Hoover takes readers on a treasure hunt through the Eccl. 3:1-11 poem and through the changing seasons. Concentrating on winter, she explores the question "How does God meet us in our deepest, darkest pain and how does He turn that pain into beauty?"
Writing about "inconsolable things," described as Jesus' unsaid and unfixed things, Hoover encourages readers to navigate that wintery season by enjoying the beauty of everyday life and looking to the hope of spring by "going all-in on a promise of unexpected beauty sprouting up through that very affliction".
Each chapter of the book has its own unique personality. Hoover writes with vivid imagery incorporating the beauty of God's creation with creative references to God's character, describing Him as Composer Poet, Patient Providence, Author, Artist and Joy Whisperer.
My favorite chapter is God is a Potter: He Molds Beauty When We Surrender Control in which Hoover writes about how our "carefully constructed worldviews" cannot bear the weight of "inconsolable things." This worldview implies that we will worship God if we can mold Him; if He comes through for us; without waiting, without pain, without suffering. We want an easy life with instant results.
The truth is "we are meant to live with imperfections and things left undone in the present." We know God makes all things beautiful, but He doesn't tell us how or when He's going to do it.
God has called us to stop wrestling and rest; to stop trying to figure it out and trust; to stop trying to control and surrender. He wants us to lay down as moldable clay on the Potter's wheel, even with pain and fear and rest. God wants us to respond with humility and submission to His slightest movement, noticing His activity around us all the more. In His time and in His way, we "stand in a hope that a greater story is unfolding…God is up to something."
"Searching for Spring" is the first book I have read of Hoover's, and although I had no expectations, I was pleased to be challenged with such deep spiritual truths and creative, captivating word pictures. Reading the book was like getting my hands on her journal, reading her intimate thoughts and soaking up her perspectives.
Hoover is a thinker, and although she didn't specify the details of her own suffering, it was clear that she has allowed God to mold her through her own experiences and circumstances.
I highly recommend "Searching for Spring". This book will encourage and offer hope to those in any manner of struggle. I recommend it be read slowly, one chapter at a time so the truths can be processed and applied.
The winter is long and cold, but spring is coming!
For more information about Christine Hoover, go to www.gracecoversme.com.
This review contains my own thoughts and opinions. I received an advance copy of this book from the publisher in exchange for my honest review.