Greetings!
Happy Mother's Day weekend to you! Here's another edition of Doyle's Half Dozen. I hope you enjoy!
Collison concludes
Nick Collison announced he is retiring. He sent out a notice through Instagram on Thursday. No formal press conference or a big national sendoff. Some of you may not even know who he is.
Collison spent 15 years playing with the Seattle Supersonics/Oklahoma City Thunder – five seasons in Seattle, 10 in OKC but all 15 with one organization, which is a rare accomplishment these days.
He rarely started, but when he came off the bench, nobody ever got a louder cheer than Nick Collison. That was consistent all through his career. The former Kansas Jayhawk was truly beloved in Oklahoma.
He didn't demand the spotlight, but his "blue collar" defensive-minded, floor-diving, charge-taking, backdoor-passing style of play was widely admired. He matched up well against some of the best NBA big men, including Dirk Nowitzki and Zach Randolph. Nick's post defense was stellar.
One of his most memorable performances was against the Clippers in the 2014 semifinals in L.A. Serge Ibaka was injured, and Nick came in and basically led the Thunder to victory, starting with hitting a clutch three-pointer late in the third quarter, which was not his forte, but boy he was exciting to watch that night. The Thunder won the series that night and advanced to another Western Conference Finals appearance.
There's a lot of reading material online that report on Collison's retirement announcement, but the best would be a piece Nick wrote himself and shared with ESPN's Royce Young. Read it here.
Gov. Fallin and SB 1140
I wrote in last week's DHD about an important Oklahoma state senate bill that focuses on private Christian adoption agencies' right to discern clients based on sincere religious convictions. Passing both the Senate and the House, all that remains is for Governor Mary Fallin to sign it and make it law. The governor has yet to sign and has by the end of next week to do so.
This has made national news as David French with the National Review reported on the prolific religious liberty bill. I appreciate French making this clarification about State Bill 1140: "It does not prohibit or interfere with the right of any adoption agency to implement contrary policies. It does not ban same-sex adoption in the state."
The Governor has made the right move on many social issues in Oklahoma. If she fails to demonstrate her support at this significant moment, especially with recent emphases made in our state on adoption and foster care and the importance of needing these adoption agencies to remain in operation, this could leave a major stain on her political career.
UPDATE: Governor Fallin did sign SB 1140, stating the bill "does not ban same-sex adoption or foster care in Oklahoma. Instead, the bill will help continue Oklahoma's successful placement of children with a broad array of loving families and basically maintain the status quo by setting forth in statute practices which have successfully worked for the best interest of Oklahoma children."
Fallin also pointed out a similar legislation in Virginia has been in place since 2012 "without any court challenges." Five additional state have passed similar legislation.
Hance Dilbeck, executive director-treasurer of the Baptist General Convention of Oklahoma, released a statement, regarding Gov. Fallin signing the bill:
"We are grateful to Gov. Fallin and the Oklahoma legislative members who approved Senate Bill 1140, the adoption protection measure. This much-needed bill not only protects and advances religious liberty, it ensures the strength and future of the faith-based adoption and foster care agencies who serve so many children and families in Oklahoma."
SBC President Gaines speaks on recent issues
Baptist Press reported on Steve Gaines, president of the Southern Baptist Convention, statement about recent SBC issues, specifically on racial diversity and comments made by Southwestern Seminary President Paige Patterson. You can read the BP report here.
I alluded to Patterson's comments in last week's DHD. The issue has grown and continues to be discussed. It was referenced in a sermon at my church last Sunday, even though many in attendance were not fully in the know.
I only address it now for the purpose of clarity and to point out President Gaines has officially addressed it. One item that Gaines mentioned is the process of sermon delivery at the SBC Annual Meeting in Dallas next month. Patterson was elected by messengers of the 2017 SBC Annual Meeting to deliver the sermon this year. As Gaines said, there are only two ways Patterson will not preach at the meeting: 1) Messengers vote for him not to deliver the sermon or 2) Patterson personally withdraws.
It's going to be an interesting meeting in Dallas next month.
What is a tithe?
Baptist Press also reported on the views of churchgoers and tithing this week. I'm rather surprised by the survey results.
Here's my take. I learned this long ago. Tithing (which means 10 percent of a person's earning wage) proves our obedience; offering demonstrates our love.
However you want, analyze that for yourself. Start there, and through prayer, consider how you should respond.
Inside Mohler's Library
My friend Johnny Crotts had the privilege of visiting Al Mohler's personal library recently. Mohler, president of Southern Seminary in Louisville, Ky. and a great Southern Baptist leader, is someone I greatly admire. I had the privilege of being his host when he came to speak at a conference a couple of years ago, and the moments of "chauffeuring" Dr. Mohler were priceless for me.
So Johnny shared some photos he took inside Mohler's liberty. I found this one quite fascinating: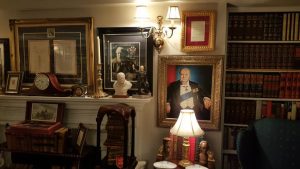 Apparently, Dr. Mohler is quite the fan of Winston Churchill.
Happy Mother's Day
To all mothers, I hope you are shown appreciation this Sunday. I have said often that my mother is my hero, and I look forward to spending time with her Sunday. My family plans to treat her to a Johnnie's burger and a coke, which if you mentioned this meal to my momma, she would beam with much delight. By the way, HMD could mean "Happy Mother's Day" or "Hester McGill Doyle" 🙂
I also wanted to share an unorthodox reflection to mothers. I watched this video taken at a wedding, and hearing this stepmom-to-be share her thoughts and watching her young stepson-to-be respond, I thought it was a loving tribute to all moms.
https://www.facebook.com/humankindstories/videos/316208852242161/