Greetings!
Are you tired of all the negativity surrounding the SBC Annual Meeting in Dallas this week? Well, I've got a "positive-encouraging-KLOVE" report for you.
This week's DHD features my six favorite things about this year's meeting. Here we go!
Jeffrey Bingham's report
Bravo to Interim President Jeffrey Bingham of Southwestern Seminary. As of a couple of weeks ago, I never heard of him (in fact, I had difficulties even this week remembering his name), but I thought he handled giving the seminary report in an eloquent and gracious manner.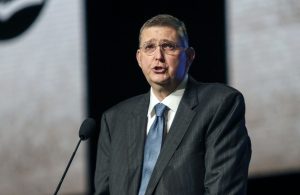 With all the heated matters surrounding Southwestern in the past two months, Bingham stood in front of a packed Dallas Convention Center and offered encouraging words about the seminary going forward.
He said it is his priority "to create a safe environment and a campus culture that protects and cares for the victims of abuse." Bingham also mentioned Southwestern denounces all forms of abuse and behavior that enables abuse, and he reported all faculty and staff will have retaken and completed a course on sexual abuse by July 31.
Also, he emphasized, "Some things at Southwestern cannot and will not change," which includes the seminary's commitment to Scripture and evangelism.
As I said, I never heard of Bingham until a few weeks ago, but after hearing him this week, I am convinced he will right Southwestern's ship through this storm.
IMB missionary commissioning service
Tuesday night was a great experience. David Pratt, president of the International Mission Board, led Messengers in a powerful moment of prayer.
"God, in one voice we cry out for the salvation of billions of people who have never heard the name of Jesus," was featured in one of the many screen presentations while everyone in unison voiced prayer for the many countries and people groups around the world.
The evening session featured an IMB commissioning service or a "sending celebration," I heard it called. Seventy-nine missionaries introduced themselves. Some were presented on the platform under dim lighting because they are going to places where Christianity is not accepted, and their full names were withheld.
One young lady will be going to Southeast Asia, and she gave a powerful testimony. "The stories we tell you are glimpses into how our churches played their role in our call to missions," she sa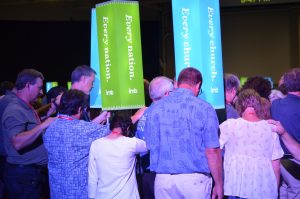 id. "I'm from a small church of 100 people, and I'm the first missionary we've sent out in 60 years."
Then, Messengers participated in an awesome ceremony that resembled a presentation in an opening ceremony of the Olympic Games. The commissioned missionaries scattered across the enormous arena with people holding illuminated signs that said either "Every church" or "Every nation." Messengers were asked to go to one of the missionaries, lay hands on them and pray for God to use them where they are going.
Oklahoma was well represented
The SBC reported 524 Messengers came from Oklahoma. Texas, of course, had the largest representation with 2,036, but only Tennessee (615) and North Carolina (540) had more Messengers than Oklahoma.
I was glad to see many of my Oklahoma friends at the Annual Meeting. There's always a reunion-type atmosphere, and being able to connect with many whom I respect and love in one big place gives me joy.
And my media friends!
Speaking of a reunion, I also got to connect with many friends involved in communications in other states, whether it be editors of other state papers, photographers or those with Baptist Press.
I always enjoy seeing Holly Smith from California who works the media credential/information area every year. I tell people she's a Californian who actually likes Oklahoma. She and I are fans of Oklahoma! the musical. Holly also has a quick wit about her and knows how to respond when I make a silly, pestering remark.
And there are others – Jennifer Rash and Bob Davis from Alabama and Lonnie Wilkey from Tennessee, to name a few. And I enjoy seeing Shawn Hendricks and Art Toalston from Baptist Press, who do an excellent job editing and distributing news stories.
Also, I got to connect with Jim Veneman who is a legend in the world of photojournalism and one of the nicest guys in the universe. I first got to know Jim last year at a conference, and he led a breakout that was excellent.
And I got to meet some people for the first time. Marc Ira Hooks, whom I've heard of from other people, is a former IMB missionary and also an excellent photographer. I enjoyed getting to know Marc, and I hope to connect with him again soon.
Worship through music
There were powerful moments of praise throughout my time in Dallas. A very talented youth choir from Bellevue Baptist Church, near Memphis, led the times of singing during the Annual Meeting sessions.
I was blown away by the combined choirs from Oak Cliff Bible Fellowship in Dallas and Shiloh Metropolitan in Jacksonville, Fla. They provided music during the Pastors' Conference, which met Sunday and Monday this week.
Go to the 4:26 mark of this video to hear them. I don't know if you will have the same response, but this was the first song the choirs sang at the conference. Their sound gave me chills, and their countenance made me smile.
The best motion presented by a Messenger
Yes, there were many heated moments when Messengers spoke from the floor. It was even tense during the reports from the Seminaries. But right in the thick of it, a Messenger made a motion to turn down the AC in the events center, and it couldn't have come at a better time.
SBC President Steve Gaines responded from the platform, "Does somebody know where the thermostat is?" The place erupted with laughter, and the mood seemed lighter.
I hope you enjoyed my sharing of positive aspects from the SBC Annual Meeting.