We've each been given one life. What are you doing with yours? What am I doing with mine? What are we doing that will outlive our lives?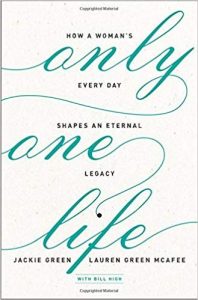 Known for their passion for leaving a legacy, Oklahoma's own Green family has added another book to their collection entitled Only One Life: How a Woman's Every Day Shapes an Eternal Legacy by mother-daughter team Jackie Green and Lauren Green McAfee. Jackie Green is cofounder of Museum of the Bible with her husband and Hobby Lobby president, Steve Green. She is an author, full-time homemaker, mother of six and grandmother of four. Lauren Green McAfee is a speaker, writer and corporate ambassador for Hobby Lobby. The writers weave their personal perspectives and experiences throughout the pages of the book.
Published by Zondervan in 2018, the book will inspire, encourage and even educate. Although written for women, men will not only enjoy the book but glean from the premise – challenging people to live their lives with intentionality and purpose, recognizing that our choices in everyday matters affect the legacy we leave for generations. Quoting James Dobson, the authors write, "Heritage is what you give to someone. Legacy is what you do in someone."
The authors define legacy not as fame or finances but "the story of your life that lives on after you leave this earth", noting that a woman of legacy "takes the long view with her sights set on the future."
The book is divided into 12 legacy characteristics including courage, generosity, teaching, rescue and tenacity. Three short, powerful accounts of women are cited as examples from each characteristic ranging from Christian women in history, women of the Bible and women living today. Selections were made from different age groups, different parts of the world and different times. It was interesting to read the complete stories of many of the women I was vaguely familiar with but never had the opportunity to hear their full stories.
Some of my favorites included:
The compassionate Sarah Bowling, daughter of Bible teacher Marilyn Hickey – Sarah founded Saving Moses, a humanitarian outreach focused on providing vital care for children five and under in some of the poorest and most desolate parts of the world. Saving Moses also provides Night Care Centers at no charge for the children of women trapped in the world of prostitution. Over time, many mothers are reached for Christ as a result of the love and care shown to their children.
The influential Elizabeth Anne Everest, nanny, nurse and confidante of Winston Churchill – Her strong personal faith in God was the motivating factor in disciplining and discipling Churchill. She modeled the value and power of faith molding Churchill into a leader with divine purpose.
The wise Queen Elizabeth II, longest reigning queen in Britain's history – In the midst of a reign marked with world changes and family crises, the queen displayed wisdom and discernment; the fruit of a deep faith and trust in God.
Only One Life is easy to read, interesting and empowering. I encourage every woman to get a copy.
You will be challenged to "change your eyesight" and "only take the next step" towards choosing and establishing your own legacy that will shape generations to come. We've each been given one life. What are you doing with yours?
"Lord, remind me how brief my time on earth will be.

Remind me that my days are numbered – how fleeting my life is"

(Psalm 39:4)