The movie 'Dog Days' opens this week, giving moviegoers a rare treat: a PG-rated romantic comedy. Still, that doesn't mean the movie is OK for the whole family.
Tara is a cheerful single woman who is searching for purpose in life, and she's not finding it in her daytime coffee shop job.
Perhaps volunteering at the local dog shelter will help. Of course, this means she'll have to work alongside Garrett – the awkward guy who frequents the coffee shop and likes her – but that's OK. She loves dogs. And besides, she's got eyes for someone else, anyway.
Then something crazy happens. Tara and Garrett become friends. They discover they have common interests. And after they form a partnership to save the dog shelter from closing, a romance starts budding.
The film Dog Days opens this week, giving moviegoers something rarely seen at the box office: A PG-rated romantic comedy. Society's love of canines serves as the story's backdrop.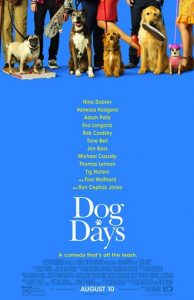 "What is it about dogs that brings us so much joy?" someone asks at the beginning of the film.
The story then shows the many ways that dogs can impact people: by helping bring single people together, by providing companionship to a lonely elderly man, by helping a shy adopted child bond with her new parents and by forging a bond between two very different siblings. The movie does a solid job tying those various elements together and giving us a few good lessons, too.
It stars Vanessa Hudgens as Tara; Jon Bass as Garrett; Nina Dobrev as Elizabeth, a TV talk show host; and Tone Bell as Jimmy, a former NFL star.
The movie spotlights two romances — Tara and Garrett, and Elizabeth and Jimmy – that are sparked by their respective admiration of dogs.
Dog Days is one of the funniest (and cleanest) romantic comedies I've seen, even if it's not fully kid-friendly (More on that in a moment.). The humor is original, the storyline entertaining, and the character development above-average for a movie with multiple angles. We need more romantic comedies like Dog Days.
Warning: minor/moderate spoilers!
(Scale key: none, minimal, moderate, extreme)
Violence/Disturbing
None.
Sexuality/Sensuality/Nudity
Minimal. A dog chews on an owner's bra. A band plays the song "I'm Too Sexy." A pregnant woman jokes how a man put a baby inside of her. Girls discuss a man being "hot." We hear a tame joke that mentions a "prostitute." Two women discuss someone moving out. A woman discusses how she's impressed with Jimmy's "body." Some of the characters, led by Tara, dress less than modestly. An angry woman tells another woman, "I almost didn't recognize you with your clothes on." A man takes a woman home to his place; they kiss twice on the couch but are interrupted each time by a dog; she leaves. The film's final scenes include four kisses in public.
Coarse Language
Minimal/moderate. OMG (8), misuse of "God" (6), a—(3), h—l (2), d—n (1). Also: a joke about  Shih Tzu dogs (2), a "screw it" (1) and a "jeez" (1).
Other Stuff You Might Want To Know
Characters make a joke about getting drunk. A veterinarian asks a man what made the dog sick; it was marijuana brownies.
Life Lessons
At its core, Dog Days is a movie about the joy that canines bring to our lives. It also touches on the death of a dog who was a long-time companion. We also see an elderly man and a teen boy form a friendship.
Worldview
Yes, people are more important than animals. Scripture is clear on that. But this doesn't mean that animals – and in this case dogs – are unimportant. In fact, dogs are one of the many great blessings in life. Why else would God have created an animal that is so loyal and happy with people? Often, dogs seem filled with more joy than their human owners.
Still, we need to keep pets in perspective. They aren't human, and they cannot take the place of children.
One of the most curious angles in Dog Days involves a dog therapist – a woman who hands out advice to depressed dogs and their owners for $300 a session. It's played for laughs, but dog therapy is – believe it or not – a real thing in real life. I sure hope it's not as pointless and silly as portrayed on the big screen.
What Works
The humor, which is void of the low-brow jokes found in most Hollywood comedies. From the perky meteorologist to the wise-cracking ex-football star, the movie is funny.
What Doesn't
We often judge romantic comedies on a sliding scale, simply because the R-rated competition is filled with smut. Dog Days isn't filled with smut, but it nevertheless falls short of being "fun for the whole family." Mom and dad and perhaps the teen children can enjoy it, but many families will find some of the content too edgy for the smaller kids.
Discussion Questions
Why are dogs so popular as pets? Name five ways they can benefit people.
What makes dogs different from other pets?
Why do children like dogs and animals so much? Why did the adopted girl open up after meeting the dog?
Is it OK to mourn a pet's death? Why or why not?
Entertainment rating: 3.5 out of 5 stars. Family-friendly rating: 3 out of 5 stars.
Rated PG for rude and suggestive content, and for language.