Greetings!
It's a rainy day on a week of interesting events. Here's my six thoughts on what has occurred.
Congrats Mo Cheeks!
Oklahoma City Thunder assistant coach Maurice Cheeks is being inducted into the Basketball Hall of Fame this evening, and I'm totally thrilled. This, of course, is mostly occurring because of Cheeks' playing career, as he was an NBA World Champion when he played for the Philadelphia 76ers in the 1980s.
As the Thunder official scorekeeper, I get to see Coach Cheeks an hour before each home game tips off. He is the one who delivers to me the active roster for the game. It's the same thing every time. He gives it one last look, hands the sheet to me, shakes my hand and then hits the padded scorer's table. Hitting the table is an important part of the ritual. Sometimes he forgets to do that, so I remind him.
If you want to know how important Coach Cheeks has been to the Thunder organization, check out Royce Young's article "Mo Cheeks, the Thunder's Westbrook Whisperer." And especially check out the embedded video of Cheeks, as the head coach of the Portland Trailblazers, helping a young lady who forgot the words of the National Anthem. I tear up every time I watch it.
Kavanaugh Hearings Part 1
One of the biggest current events that happened this week is the confirmation hearing for Supreme Court nominee Brett Kavanaugh. Hearings of this nature fascinate me. I guess it's just the dynamic of two people – an interrogator and a responder – sitting in a room with a bunch of other people, including a panel of elected officials, photographers, and a gallery of onlookers, having an intense formal discussion under oath.
I'm sure you heard or watched all the interruptions that took place, but I'm not going to address that foolishness. Instead, I will share one of my favorite moments that took place in during opening statements. Sen. Ben Sasse gave an excellent speech. Some of the highlights include mentioning Schoolhouse Rock and giving a civics lesson on the different branches of government and their responsibilities.
You should check it out because it's worth the time to hear Sasse summarize the current status of our country's legislative branch.
Kavanaugh Hearings Part 2
It's pretty much settled that Judge Kavanaugh will become the newest member of the U.S. Supreme Court. These hearings are mostly a formality, but that does not stop those who oppose Kavanaugh's appointment from finding ways to mar his character or grandstanding for future political opportunities.
Two Democrat senators appear to be using these hearings as shining moments for possibly becoming presidential candidates in 2020. They are Cory Booker and Kamala Harris. Try as they did, when both Booker and Harris had their time to shine when questioning Kavanaugh and attempting to make him look bad and themselves look… I guess, presidential, they flopped. And that's not just me or other conservative onlooker making this conclusion. Do a Google search, and you'll see liberal media members making the same assessments.
David French gives an excellent observation in his fittingly-titled piece "The Democrats' No-Good, Frivolous, Ridiculous Day."
A Blog for Burdened Parents
My co-worker Karen Kinnaird wrote a phenomenal blog for parents who are dealing with prodigal children. It is titled "The Empty Bedroom: 4 Issues of Trust for Parents of Children Who Have Lost Their Way."
This is a powerful piece for how to demonstrate faith in God. Even if you don't have children, you can be blessed by reading this, especially the end of it.
NFL Kicks Off
I watched the opening game of the NFL season last night. Defending Super Bowl Champs Philadelphia Eagles hosted the Atlanta Falcons. The game lacked a lot of luster, but I have to share one of the brightest moments.
The "Philly Special" returns from last year's Super Bowl, but I loved Cris Collinsworth's line "the fifth picked up a first."
Happy Birthday Mom!
Today is my momma's 84th birthday. I appreciate everything about Hester Doyle, how she has supported me through the majority of my life, as well as how she has taken on numerous significant roles, and now I get to support her during this special stage of her life.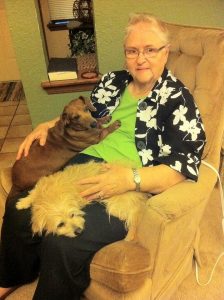 My family is celebrating her this evening, and I'm looking forward to it.