"Teach what is good…" (Titus 2:3)
Oklahoma native Kelly D. King has new book, Ministry to Women – The Essential Guide for Leading Women in the Local Church, hot off the press. Published by LifeWay, this book is full of essentials – practical helps and creative solutions for intentional ministry to women.  The nine-chapter resource should be a part of every women's ministry leader's library. Packed with valuable information, it's written in a condensed, easy-to-read format.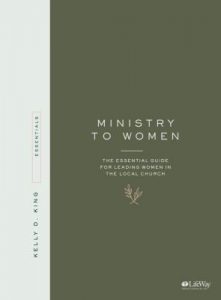 Kelly D. King is the women's ministry specialist for LifeWay Christian Resources where she coordinates training and equipping events for women in leadership. King served 11 years as the women's missions and ministries specialist for the Baptist General Convention of Oklahoma. Gleaning from years of hands-on experience in the local church and statewide ministry, King writes about the importance of using methods dynamically to reach women based on the ever-changing cultural landscape.
This interactive manual will benefit seasoned leaders, desiring to keep their ministries current and vibrant, as well as aspiring leaders just getting started. King incorporates Scripture throughout the book along with heartfelt personal stories. Each chapter includes challenging application questions and places to take notes.
Addressing issues such as the rise of the millennial generation, changes in communication, ministering in a post-modern culture and the rising interest of women as leaders, she gives sound advice for constantly evolving ministries. Readers are encouraged to customize these practical tools and apply them to the context of their own church.
With a solid theological framework, the book features:
The why of ministry beginning with prayer
Building and leading a team
Discipleship which includes choosing a Bible study and creating a great Bible study atmosphere
Connecting generations
Communicating with intentionality and creativity
Planning purposeful events
Ministering to women in pain and crisis
Creating a welcoming atmosphere and seeking evangelistic opportunities
My favorite chapter was "Connecting the Generations," where King shares personal stories about women who mentored her. Encouraging personal relationships within Biblical community, King writes, "…we've forgotten the simplicity of how the local church should be connecting the generations and providing natural mentoring opportunities." She discourages programing and encourages more intentional, strategic mentoring through existing relationships. This "realistic approach" allows godly women to share their life experiences, along with the Word of God and prayer with younger women.
King also addresses skills that appear to be simple and basic – skills that one would assume people know how to do, but in reality may not have been taught, such as: 
How to lead an effective team meeting and make an agenda
Proper use of social media in a ministry context
Tips on visiting someone in the hospital
Steps for planning an international mission trip
Tips for including ministry wives and working with male staff members
Every women's ministry leader needs to get a copy of Ministry to Women- The Essential Guide for Leading Women in the Local Church. It's available in print and e-book at www.lifeway.com. Use it as a handbook and refer to it throughout the year.