Many people might think they may never be able to understand or empathize with a person struggling with sexual identity. Thanks to Oklahoma's own Laura Perry, that is not the case. In her brand new book, Transgender to Transformed,former transgender Perry gives readers a unique inside view into her life—her thoughts, emotions, physical and spiritual journey.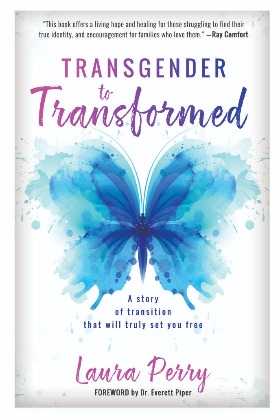 Published in 2019 by Genesis Publishing Group, Ray Comfort sums up the book well with his endorsement on the cover, "This book offers a living hope and healing for those struggling to find their true identity, and encouragement for families who love them." Everett Piper describes the book in the forward as "a story about becoming a new creation."
Laura Perry's struggles began early in childhood, and for nearly a decade she identified as transgender. The book chronicles her heart-wrenching journey of how she made the transition to being a man, and describes the inner turmoil she endured for nearly 20 years.
Describing her life as "trapped in a prison cell" and a "walking contradiction," she shares not only her story but the insights, wisdom and lessons gleaned through the journey. She writes about intense spiritual warfare and the demonic influence she endured. Chronicling her ultimate deliverance and transformation, she states, "Like a butterfly that has emerged from the darkness of its cocoon, so too had I emerged from the darkness of a life engulfed in lies, transformed."
Perry offers hope, words of wisdom and practical advice to families with loved ones struggling with sexual identity. She notes, "I do want to encourage you not to give up on speaking the truth to your loved ones. All my anger towards them (her parents) was because of conviction" and "despite the fact that I had rejected God and all the truth I had heard growing up in a Christian home and attending a Christian school, it was not in vain. Everything I had learned had planted the seeds that were just waiting to burst forth to life." She notes, "Remember that you (as parents) are not their savior; you can only point them to the Savior."
Perry's parents' story is equally intriguing, and Perry's mother Francine speaks about their journey and the lessons learned. They prayed fervently and never gave up. The words of gratitude Laura writes to her parents in the Acknowledgments section of the book are very moving.
I believe that God has raised up a transformed and courageous Laura Perry "for a time such as this" and that God will use her as an ambassador to a community that desperately needs to hear the truth.
I have had the pleasure of getting to know her and her mother Francine. I write about my visit with them here. 
Laura's countenance is marked with a unique peace and contentment. Her transformation is so radical that it can only be explained by the intervention of a faithful, loving and powerful God. Her life proves that there is hope.
She sums up her message, "While surgeons can reshape appearances, they can never duplicate the intricate internal function that God designed."
Transgender to Transformed is well-written and easy to read. I felt like I was sitting across the table from her, sharing a cup of coffee while listening to her tell her story. Perry writes quite candidly, with vulnerability and raw emotion. Her passion and love for those dealing with this issue and their families is evident.
I recommend the book to anyone struggling with gender dysphoria, those seeking help in dealing with loved ones who are transitioning, and anyone desiring insight into the mind of a transgender in order to better understand and love them.
Perry shares her story at churches and conferences, in articles and various programs. For more information about Perry and the book Transgender to Transformed, as well as Perry's blogs, go to transgendertotransformed.com.