"You are in the process of becoming. Every day is an opportunity to be shaped and formed by what moves your heart… drives your thoughts… captures your gaze. Is it any wonder, then, that what you behold matters in your day-to-day?"
Transformation that results from setting our hearts and minds on Christ in the midst of our daily lives is the theme of Ruth Chou Simons' beautiful new book Beholding and Becoming: The Art of Everyday Worship.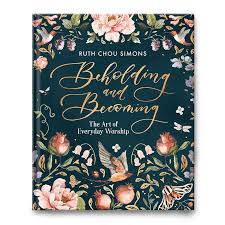 Published by Harvest House Publishers, the book has a release date of Sept. 10, 2019.
Ruth Chou Simonsis a bestselling author, artist, entrepreneur and speaker. She has a gift for intersecting daily life with word and paint. Ruth's first book, GraceLaced, won a 2018 Christian Book Award.
It is Simons' desire to guide the reader to "be transformed into God's likeness by looking intently on who He is." She quotes Charles Spurgeon as saying, "Nearness to God brings likeness to God. The more you see God the more of God will be seen in you."
Based on 1 Cor. 3:18, Beholding and Becoming is a unique, creative coupling of natural world illustrations and deep spiritual truths. More than the writing and illustrating of a book, this is crafted with thoughtful intentionality.
Written in Simons' gentle and calming tone, all 16 chapters, each with their own timely topic, is a duet of "beholding" followed by a practical "becoming."
I savored each chapter. Addressing areas such as success and failure, rest and the idolization of productivity, and words and speech, Simons teaches that "the most ordinary days become extraordinary places of transformation when we hope in Christ instead of our circumstances."
Each section is just the right length. It's short enough to fit into a busy daily schedule but spiritually meaty enough for one to ponder throughout the day.
This is a book that can be read several times. I found myself lingering longer and reflecting on each spiritual truth due to the visual beauty of the artwork. The illustrations include hand-lettered Scripture, quotes, poetry and hymn lyrics. I especially loved the glossary—a unique expression of Simons' personal reflections regarding the painted images. A full-color Guided Companion is also available and serves as an interactive journal with study questions and additional Scripture verses.
Beholding and Becoming is good for the soul. If you are in a season where your soul longs to be refreshed and nourished, this book is for you! With an attractive hard cover, it will make a beautiful coffee table book or gift reminding the reader that what you behold matters!
For more information, go to GraceLaced.com.