Greetings!
Another week, another DHD! Thanks for reading!
1. Comparing border wall to Planned Parenthood
I read a peculiar article on the Christianity Today website. Titled "Are We Morally Distressed By What Is Taking Place at the Border?" the article's author Sam Kim gives a rather intriguing comparison when writing his view about those coming across the southern U.S. border.
Kim wrote, "(Evangelicals supporting) …funding for a wall is the moral equivalent of those on the left who are advocating Planned Parenthood. Both policies are catalysts for the loss of life that Scripture commands us to protect. The unborn and those seeking asylum have an equal right to life. What is the moral difference between killing and letting die, when the ultimate outcome is the same?"
Speaking frankly, this comparison is too drastic and flawed. There is enough support demonstrated at the border to disqualify his conclusion of letting someone die who is near the border. It is possible to favor a border wall AND offer care to those seeking asylum. There is no care of the unborn when it comes to the abortion practices of Planned Parenthood.
I offer my own PP comparison involving Kim's article. Just like PP, the world's largest abortion provider, never acknowledges the life of the unborn baby, Kim never acknowledges the practices of exploitation of children and families of the Cartels at the border.
I welcome Kim and others who share a similar view to read my DHD from last week, regarding the border crisis. Yes, the church should provide care and support for those in need, especially those seeking asylum, under the purpose of advancing the Gospel and furthering God's Kingdom, but the government should provide protection for citizens and maintain order. These purposes of the church and the government can be practiced with no discord.
2. Swezey's stand
A well-known broadcast leader in the Oklahoma City community died earlier this week. Keith Swezey passed away on July 29 at the age of 67.
He is remembered by many in the broadcast journalism business. I read many fond comments about Keith on Facebook. He also was honored by news anchor Kerry Ogle on CBS affiliate KWTV News 9 in Ogle's news commentary "My 2 Cents."
"A lot of broadcast journalists have lost a mentor, but more than that Oklahoma lost a good man," Ogle said in his introduction.
Ogle also mentioned that Keith stood "firm in his faith when given an ultimatum, knowing that it would cost him his job as news director."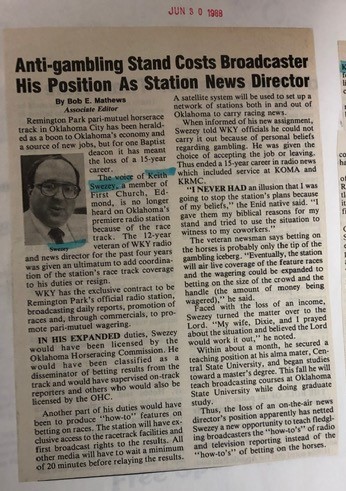 To elaborate on what happened, in 1988, Keith was working at WKY Radio when pari-mutuel gambling was on the rise with the addition of the Remington Park horse track on the east side of Oklahoma City. WKY was given the broadcast rights to cover the races and to promote the gambling wages at Remington Park. As the news director, Keith was told by the station's management that he would be in charge of these reports. Keith refused to do these duties, and WKY let him go.
The Baptist Messenger reported Keith's departure at WKY in the June 30, 1988 edition.
Keith went on to teach at University of Central Oklahoma, training broadcasting students. God bless Keith with the opportunity to influence others.
I have known the Swezey family for years, as we are members of the same church. I lift up Keith's wife Dixie and his family during this time of loss.
3. French on Harris
I got to be quick for the remainder of my topics.
Check out David French's article, responding to the Josh Harris' fallout with Christianity. I was impressed to see French share a powerful Gospel message on the National Review website.
"The indescribably good news is that from the moment of the confession of faith, believers are not defined by their sin. They're not defined even by their own meager virtues. They're defined by Christ," French wrote.
Please read the entire article and be blessed!
4. Born of water and spirit
One of my favorite Bible passages in John 3, when Nicodemus and Jesus meet. Don Carson wrote a great commentary on one of the most challenging verses in the passage.
Check out Carson's article "What Does 'Born of Water and the Spirit' mean in John 3:5?"
5. Wilken on daughters and suitors
Jen Wilken is a popular Bible teacher. Her article "On Daughters and Dating: How to Intimidate Suitors" is a great read. Check it out!
6. Finding a 'black friend'
The last article I share tells an encouraging story about Mack Bronson and Sammy Little, two Texas pastors who are a great example of racial reconciliation
Check out "Checklist sparks friendship, opens ministry doors" and see how Little's pursuit to find a black friend in 1995 led to him befriending Bronson and making an impact in southeast Texas.