Greetings!
The biggest news in social media this week is the hug in court. Of course, it involved more than that, but as Baptist Press reported on Oct. 3, "18-year-old Brandt Jean offered forgiveness and Christ to Amber Guyger, the woman convicted the day before of murdering his older brother Botham in 2018."
For this week's DHD, I give six aspects involving this dramatic, unexpected scene in court.
1. Courtroom forgiveness
I will go over what Jean said to Guyger, but what is at the heart of this scene is what nobody ever expects to happen in a courtroom trial. A victim or a family member of the victim forgives the accused.
It's a powerful moment and difficult for humanity to fully comprehend. However, this is not the first time forgiveness in a major public court case has been offered.
Rachael Denhollander gave a powerful statement during the Larry Nassar trial early last year. This is the case of the former USA Gymnastics doctor who sexually abused hundreds of young gymnasts.
"I pray you experience the soul-crushing weight of guilt, so you may someday experience true repentance and true forgiveness from God, which you need far more than forgiveness from me — though I extend that to you as well," Denhollander said to Nassar during her testimony.
Many also remember in 2015 when members of the Emanuel African Methodist Church Episcopal Church in Charleston, S.C. forgave shooter Dylann Roof for the lives he murdered during a church service.
2. Asking God for forgiveness
Jean displayed wisdom and humility when he spoke to Guyger in court this week.
"I forgive you. And I know if you go to God and ask Him, He will forgive you," Jean said during the sentencing hearing. "I love you just like anyone else. I'm not going to say I hope you rot and die just like my brother did, but I personally want the best for you. … I think giving your life to Christ would be the best thing that Botham would want you to do."
If you are familiar with 1 John 1:9, you can hear Jean reference this verse when he spoke.
Jean presented the Gospel this day, not only to Guyger, but to everyone in the courtroom and to anyone watching the video. Who knows who was influenced by the Holy Spirit through this moment?
3. Forgiveness in action
And then the hug. Jean asked the judge if he could hug Guyger, asking "Please, please?"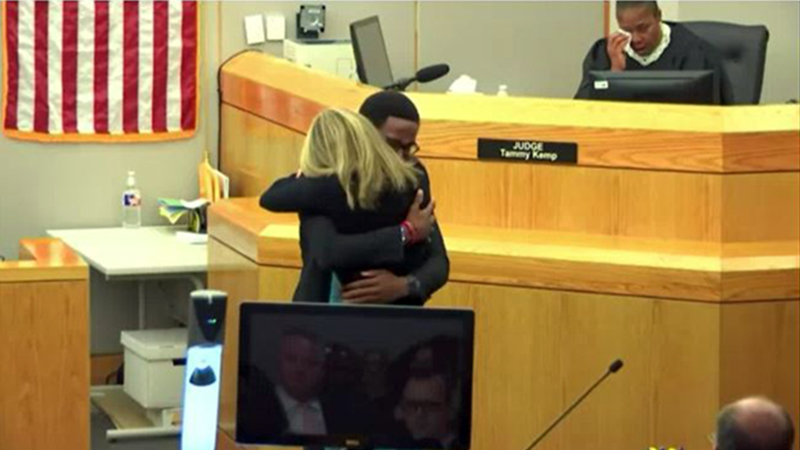 We don't see the judge in the screen but hear her reply, "Yes."
Jean comes down, and it's apparent how much Guyger desires forgiveness and to be consoled.
For me, it was hard to only watch the video once.
4. 'He was taught to forgive'
Baptist Press also reported comments from Jean's mother, Allison, who said his forgiveness is a reflection of his upbringing.
"What my son did was a true reflection of what we've practiced all our lives. That's what he's been taught, to forgive," she told NBC 5 after a Wednesday worship service at Church of Christ Dallas West where Botham had been a worship leader. "My son (Brandt) is 18-years-old, and he will have to live with the loss of his brother for all his life, so he needs to move on. I think that was the beginning of the cleansing and a new beginning."
This demonstrates how important it is for children to be raised in church and to be taught Christian virtues.
5. Those who misunderstand
Many have spoken against what happened in that Dallas courtroom. Many have offered different interpretations of Jean's act of forgiveness.
What I know is Jean demonstrated Jesus Christ, and just as Christ forgave many, including me, we should do likewise. That's all I will reflect from this moment, nothing else.
6. The judge's presentation of the Gospel
And then, to top off the unconventional courtroom events, Judge Tammy Kemp comes over to offer Guyger her Bible and then shares the powerful message of John 3:16.
This video from Court TV is an amazing presentation: