God's Love in the Falls
This past week I was given the opportunity to visit Houghton, New York to serve at a camp called Super Summer NY (SSNY). God made His presence known to His people during the week. After camp, my husband and I knew we would have to return to Oklahoma. On Friday night as we made our way to a hotel near the airport in Buffalo, I joined a group of SSNY leaders to visit Niagara Falls. Being my first visit to the Falls, I was mesmerized by the amount of water that flows down the falls, the beauty of the falling water, and the thundering sound of the falls.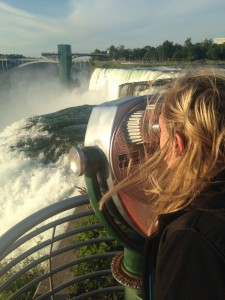 This week I was reminded of the song "Your Love is Like a Waterfall" by Chris Tomlin. It was a song I had never had much interest in–until now. I had always pictured waterfalls as dainty sources of natural water that gently flowed over a cliff-like edge. However, Niagara is far from dainty. In its magnificence it demands attention, fear and awe. Isn't that how we should view God's love for us?
Tomlin sings, "Your love is like a waterfall, waterfall. Running wild and free. You hear my heart when I call, when I call. Deep calls to deep. Your love is like a waterfall, waterfall. Raining down on me…"
God does not just sprinkle His love on us, He immerses us in it.
Paul tells us in Ephesians 3:16-19, "I pray that out of His glorious riches He may strengthen you with power through His Spirit in your inner being, so that Christ may dwell in your hearts through faith. And I pray that you, being rooted and established in love, may have power, together with all the Lord's holy people, to grasp how wide and long and high and deep is the love of Christ, and to know this love that surpasses knowledge—that you may be filled to the measure of all the fullness of God."
If we pursue God in faith and seek His love, He will give it to us. Not just in little droplets, but in powerful waves. The water at Niagara Falls also erodes minerals and rock, just as God's love sweeps away our guilt, shame and sin. The Falls also creates towering steam or mist that can be seen from miles away; God's love should be seen on us in the same way.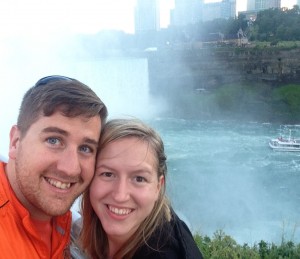 The following are a few facts* about Niagara Falls. More than that, I hope it blows you away that God's love is wider, longer, higher, deeper, faster, stronger, better than the Falls.
The Niagara River is about 58 kilometres (36 mi.) in length and is the natural outlet from Lake Erie to Lake Ontario.
The elevation between the two lakes is about 99 metres (326 ft.), half occurring at the Falls themselves.
The deepest section in the Niagara River is just below the Falls. It is so deep it equals the height of the Falls above, 52 metres (170 ft.).
More than 6 million cubic feet of water go over the crestline of the Falls every minute during peak daytime tourist hours.
The rapids above the Falls reach a maximum speed of 25 mph, with the fastest speeds occur at the Falls themselves (recorded up to 68 mph.)
The water through the Whirlpool Rapids below the Falls reaches  30 mph, and at Devil's Hole Rapids 36km/hr.
The volume of water in the Great Lakes would cover North America in about 1 metre (3.5 ft.) of water.
An estimated 60 tons of dissolved minerals are swept over Niagara Falls every minute.
I truly believe that all creation points back to The Creator. My prayer for you, reading this, is that God would reveal His love to you in a new way. That you would not seek His love only when you thirst for it, but that you would be constantly surrounded by it. His love is eternal; God's love for you will never dry up.
*Facts gathered from Niagara Parks