I've been thinking about how many articles I have read this week about the "Top weddings in 2014" or the "Top events in 2014." I've heard about the 2014 word of the year (culture, if you didn't know). I've heard the trending topics on Facebook and the most retweeted tweets on Twitter. But is that really what matters most during this Christmas season?
I've decided to share a story with you. A story of hope, love and truth. A story for people all over the world in every single possible situation. Whether rich, poor, old, young, man or woman, happy or sad, this story is for you. It all began with one young teenaged girl, Mary, who led a normal life like you or me. *Personal emphasis added throughout the story.
— — — — —
MARY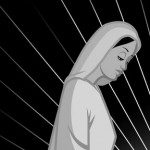 She lay awake, wondering if the angel should return. She had so many emotions stirring within her. Willing. Scared. Humble. Curious. Faithful. Anxious. She had been playing the angel's message over and over in her head.
"Mary, do not be afraid, for you have found favor with God."
Yet, here she lay. Alone in her room inside her parents house. She, a young Jewish woman, had been chosen to be the mother to the Son of God.
"You will conceive in your womb and bear a son, and you shall call his name Jesus."
A son. Jesus. Son of the Most High. King over the house of Jacob – forever. That was a lot to take in. She had never been married. She had never been intimate with a man. How did Gabriel explain it?
"The Holy Spirit will come upon you, and the power of the Most High will overshadow you; the child to be born will be called holy—the Son of God."
In all her wonder and humility, Mary had not thought about Joseph. Her betrothed. How could she tell him she was pregnant? What would he think of her?
It was only a few months from now that they should be married. This time last year Mary was preparing for the betrothal ceremony. Dressed in her best, Mary had stood next to Joseph – strong, handsome Joseph – at the alter as he recited a vow to her. This vow bound them together until death. What a joy it was to her family to have Mary's future settled. The contracts were signed, and the engagement period was set for 12 months. Preparations for the week-long wedding celebration had already started.
In a few months Joseph, her bridegroom, will come for her, for Mary. How will he take the news of her divine conception? Will he believe her? What was the worst that could happen in a divorce? The worst – death. If Joseph reports that Mary is an adulterer, she could be stoned to death. But Mary trusted the angel when he said:
"Nothing will be impossible with God"
Surely, God will protect Mary and His own son. She knew she would tell him soon, but decided to trust in the Lord. So Mary, a servant of the Lord, became pregnant by the Holy Spirit and rejoiced to the Lord.
"My soul magnifies the Lord,
and my spirit rejoices in God my Savior,
for he has looked on the humble estate of his servant.
For behold, from now on all generations will call me blessed;
for he who is mighty has done great things for me,
and holy is his name."

* * *
JOSEPH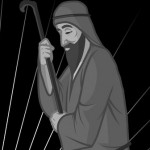 After the angel appeared to Mary, she went to visit her cousin, Elizabeth for three months, until she knew the Holy Spirit had come upon her. Once she returned, Joseph was planning when to make his visit to Mary to take her home as his wife when he found out. Mary is pregnant.
Pregnant with someone else's baby. How could she have betrayed him like that? Joseph could not believe it! He had watched Mary from afar, filled with grace and poise. her faith looked genuine, and her love for God devout.
Joseph had waited and honored the allotted 12 months for Mary during the betrothal. He had spent most of his time preparing the house for Mary. He wanted her to feel right at home. But now everything has changed. Mary changed. He loved her, and he did not want to see harm come to her or her family. But she had broken her vow, his trust and his heart, and Joseph could not marry such a woman, so he planned to secretly divorce her as was the custom for their engagement.
But as lay in bed and began thinking about a secret divorce, an angel appeared!
"Joseph, son of David, do not fear to take Mary as your wife."
But she slept with another man, how can Joseph accept this? This child is not his own.
That which is conceived in her is from the Holy Spirit. She will bear a son, and you shall call his name Jesus."
God's son? My Mary is carrying God's beloved son? But why?
"for he will save his people from their sins."
Joseph, a man of noble character and great faith, believed the angel and continued his plans to marry Mary. Joseph understood that even by taking Mary to be his wife, he could not be intimate with her until after the birth of Jesus. And he soon walked as the bridegroom to take his bride.
* * *
MARY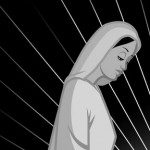 Due to a census being taken, Joseph took his wife to the home of his family. Riding a donkey from Nazareth to Bethlehem was not Mary's ideal travel situation so close to her due date. Hot, dirty, sweaty and hungry from their travels, Mary could finally see the outskirts of the town of Bethlehem. Mary could also feel waves of pain overtake her body as they rode on.
As they reached Bethlehem, Mary noticed how crowded the streets were and began to worry about finding a room for them to rest while they registered for the census. As they passed home after home, Mary realized they were running out of options. They were going to have to sleep in the street! Exhausted and in pain, Mary followed Joseph to the last inn in the town only to hear that all the rooms were taken.
What was God's plan for the census? Did he know Mary and Joseph would have no other options for sleeping? Just as she began complaining internally, the inn keeper told them about his stable. Below the inn hidden away in the rock was a stable with a few animals and hay for a bed and a structure to keep them sheltered from the night.
And while they were there, the time came for her to give birth. And she gave birth to her firstborn son and wrapped him in swaddling cloths and laid him in a manger, because there was no place for them in the inn.
— — — — —
The birth of Jesus came about in the most unusual way.
Jesus, the son of God, the King of Kings and Lord of Lords, was born as a baby in a stable and placed in a manger. I don't know about you, but I don't know very many kings who were born in one of the lowliest places for the very reason to show Jesus is for even the lowliest of people.
I hope that for some of you, you are reading this story as one you've heard many times but that it comes to life, and for some that it might be your first time to hear the story. If it is, I want to encourage you. This is only the small beginning of a much bigger story.
Learn the full story by going to http://findithere.com/.