Greetings!
Happy End-of-School to you! Have you gone on Instagram yet to make your "first day-last day" photo composite? I'll be going on Facebook soon to look specifically for yours!
I've got three politically-related topics and three randomly fun topics. Let's get to it!
1. "None of the Above" is catching on!
In the March 4 edition of DHD, I introduced the concept of voting "None of the Above" in regards to this year's presidential campaign. It's possible you read this and didn't take it seriously, especially since I referenced the Richard Pryor movie Brewster's Millions, as voting "None of the Above" was part of the plot. By the way, if you have a chance to watch an edited version of this movie, you should. The story is creatively hilarious.
I am serious, though, when I emphasize voting "None of the Above" or "Leave It Blank," and it appears I'm not alone. John Fund with National Review wrote this week on this option, and I learned something quite fascinating. The State of Nevada offers "None of the Above" on the ballot.
"Indeed, the Silver State has had a non-binding None of the Above option on its ballot since 1976," Fund wrote. "In its first year, that entrant 'won' a GOP congressional primary. Many Nevada voters would like NOTA expanded so that if it came in first, the election would be declared invalid and a new election would be quickly called in which none of the candidates who lost to NOTA would be eligible to run again."
Way to go, Nevada!
Fund also shares that this could be a legitimate result, if enough voters were to catch on and prevent both Hillary Clinton and Donald Trump from collecting the 270 electoral votes needed to be elected U.S. President. If that were to happen, the House of Representatives would elect the next POTUS. This has actually happened, as John Quincy Adams became president in 1825 under such method.
2. Hungry for a Third Party Nominee
Fund's articles ends with the considering alternates to vote for in the November election. He mentioned Gary Johnson, former New Mexico governor, who is expected to represent the Libertarian Party on the ballot in all 50 states. I've looked at Johnson's platform and don't find it appealing. He seems to be big on legalizing marijuana and prostitution and doesn't mention Sanctity of Life at all.
As of now, I have not found a candidate to support. I did some research and found a list of an abundant of candidates on http://www.politics1.com/p2016.htm. This was an interesting discovery. Those of you who have attended the Southern Baptist Convention Annual Meeting might be surprised to see that Wiley Drake is running for president. You can check out his website at www.wileydrake.com
3. Trump's list of nominees for SCOTUS
Donald Trump did make a smart move this week by releasing 11 possible nominees he would consider for the U.S. Supreme Court. You can check out the bios of the 11 judges here provided by the Wall Street Journal. Tom Strode with Baptist Press offers a good summary response to Trump's submission, which has mixed reviews.
If Trump could be trusted, looking at this list of judges, I could say he would score a point with me. But Trump does not present himself trustworthy. He has backed off on promises and past remarks on many issues. And he continues to say everything is negotiable. It is these comments and others that prevent me from supporting Mr. Trump.
4. Focusing on Foster Care
May is National Foster Care Month. This is a major issue, and I'm glad to see encouraging results in supporting foster care, not only from actual foster parents, but also from church groups and ministries getting involved in promoting and offering support.
My friend Kate Downing offered her own experience in foster care and adoption in a blog on WordSlingersOK.com this week. Check out her inspiring story here.
5. Nine years in the books!
On May 19, my wife Karen and I celebrated our ninth wedding anniversary. Our wedding day was one of the best days of my life, and I will always remember it fondly.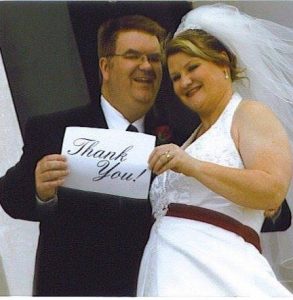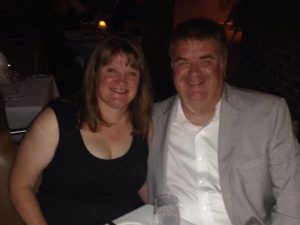 Because of busy schedules, we plan to do the typical "dinner and movie" on Saturday night. Fear not, though! We have big plans celebrating our 10th anniversary, Lord willing. As of now, I am planning a trip to Ireland, including a train ride across the country.
6. Thunder thoughts
Sunday night is a big game for the Oklahoma City Thunder. I'm looking forward to it. Here's a couple of "nuggets" that I think could be contributors to a Thunder win that night.
First, the Thunder need to win the opening tip. I know it sounds silly, but I think it will help OKC to score immediately on the first possession. Also, the Thunder have benefitted from gaining first possession in the fourth quarter (which is a perk from winning opening tip). If you recall in Game One of this series, Kevin Durant banged a three at the beginning of the final period to tie the game 88-88, and they went on a big scoring spurt from there. Beating Golden State is all about making runs and preventing runs. Steph Curry is going to score, but you've got to keep him from having a "Curry Flurry" like he did in the third quarter of Game Two. Not getting the opening tip won't be a major end-all, but these little advantages in the game, I think, help with the Thunder's psyche.
Second, the two-guard position is key for the Thunder. As difficult, and almost impossible, as it may seem to get Andre Roberson involved in the offense, OKC needs to figure out how to recreate a similar setting to Game Six of the San Antonio series. Feed Roberson more back screen passes with him going to the basket. Pray for him to come alive miraculously again from 3-point land, like he did in the final game against the Spurs. Golden State is pretty much giving Roberson a pass in the way they are defending the Thunder's offense (and understandably so). With three days' rest between games, Coach Donovan and staff need to figure out how to get Roberson more involved. Plus, along with Robertson, Deon Waiters needs to be reliable as he has shown he can be. Usually, when Waiters is hitting from deep, the Thunder win.
Game Three this Sunday is H-U-G-E! Thunder up!