Greetings!
It was a heavy week. For social conservatives, the U.S. Supreme Court delivered disappointing decisions. Four of this week's DHD topics involve outcomes from rulings of the highest court of the land which favored secular-progressives or what has been described as the sexual revolution.
But I start off with an encouraging word for Thunder fans. Let's get to it!
Durant's decision deems delightful for Thunder fans
The reports on Kevin Durant's free agency meetings are continuous. The OKC Thunder had an early talk with KD before the free agency season started July 1, but that's because the former MVP was still on the Thunder's payroll, so they could hold a five-hour chat legally as long as they didn't discuss actual contract negotiations.
The majority of the media world is on board with KD returning to OKC, but there is still a slight possibility he signs elsewhere. Possible suitors include Golden State, Miami, San Antonio, Boston and LA Clippers. Reports are saying these teams will have to "knock his socks off" to get KD's attention. But consider this thought that I derived on my own.
Thunder G.M. Sam Presti has proven to be a mastermind wheeler-dealer among NBA ranks. It has basically been Presti's job for the last eight years to keep the face of the Thunder franchise (namely KD) happy with the organization. One to reveal little to the media, Presti threw out a big gold nugget of information last year at the press conference where he talked about letting Scott Brooks go as the Thunder head coach.
Presti bluntly said a reason for dismissing Brooks was because he did not want to negotiate a coach's contract the same time he was negotiating Durant's contract. As cold as that may sound for Brooks, it should be music to the ears of Thunder fans.
Here's my point. I am confident that the time Presti has invested in working out a deal with KD has far surpassed the amount of time any other team's front office could spend, and if "Silent Sam" would openly admit he is willing to make a coaching change in order to keep Durant on the team, he will be hard to beat at the negotiating table.
SCOTUS rules regulating abortion clinics unconstitutional, won't hear pharmacist's case
The U.S. Supreme Court ruled against health and safety standards that were set by Texas' law regarding abortion clinics. You can read about this ruling here.
SCOTUS also dismissed an appeal by a Washington state pharmacist who refuses to provide abortifacient drugs based on religious beliefs. You can about this decision here.
The best article I have read to surmise these court decisions yields only to the religion of secular progression and the sexual revolution.
Here's a summary of the secular progression dogma: "Consenting sex is the highest good; anything that interferes with the highest good is by definition evil; therefore, whatever it takes to grease the wheels of the revolution is not only good too. It is cause for full-throated, Dionysian celebration."
Baby killing humor is challenging
Being a social comedian can be difficult, especially if you try to create humor from these SCOTUS rulings on abortion.
Mollie Hemmingway's piece "Abortion Humor Isn't Funny But It Sure Is Revealing" offers a somber reality as liberal comedians attempt to get laughs at the expense of aborted babies.
"The creative arts have trouble doing abortion advocacy because of that deeply held universal view that killing innocent, unborn children is not exactly heroic."
Read the piece and see about the backlash of tweets sent out by The Daily Show and others. And it's not just us supporters of the sanctity of life who are offended.
Pray for Chelsea Handler
Television celebrity Chelsea Handler made the news this week about how she appreciates her freedom to have two abortions when she was 16.
Christi Roselle gives an excellent response to Handler's sad summary of what the TV star calls freedom. One thing WordSlingers attempts to do is offer a Christian worldview reply when Hollywood attempts to sway society involving immorally. We appreciate Christi's willingness to provide an important retort involving the sanctity of life and the proper response to unwanted pregnancies.
Silence of the Trump
So, last week, Presidential Candidate Donald Trump met with 1,000 advisors made up of Evangelical Christian leaders. It was touted to be quite the success assuring conservative Christians that Mr. Trump will support us on social issues.
One thing that appears to be a frequent communication tactic for Trump and is camp is the regular use of Twitter. However, after the SCOTUS ruling was announced regarding the Texas abortion clinic law, nothing was tweeted from Trump on this issue.
So many respected Christian leaders stuck their necks out on Trumps' behalf. He's definitely pro-life, they said. We can count on him to appoint conservative judges, these pastors and Christian leaders proclaimed.
So how come there wasn't any comment about this SCOTUS abortion ruling if Trump is a pro-life advocate? Wouldn't this be a great opportunity to prove himself to us pro-lifers?
Kristan Hawkins affirms my concerns in her piece about Trump's silence on the Supreme Court ruling.
"It's lonely over here in the pro-life camp," Hawkins writes. "On one hand we have a candidate who we know isn't on our side. On the other is one who seems like he wants to be, but then doesn't make the time to learn about our movement. He doesn't seem to take his nomination seriously, doing things like making substantial efforts to get out the pro-life vote."
Happy Independence Day!
July 4 is Monday, so I hope you take some time to celebrate our nation's birthday. I leave with sharing a photo of my street. Every year, one of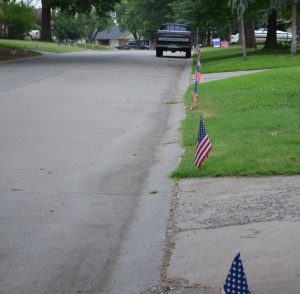 my neighbors streams our little row with American flags in every yard. It's simple yet significant and helps unite our street in celebrating our country. God bless America!