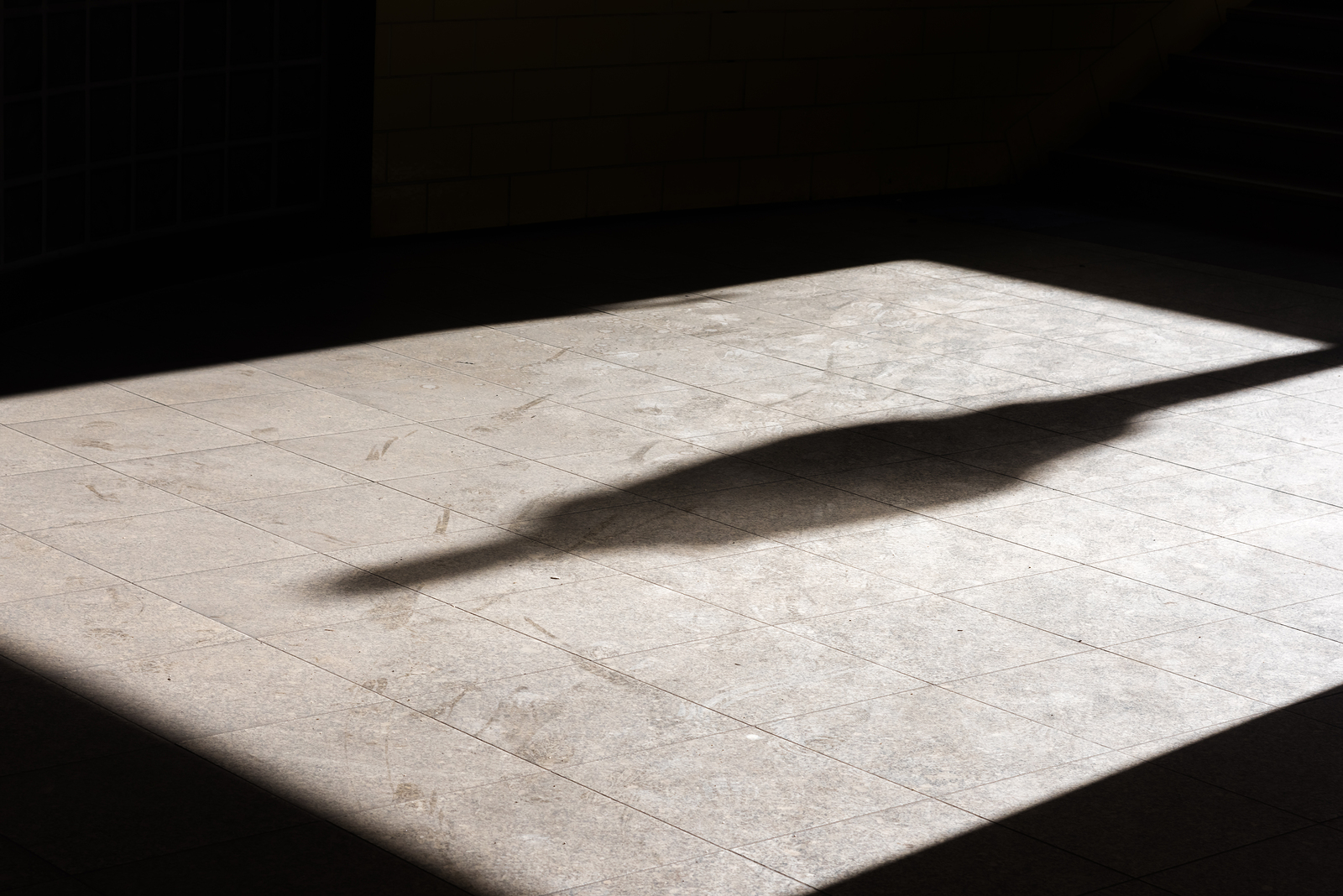 The first time I was crippled by anxiety was a couple years ago. I had prepared a lesson to teach at my church for the young adults Sunday School class. As I was about to enter the room, I stopped and looked through the open door at all the faces of the Sunday morning crowd. A thought creeped into my mind: "What if you mess up?"
Suddenly, the thought became a reality, which formed into an environment that asked more questions.
What if you look like an idiot? Everyone would see it.
What if they notice how strange you are and reject you?
What if you have no value? You will waste their time.
What happens when they see that you've been fooling them all along and they realize that you're worthless? Then, you'll be alone forever. No one cares about you.
This sequence of thoughts, emotional responses and worry-building occurred in about three seconds. My mind was working in overdrive, and it became a run-away train of destruction. My heart was pounding through my chest. My hands were shaking uncontrollably. I suddenly felt the eyes of everyone in the room peering into my soul, and they felt were superior to me.
You may look at these thoughts and say to yourself, "This is silly. None of those things would actually happen." You're probably right. You may say, "You just need to calm down and focus on the positive." That would have been helpful too. But in that moment, I was a slave to something that bound my logic and casted it into a pit that I couldn't find. In that moment, terror overcame me, and I was no longer in control.
Later, I chocked it up to nerves. I told myself that it had been years since I spoke in front of a crowd, and I was just too shaken up. I didn't prepare well enough, and that's why I was so nervous. I struggled through that morning and decided to avoid teaching for a month or two.
I eventually got back in the saddle, and everything was fine. I've been teaching in my Sunday School consistently ever since. I still get nervous, but nothing like what I had experienced before.
The years have passed since that instance, and the Lord has taught me so much about His character, His will, the value of Scripture, the body of the church and how to cultivate a heart for others. Through all this growth, told myself, "The Lord has filled me up with joy. What could possibly happen to me that could diminish that joy?" This false sense of security would soon change.
A week or so ago, I walked into work and was immediately handed a storm of chaos. The pressure built up, and I handled it calmly. Afterward, I was personally attacked and told that I wasn't handling the chaos well, and I should have done a better job communicating those things. Suddenly it all rushed back.
My world narrowed to a tunnel-vision and a fog of terror shrouded my every thought. I gripped the wall in desperation, and my heart was beating so fast. I thought I was having an allergic reaction to something. Like watching a computer boot up and run a thousand apps simultaneously, my sight flooded with a familiar line of questions…
What if? It was as if my consciousness sank back into a dark room and just watched helpless as questions fed into questions all themed with the ultimate reality, "What if everyone leaves me, and I am alone?"
I didn't know how to stop it. I thought, "Computers have a restart button, so maybe I should try to clear my mind in a similar way. Think of something good," I told myself. "You're not in control! Get it together!" My attempts were useless. For every positive thought, my mind created 50 opposing arguments, each with bullet points of evidence for their truth. I thought it would last forever.
Then slowly, the shouts of my mind died down, like they were sinking into the darkness, and I had regained control. Distance grew between the thoughts and my mind as I heard them shouting from afar, and the fog lifted. Later my smart watch would show that my heart rate went from 65bpm to nearly double that and lasted for three minutes. It felt like an eternity.
Days went by, and my world had narrowed to the constant concern of "What if it happens again?" I avoided crowds. Paralyzed in anticipation, I forced myself to go hangout with groups of friends and believed it would pass.
I asked close friends for prayers and advice. I begged the Lord, "Please, I can't control this. What is causing this?" I stayed up late thinking and worrying "What is the root? How do I stop this from happening again? Am I just broken and need a counselor?" I looked through my health insurance to see if I was covered to see a therapist. A couple of times I even stopped what I was doing and just wept in tears of helplessness.
One recent morning, I was working on my computer at work, and something happened. My mind had been weighed down in sorrowful anguish ever since that day. Suddenly, I heard a voice speak a single word through the pain, "fear."
My eyes lifted from my screen, and it was as if this weight I had been carrying around, melted into the floor under my feet. I wasn't reading an article or researching exercises to combat anxiety. I wasn't meditating or working out. I wasn't sitting in a room and asking for professional advice. I wasn't doing anything that merited success.
The voice was calm and quiet. It did not boom like thunder or have a distinguishing affliction in its tone. It was gentle and confident all at the same time. "Fear," the voice said and suddenly it all made sense. I was afraid. Fear told me, "You're not good enough." It said, "What if everybody sees you're worthless?" If fear was the question that became the fire burning in my heart, the gasoline dumped onto the flames was also fear. It was a self-compounding reaction that would not, and could not, be smothered. That is, until it had a name.
Fear is what I was fearful of; "Fear" was the name of my enemy. There are three powerful things that the Lord has taught me about my enemy.
Fear is the absence of truth. I had asked myself "What if I end up alone?" This is how Satan operates, he asks these questions. If I hold fast to the truth of God's word, fear is relinquished.
"Now the serpent was more crafty than any of the wild animals the LORD God had made. He said to the woman, "Did God really say, 'You must not eat from any tree in the garden'?" (Gen. 3:1).
God knows the answers to the questions of anxiety. The Creator and Sustainer of your every breath knows the answers. He knows them, and He's in control of their result. I can have confidence in my every moment because I know my Father loves me and has been working in my life even before I was born.
"Because You will not abandon me to the realm of the dead, nor will You let Your faithful one see decay" (Ps. 16:10).
"For You created my inmost being; You knit me together in my mother's womb" (Ps. 139:13).
I did nothing to earn freedom from the pain. This is the most important lesson that I want to communicate to you, dear reader. Much like the powerful truth of the Gospel, we did nothing to earn righteousness, so we also must understand that true freedom from fear only comes through the loving-grace of God.
"But God, being rich in mercy, because of the great love with which He loved us, even when we were dead in our trespasses, made us alive together with Christ—by grace you have been saved— and raised us up with Him and seated us with Him in the heavenly places in Christ Jesus, so that in the coming ages He might show the immeasurable riches of His grace in kindness toward us in Christ Jesus. For by grace you have been saved through faith. And this is not your own doing; it is the gift of God, not a result of works, so that no one may boast" (Eph. 2:4-9).
There are many helpful avenues of resources to fight fear. But none extinguishes those flames like being wrapped up in a divine love from a Creator that hates fear more than I ever could. I testify with these words that I desire that freedom in Christ more than a thousand momentary victories in a world riddled with a thousand excuses not to. I leave you with these passages of truth from God, Who knows the answers to all your questions of anxiety and fear.
"I have said these things to you, that in Me you may have peace. In the world you will have tribulation. But take heart; I have overcome the world" (John 16:33).
"There is no fear in love, but perfect love casts out fear. For fear has to do with punishment, and whoever fears has not been perfected in love" (1 John 4:18).
"Do not be anxious about anything, but in every situation, by prayer and petition, with thanksgiving, present your requests to God. And the peace of God, which transcends all understanding, will guard your hearts and your minds in Christ Jesus" (Phil. 4:6-7).
"But now, this is what the Lord says…Fear not, for I have redeemed you; I have summoned you by name; you are Mine" (Isa. 43:1).