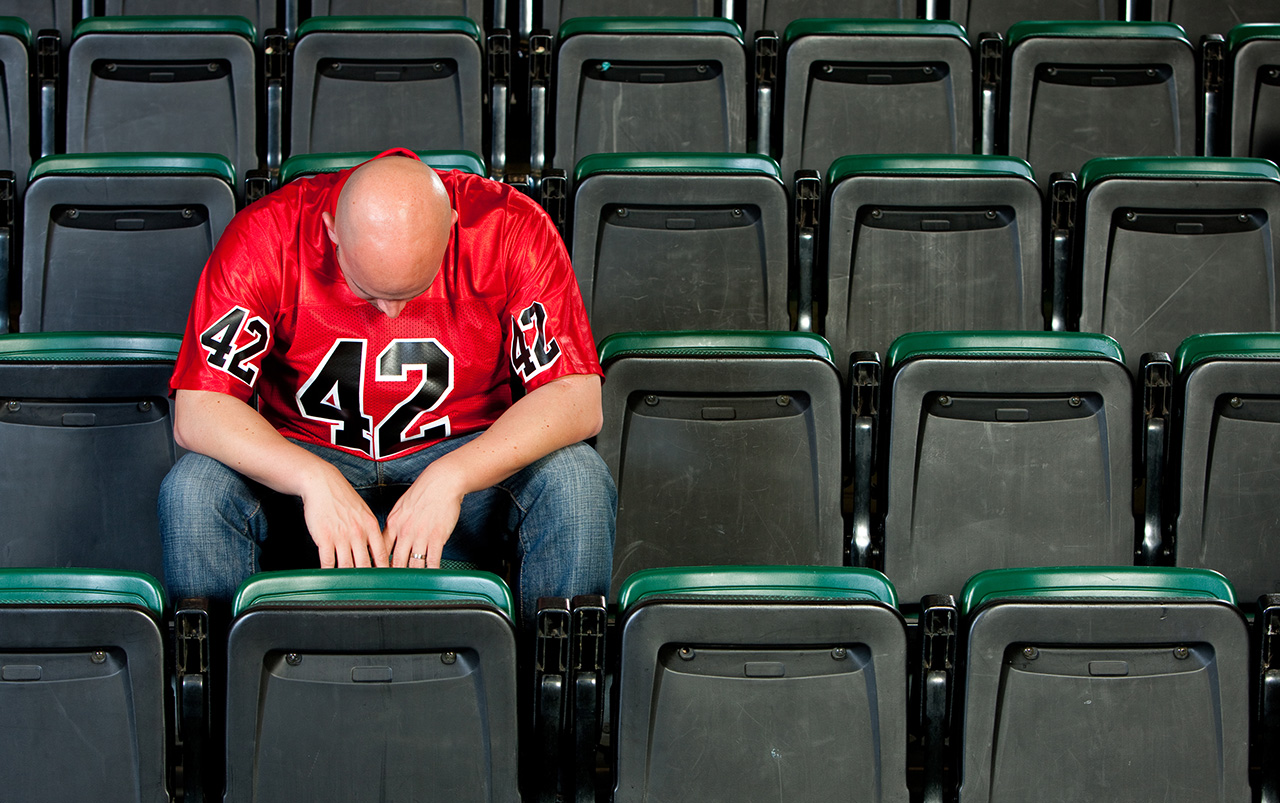 Sunday mornings come every week. I am up before the rest of my family and arriving at church before anyone else. I unlock doors, turn on lights, get the first pots of coffee brewing, and try to keep my mind on worship, preaching, and ministry. I enjoy the quiet when I first arrive at church, going over my sermon in my head and preparing my heart for worship. I will spend some time in the Word and greet members and guests as they arrive for fellowship and Bible study.
Another factor impacts many church-goer's Sunday morning experience. It is the Sunday Sports Hangover. For many, Sunday morning is heavily influenced by what was experienced the day before in stadiums across the country. During five months of the year, college football teams compete for their fans (those that dedicate a major portion or their existence to the success of the sports program of particular institutions of higher learning).
My purpose here is not to ridicule or shame those who cheer on their favorite team; in fact, I am often found on Saturdays sporting "Crimson and Cream" as I cheer on the Oklahoma Sooners (my grandfather graduated there and served on faculty, and I grew up going to games and making the trips to the Texas State Fair for the Red River "Shootout" as the family had season tickets for decades). My desire is that we better understand that we are members of sports fandom and simultaneously followers of Christ. In fact it is important that the Christian recognizes that their citizenship first belongs to the Kingdom of God before any sports fanaticism (Phil. 3:20). Unfortunately, many seem to forget that they belong to the family of God when they dawn their team jerseys and foam fingers.
This past week a loving church member with deep care for my spirit (and who happens to be a citizen of the team that bleeds orange) asked if I was doing better this week since the Sooners shutout Kansas State (as opposed to being embarrassed by the Longhorns the week prior). And with all honesty and sincerity and absolutely no animosity for bringing up past defeat, I assured this friend that I was very glad they won and just hoped that they would continue to improve.
But that question stuck with me because there was a Sunday several years back that I would have been miserable following a bad outing by my team. There were days that I could even be affected physically with stress headaches. The Sunday following OU's loss to Oregon in 2006 was particularly hard. That game, though, may have been the catalyst for me to learn something that I desperately wish many Christians would learn. We cannot let being a fan take away from our relationship and service to Christ. It is sports worship and the simple truth is that this is idolatry.
I still get excited when my team scores a touchdown, hits one out of the park, or dunks it after a drive to the basket, but in the end, what matters most is that I am one of God's children, and He has called me to something great! I don't want to let my excitement for a team take away from my worship and ministry. So, here are three things that every Christian sports fan needs to remember:
1. You are a Christian first! Even though you may have been born wearing your team's colors or maybe you were named you after the mascot, if you have been grafted into the Family of God through the blood of Jesus Christ, then you are Child of God first. That transaction that took place in your soul takes precedence over every other part of your identity. And it can't be any other way. God is jealous when it comes to our allegiance and identity.
Additionally, when we place our trust and identity in something other than Christ, we are indicating that we have not given ourselves fully to Jesus. 2 Cor. 5:17…we are a new creation. So go ahead a cheer your team on, but when someone observes you motivating your team to a victory, are they able to see your relationship in Christ in your speech and actions.
2. There are more important things! Wait a sec! "Every game in college football matters, even one loss could mean you miss the playoffs!" Yes, that W does seem all-important; however, in the timeline of history, that game, that team, that call really doesn't compare to life's most important concerns. And let's take that a step further, that when you consider the spiritual implications of a life well lived and all those whose souls are facing judgment, our valuation of a sporting event seems often misjudged.
Now, neither God nor His Word would seem to indicate that it is improper to enjoy the entertainment that sports provides, but we must remember that the Bible does clearly tell us what is most important. That is to the love God with our complete selves, to love others, and to make disciples. (Matt. 22:36-40; 28:18-20). If in our attention, celebration, and agonizing over our team's victories and defeats we fail to accomplish these most important three things, we are failing at what God intended us to do.
Are you able to fully worship on Sunday (or whenever God calls you to) when you are so occupied by devotion to sport? Probably not. When your team wins the big rivalry game…there are more important things in the economy of God! When your team loses that devastating contest…there are more important things. Let us not get so caught up that we miss what is most important.
3. Your actions impact others! Sometimes it is hard to tell where the line is drawn between friendly rivalry and bitter animosity between sides. And when you add social media to the mix, a friendly comment may come off as a declaration of war. All this to say, be careful how you respond to others when you are passionate about your team. For one, those living life around you matter so much more than men and women competing for a sports victory. Your friends, family, neighbors, and coworkers will be the ones who go through life with you, and it is a shame that we can cheer on a sports conglomerate at the expense of those closest to us.
But also, in the Kingdom of God, we are tasked with testifying of Jesus with our lives. If we respond poorly because of our passion in sports, we may have just thrown away an opportunity to proclaim Jesus Christ. (1 Peter 3:15)
Now, let me finish with my story. I have been convicted in the past that my fanatical interactions were drawing attention away from God and to myself (often times negatively). It may not be how you necessarily respond, but I needed to do a couple things. While I have a tendency to be one of those who yells, boos, and jumps up and down, I must make certain that I am bringing glory to God in each of those situations.
First, I purposefully try not to do or say anything that would bring shame to my Lord! Don't shout obscenities or throw things. Many of these reactions go back to pride.
Second, I refuse to trash the other team. Insecure is the person who tries to build himself up by tearing somebody else down. This is especially true on social media. I may criticize a play, but trashing the other team is unnecessary to prove my loyalty to my team. Now let me pause and say with all seriousness…I really and firmly make a distinction between rivalry at the game and rivalry in my personal life. Every person who is a fan of an opposing team can truly be a friend regardless of what happens on game day. I may jab at a Bears fan, a Spurs fan, or a Yankees fan (for I am a member of the Packers, Thunder, and Red Sox tribes), but I truly wish no ill will nor do I harbor anger toward these flawed individuals (again kidding). Be careful and be ready to back the exuberance up a bit if it hits somebody wrong. Remember, your relationship with others is always more important.
Third and last, in the end, it's just a game. There will almost always be another one, and there are certainly other things of greater import. Be of such confidence in your personal life and your walk with Christ that when the game ends you are able to leave it on the field. Only Jesus is Lord; not the ball coach, the QB, or the team.
Let's get rid of those Sunday Sport Hangovers. Go ahead and enthusiastically cheer on your favorite team, but remember that Jesus is Lord and He has called you to something great!