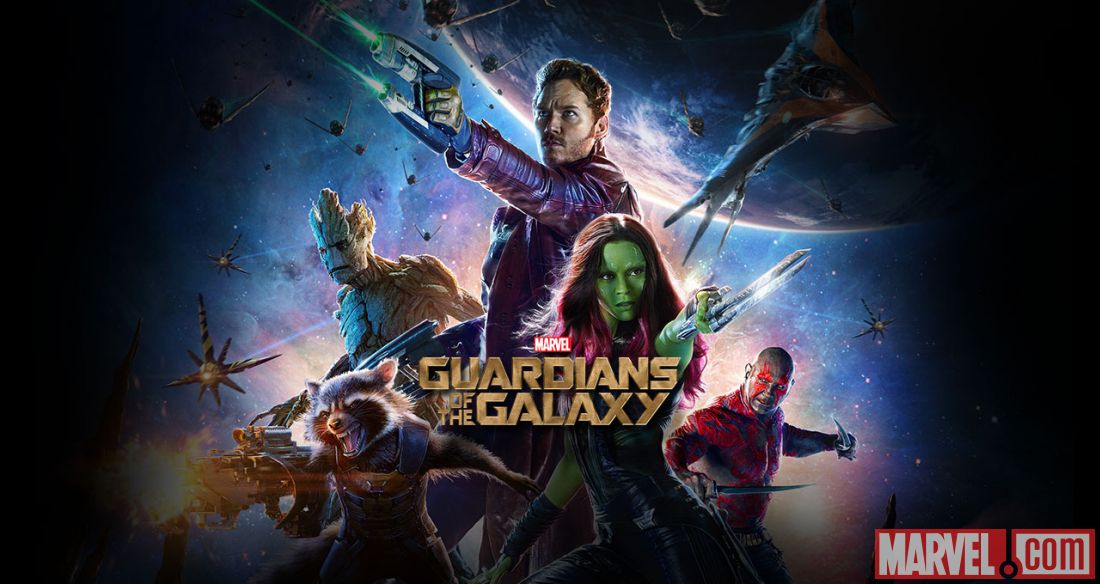 "Who in the world are the 'Guardians of the Galaxy'?"  That, or something like it, is what I said after hearing this movie was coming out this summer.
I consider myself fairly knowledgeable about comic books, and, frankly, I am a fan of them.  When Marvel Comics made their movies that led up to and included "The Avengers", I knew, more or less, what I was going to see.  Watching "The Avengers" was like watching a Major League All-Star game.  It led off with Iron Man, Captain America, and Thor, and Hulk batting clean-up.  It was great fun.
So, when I heard the "Guardians of the Galaxy" was coming out I was very… curious.  Early reports were saying that this movie is "The Best Marvel movie ever!"  I just couldn't believe that.  I was immediately skeptical.
The story starts out when Peter Quill is at a young age, and he gets beamed up into space by some unknown spaceship.  It fast-forwards 26 years later (present day 2014), and Peter, who refers to himself as "Star-Lord" now, is part of group of "Ravagers" who scavenge for anything as long as the fee is right.  Peter is hired to find a mysterious orb.  He eventually comes into possession of the orb, and we learn that there are other interested parties searching for it.
One, in particular, is Ronan the Accuser.  He is known throughout the galaxy as this ruthless tyrant who is on a mission to "cleanse" those who act against his people.  He plans to use the orb's hidden power to help him on his mission.
While being pursued for the orb, Peter meets some interesting and colorful characters.  There is the green-skinned Gamora, a genetically-engineered creature named Rocket who resembles a raccoon, a "tree-like" creature named Groot, and a muscle-bound tattooed alien named Drax.  They all have their own personal agendas that involve either the orb or Peter.
Rocket and Groot have a similar relationship that Han Solo and Chewbacca have.  They are definitely part of the comic relief of this movie.  Rocket is a foul-mouthed and crass individual, with the attitude to match, while Groot is child-like with his very limited vocabulary ("I am Groot!") and willingness to seek others' approval.
In the end, Peter and his new friends team up to try to stop Ronan from his genocidal plan.  It is during this time that we see what friendship means to them and how important it is.  It made me think about how important relationships are with other believers.
True "koinonia" fellowship is vital to a healthy Christian life.  They encourage us when we are down.  They reinforce us when we are weak.  They hold us accountable when we need to stand up for Christ.  Heb. 10:24-25 says "And let us be concerned about one another in order to promote love and good works, not staying away from our worship meetings, as some habitually do, but encouraging each other, and all the more as you see the day drawing near" (HCSB).
Another notable moment is a scene that shows a loving father coming home to his wife and child.  I always like to see, however subtle they may be, examples of a good home life.
As I said before, I was skeptical.  I cannot fully commit and say that it's the best Marvel movie ever, but I would have a hard time arguing against it.
The movie is rated PG-13 for violence and language.  There is a vague sensual reference as well.
Photo Credit: Marvel.com