How do you talk to your daughters, friends or sisters about modesty?
I remember as a young girl, shopping with my mom used to be a nightmare, for both of us. Mom would pick out the frilliest, most lacy, and most girly outfit ever made, and I would take one look at it and panic about how to tell her I didn't like it. Eventually I came up with a system of looking at it and moving on to something else in hopes to avoid hurting her feelings. Growing up I avoided all things pink, itchy and dresses.
I remember my 6th grade year my mom made a deal with me that I would wear one skirt or dress each week. I was used to wearing dresses every Sunday morning, but I had never worn a skirt or dress, willingly, to school. As awful as the deal sounded to me at the time, looking back I am grateful for her persistence. She wasn't just teaching me about fashion; she was teaching me how to act like a lady, how to feel comfortable in my own skin in anything, and how to be a woman.
But what does this have to do with modesty issues? Everything. The world portrays modesty in the context of being shy, unconfident and lonely. And if we aren't sharing the Truth about modesty, that's the definition that will teach the upcoming generation about what to wear.
Had my mom not taken the time to endure our worst shopping trips, my tears and arguments about wanting to wear certain clothing trends, I would not understand the meaning of modesty, either. This series of posts will explore fashionable options to modesty. Modesty that encourages women to be confident about who they are without the need to exploit their bodies. Modesty that allows women to show a gentleman her heart and mind before her legs or chest.
~~~
During the Summer months, shorts are often a touchy subject. For me, shopping with fairly long legs is difficult because it seems like the shorts are getting shorter and shorter. I have found that stores like Old Navy, Gap and Maurice's offer longer styles.
Fashion Tip: The best rule of thumb to look for, in my personal opinion, is shorts that have a 4.5″ to 5″ inseam. If you wear a patterned shirt, stick with a solid colored short, and vice versa if the shorts are patterned. Too much pattern will not flatter your figure.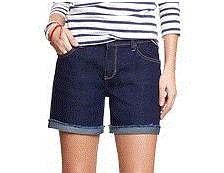 Old Navy's Twill Shorts, Sweetheart Denim Shorts (pictured) and Boyfriend Bermudas all fall into this category.
Maurice's Suki Dark Wash shorts, Thick stitch cuffed Bermuda shorts and Smart belted shorts (coral pictured) fall into this category.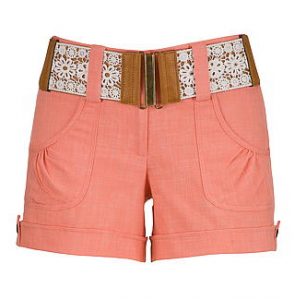 Heart Check: Often when my Mom would tell me "No," I wanted to know "Why?" Not because I wanted to question her authority, but because I wanted to understand what she saw that I couldn't see.
In shorts, she saw that I would attract the wrong kind of attention — attention from boys who didn't treasure me as a Child of God. When I began shopping for myself, I began to ask myself questions when I was trying to find what I liked. I would hear my Mom's voice saying, "Why do you need short shorts that you are going to constantly pull down?" or "Why do you need shorts that expose your underwear?" or "Who are you wearing your shorts for?"
The media glamourizes short shorts because they want you to buy their products, products that will fade and made with cheap fabric. The Bible speaks about the beauty from within, confidence that shows through your attitude, lifestyle and countenance.
"Your beauty should not consist of outward things like elaborate hairstyles and the wearing of gold ornamentsor fine clothes. Instead, it should consist of what is insidethe heart with the imperishable quality of a gentle and quiet spirit, which is very valuable in God's eyes." (1 Peter 3:3-4) (HCSB)
Image credits: OldNavy.com and Maurices.com
You may also like: Talking Modesty: Midsummer Mid-drift and Talking Modesty: UNDERcover garments