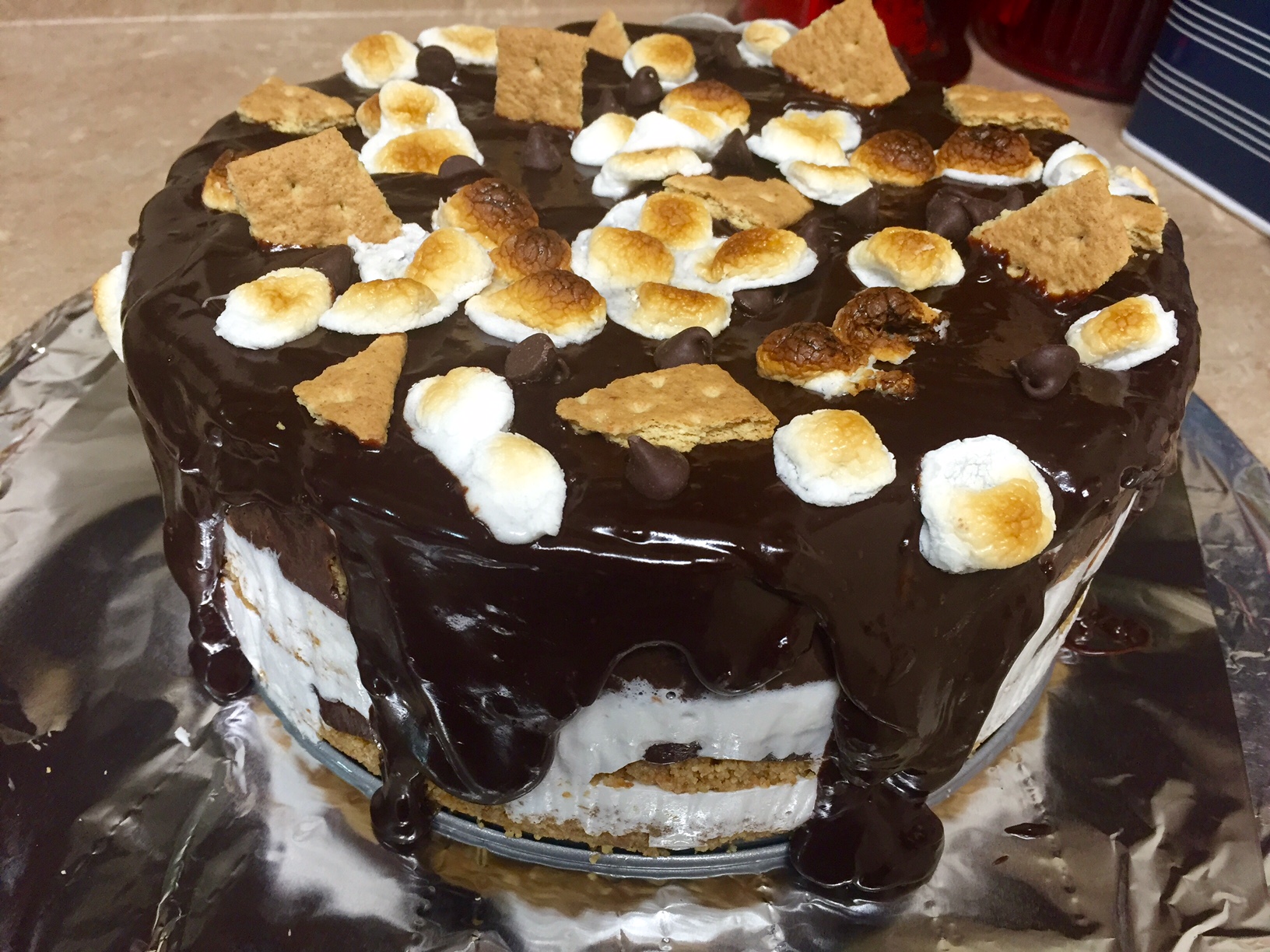 Made an amazing layered treat recently, the Decadent No-Bake S'mores Cake was a big hit! Fair warning you'll have a lot of smiling faces, happy stomachs and a lot of dirty dishes!
Decadent No-Bake S'mores Cake
Ingredients:
3 cups (1 box) Graham Crackers (set aside 2 crackers for topping the cake)
1 cup (2 sticks) Butter
21 oz Marshmallow Cream
7 ½ tsp Gelatin (each small packet is 2 tsp)
32 oz (4 cups) Chocolate Chips (3 cups for layers, 1 cup for melted topping, handful for decoration on top)
28 oz (2 cans) Sweetened Condensed Milk
¾ cup Heavy Whipping Cream
¾ c Warm Water
Mini Marshmallows (for decoration purposes)
Time:
1 hour prep time + Overnight refrigeration + A lot of dirty dishes!
Instructions:
Line a springform pan with parchment paper, spray it all with non-stick cooking spray.
Crush the graham crackers (food processor worked great here) and then mix with the melted butter.
Layer 1/3 of the graham cracker crust in the bottom of the pan, press down using the butter stick wrapper. This first layer needs to be a bit thicker and very pressed down.
Mix 3 cups of the chocolate chips and the two cans of sweetened condensed milk, microwave for 2 minutes, stirring halfway through. This needs to be very fluid and easily spreadable. Stir to combine then spread 1/3 on top of the graham cracker crust layer.
Whisk 2 ½ tsp of gelatin with ¼ cup of warm water until the gelatin is dissolved. Add 7 oz of the marshmallow cream to the gelatin mixture. Once it's a gooey smooth mixture, pour over the chocolate layer.
Refrigerate for 5 minutes.
Repeat steps 3-6 two additional times. Mix the marshmallow layers right before pouring over the cake. Don't worry if the layers go above your pan!
Refrigerate overnight.
Microwave the heavy cream for 90 seconds, pour over 1 cup of chocolate chips, let sit for 2 minutes, stir the ganache mixture until smooth.
Take the springform pan and parchment paper away from the cake. Slowly slide the cake off the bottom of the pan onto the serving dish.
Pour the ganache over the cake, let some drip down the sides.
Top with toasted mini marshmallows, graham crackers and chocolate chips. Slice and enjoy!
Matthew 13:33: "He told them still another parable: "The kingdom of heaven is like yeast that a woman took and mixed into three measures of flour, until all of it was leavened.'"
While there's no flour in this cake, God certainly combines things in life in very unique layers!